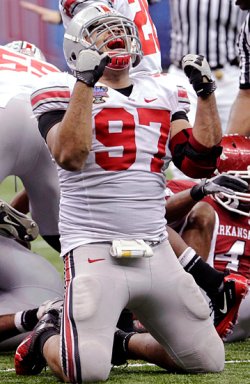 It was worth the couple dozen extra gray hairs I'm sportin' after another heart stopping edition of Tresselball and little did I know, I hate Ryan Mallett much more than I gave myself credit for. Seeing dude kicking his legs at my Buckeyes after tackles/sacks was infuriating and hilarious at the same time. Like he really wants a piece of Cam Heyward. Whatevs. Much love to the seniors and thanks to the entire program for another impressive season. Sure, we all had designs on a national title but dammit, that's hard to accomplish. Despite falling short of the ultimate goal, it's hard to argue against another one loss season, a win over Michigan and another BCS bowl victory. The Golden Era continues but alas, I'm reaching the end of another season of Five Things. At least it's going out in style.
Cam Gives nay damns
I love Cam Heyward. I love how passionate he is about Ohio State. I love that he came back for a chance to win a title. I love how amazingly welll he has represented his team as captain and just how classy he was when talking to Rece Davis, Dr. Lou and Snark May about his Herculean effort and his love for Tressel and Ohio State. I love that despite not having the kind of production we all thought he would in his senior season, he saved his best for last.
Admittedly, I could be caught up in the moment nor do I know how you effectively rank it but I don't think I've ever seen a more passionate all-out performance from an Ohio State football player.
His stat line speaks for itself: six tackles, 3.5 TFL, a sack, a pass deflection and two hurries. More than that, it was the timing of his exploits and his ability to play through injury helping OSU overcome a putrid 2nd half performance from the offense and special teams to escape New Orleans victorious.
He got it going on the first series nearly sacking Mallett on 3rd and 10 forcing a punt. On Arkansas' fourth possession, he almost sacked Mallett again on the 1st down bomb attempt in which Chekwa was injured then busted through the line stopping Knile Davis for a two yard loss five plays later on 2nd and 2. Two plays later, on 4th and 1, Cam read pass over the middle and swatted Mallett's attempt forcing a turnover on downs keeping OSU in front 14-7. After the Buckeyes made it 21-7 on the ensuing possession with TP finding Dane on a 15 yard toss, Heyward abused a double team and stopped Davis for a three yard loss on 2nd and 1 pushing the Razorbacks into a tougher 3rd and 4 which they failed to convert leading to another punt and an eventual 28-10 halftime lead.
With Arkansas swinging momentum early in the 2nd half having cut the lead to 28-13 with 9:14 left in the 3rd quarter, Cam went back to work following a Buckeye 3 and out deftly shutting down a 3rd and 8 slip screen attempt to Joe Adams with a nifty tackle resulting in no gain and another punt.
After Mallett countered a 47 yard field goal from Devin Barclay with a perfect 22 yard strike to Jarius Wright and a subsequent two point conversion to D.J. Williams cutting the Buckeye lead to 31-21, the OSU offense went three and out before Ben Buchanan got off another turd of a punt giving Arkansas the ball at midfield to start the 4th quarter. With much of Buckeye Nation in panic mode, Heyward delivered again with a sack on 2nd and 6 from the OSU 34 yard line pushing the Razorbacks out of field goal range and into a 3rd and 13. The Buckeyes blew up an attempted screen and the defense held once again behind Heyward's surge.
Of course, the offense couldn't answer, surrendering a safety cutting the lead to 31-23 forcing the Bullets immediately back onto the field. Petrino's crew quickly added a field goal trimming the lead to 31-26 and the offense again sputtered, turning the ball over on downs after Boom fumbled on 4th and 1 giving Arkansas the ball at the Buckeye 37 with a shade under six minutes to play. Cam made his presence known on the first play blowing past Wade Grayson off the right edge resulting in a holding call moving the Razorbacks back to the OSU 48 facing 1st and 21. Mallett couldn't dig his team out of the hole leading to a punt setting up another stalled OSU drive and the heart stopping blocked punt that gave Arkansas 1st and 10 at the OSU 18 needing a touchdown with 1:09 remaining in the epic showdown. Two plays later, Solomon Thomas rewarded Heyward and the rest of the seniors with The Interception to secure the win. Cam's performance should go down in OSU history as one of the most dominating ever by a D-Lineman. Mad props.
Fate is great
How insanely wonderful was it to see all five members of TatGate make significant contributions to the victory? I know some of you are still holding strong with the notion these kids shouldn't have played but I just can't agree. Now, as I've said numerous times, I also have no shame in admitteding I'm a win-first guy who could care less what he nation thinks of our program. I honestly think it's the result of being a Yankee fan. You not only get used to having folks wrongfully or misinformationally (is that a word?) hate your team, but you evolve to truly relish it. I love the fact much of the nation hates Ohio State football. How great is it that no matter where you go in the country, you can spark up a convo about college football and inevitably that person will have a strong opinion about your team? It's a great thing if you ask me. It creates an us against the world mentality that not only reaches you, but also the players. It's like a built in chip on the shoulder. They hear the talk. Most might not say what they really feel in front of the cameras but they are salty about how people question Tressel's handling of TatGate, Mo C or Troy not to mention the criticism Tress and the program face as a result of getting smoked in two title games or even whether or not the team deserved a shot at LSU.
Obviously, the haters like Andy Staples are firing away but I say bring it on. They wouldn't be talking as much if today if not for Terrelle Pryor's MVP performance, 87 yards rushing and a TD burst from Boom Herron, a 43 yard TD catch and 70 total receiving yard from DeVier Posey, some blocking from Mike Adams helping the Buckeyes take a big first half lead, and the play of the game from an afterthought in the whole TatGate mess. I'd rather listen to all these experts on their morality high horses and take joy in their anger that these five were so instrumental in victory than face the alternatively karmic "we told you so's" in defeat. Maybe I'm a bad guy. That's fine. My team just won the Sugar Bowl and exercised 0-9 in the process. Plus, I know in my heart Tressel truly does have the best interest of his players and program at heart. That's good enough for me. Spew your venom, haters. It only makes us stronger.
The enigma that is jim tressel
I love him. I hate him. I love him again. Oh, dammit, back to hate. Such is the life of a Buckeye fan watching Jim Tressel navigate his way through a big game. The mysterious Vest started the game like his hair was on fire going no huddle and calling four pass plays (3 attempts) on an eight play drive capped by Dane's magical dive for six. Then, the maniac in the sweatervest dials up an onside kick - not even four minutes into the game - prompting me to call for a drug test. Next, he rediscovers the tight end position designing some sexy plays resullting in completions to Stoneburner and a 48 yard quick hitting Picasso to Fragel as the Buckeyes jumped in front 21-7 with 9:53 left in the first half. Two possessions later, he calls two bombs on the same drive with Corey Brown getting tripped on a 2nd and 5 attempt before TP hooked up with Posey for a 43 yard score on 2nd and 10 giving the good guys a 28-7 lead with 1:59 left in the half. Tressel's offense maintained it's balance (19 pass, 20 rush) while piling up 338 first half yards averaging 6.7 per rushing attempt while TP hit eight different receivers. Maybe it wasn't as wild as it seemed to me but I didn't expect no huddle, a 1st quarter onside kick, sick wrinkles to Stoney/Fragel off play action and deep passses combined.
Of course, even with the eye popping first half strategies, I was smart enough to know a 28-10 halftime lead could only mean one thing - playing not to lose - aka Tresselball. Somewhat in Tressel's defense, his tendency to button it up was helped along by Arkansas' punter, Dylan "Breending", who was appropriately surnamed as he was clearly the result of forced breeding featuring DNA of Ray Guy and Reggie Roby. The dude's 4th quarter stat line saw him pin OSU at their own 4, 14, 4 and 17 yard lines respectively. Falling into his predictable mode after the first 4th quarter punt, Tress fell back on Boom between Boren/Adams despite 300 Razorbacks expecting the play resulting in a safety. The next possession began at the 14, still with 8:47 left, as Tressel clung to his lead milking clock with six rushes on seven plays. The enigma did go for it on 4th and 1 at the OSU 37 but Boom fumbled and Boren recovered it short of the sticks. I personally liked the move but was a little surprised Tress didn't opt to punt it away.
The Bullets responded recording a gigantic three and out giving the ball back to the Buckeye offense at the 4 yard line with 4:33 remaining. Tressel correctly and obviously called seven straight runs though the 3rd and 5 call of Boom up the gut was a little unimaginative. Still, it's impossible for me to fault The Vest since TP had just hobbled back out after missing 2nd down getting his ankle taped. However, on 4th and 3, Tressel's spread punt formation and back line were bowled over by the Razorback rushers resulting in what could've been a fatal punt block. I get it, sh!t happens sometimes but for a coach who goes out of his way to slobber over the imporatance of the punt, this simply can't happen up five, deep in your own territory with just over a minute remaining in a BCS bowl. Now, don't you all go gettin' riled up, I'm just wondering what you were honestly thinking at that moment? Was Tressel in your cross-hairs?
Even before the near disastrous 4th quarter, the Buckeye offense flamed out in the 3rd quarter as Tress became predictable, totally getting away from the agressive first half approach. I'm curious, with a 28-10 lead going in, where you okay with that? The Buckeyes ran 14 plays, running nine times with three of the five pass attempts coming on 3rd down. The rolled up 3rd quarter result was 52 yards as Arkansas outscored OSU 11-3.
Bottom line, I heart Jim Tressel as much as the biggest Vest lover out there but even with the expected 2nd half Tresselball, he was still in full enigma mode to me. I dunno. The game just had a Twilight Zone feel to it at times but in the end, Tressel delivered a win with the usual class, grace and respect that the detractors were once again determined to overlook.
pryor's Big night
As someone who has grown increasingly tired of Pryor's act in front of the cameras and off the field in general, I still want him under center for as many games as possible because he gives Ohio State the best chance at victory. His on field effort Tuesday night can't be disputed even by the biggest TP hater as the kid racked up 204 yards passing (13/19) with 2 TD and another 52 on the ground (8.7 ypc) as the Buckeyes jumped out to a 28-10 halftime lead.
I was concerned he'd come out trying to do too much but he calmly stepped into a 13 yard dig route to Philly on 3rd and 7 of the opening drive and smartly scrambled for 34 yards on 3rd and 9 before the fumble that Dane converted for six. Clearly, he needed to tuck the ball away but the fumble wasn't the result of pressing. He simply began to stumble and didn't feel the trailing defender. Bottom line, he was 2/2 on 3rd down conversions and gave the Bucks a quick 7-0 lead. The next drive started a little sketchy with Pryor staring down Dane before tossing high, nearly getting picked in the process, but he recovered nicely converting 3rd and 10 after stepping up and left in the pocket before hitting Stoney for 14 yards. Two plays later he unleashed a confident laser to Dane on a crossing route for 31 yards and Boom scored two plays later to make it 14-7.
Probably my favorite play of the night occurred two possessions later on 3rd and 8 as TP read the defense at the line of scrimmage and called an audible. He then dropped back, saw the blitz coming, stood in the pocket and delivered a perfectly placed ball to Dane, taking the hit just before a well covered Sanzenbacher hauled in the 15 yard TD catch. Beautiful.
Pryor drove the Bucks into field goal position the next time out but Barclay was wide left from 50 yards. After the Bullets turned in a 3 and out, Pryor accounted for all 68 yards on a six play scoring drive that saw him convert another 3rd down via a nine yard out route hookup with Posey. Three plays later, TP dropped back and found Posey on a 43 yard scoring strike.
Pryor was just 1/6 in the 2nd half but with the aforementioned predictability in play calling, he wasn't exactly put in many spots to excel. When it was over, he amassed 221 yards and 2 TD passing with another 115 on the ground (7.7 ypc) with zero turnovers.
Even better, though still far from a polished public speaker, Pryor made numerous efforts to convey his apologies to the team and fans alike. He spoke of the seniors and his willingness to take his medicine before returning as late as game six next year. Even if it was just him reciting the company line, that's better than what we had to witness as the drama unfolded over the last few weeks with his seemingly disinterested comments about the sanctions and the unwanted media spat with Herbie. I understand why he did what he did with regard to Herbie - the true adult should not have fanned the flames - but the best response would've been no response.
We've been down this (im)maturity road before so I don't want to make too much of it but damn it felt good to see him appear to show some humility when speaking to Holly Rowe and to the crowd while on stage.
how's my dictate?
While the offense might've slipped into a play-not-lose coma, the defense played aggressive football all night long, doing their best to dictate the action instead of letting Mallett sit back and pick apart the depleted secondary.
The first half saw the Bullets hold the vaunted Arkansas attack to 3/9 on 3rd down and 3.3 yards per carry leading to just 10 points. No question the D benefitted from some slippery Razorback hands but some of that could be attributed to disrputed timing thanks to a front four that got pressure that was further aided by blitzes from all angles as Heacock didn't have to concern himself with Mallett escaping the pocket and racing downfield.
After an opening 3 and out, the defense surrendered a TD on Mallett's 2nd possession which started at midfield thanks to the failed onside kick. Travis Howard had decent coverage on Mallett's 17 yard TD hookup with Joe Adams but failed to spot the ball in time to make a play on a great throw. Knile Davis got rolling on the next Arkansas possession but the D line got great pressure on 2nd and 9 leading to a Dex Larimore sack before Nate Williams got excellent pressure forcing a 3rd and 17 incompletion. A turnover on downs followed with Cam's deflection on 4th down and the ensuing Razorback possession saw Adams drop a 3rd and 4 pass. The Bullets kept coming with Dex and John Simon recording back to back sacks on Arkansas' sixth possession of the half but Ohio State would surrender a 13 play, 83 yard FG drive to end the half with a 28-10 lead.
Allowing 10 points via a FG capping an 11 play, 52 yard drive and a seven play, 75 yard TD drive on two of the Razorbacks first three 2nd half possessions, the Bullets got back to a swarming approach in the 4th quarter that allowed just three points over the final four possessions despite Arkansas having obscene field position starting at midfield, their 44, the OSU 37 and finally the OSU 18.
The fact the d-line and Heacock's blitz packages were able to force Mallett to get rid of the ball provided cover fire for a secondary featuring true freshman Christian Bryant fresh off foot surgery and Dominic Clarke, a little used redshirt freshman out of Maryland helping the Bullets hold Arkansas to their 3rd lowest scoring output of the season.
Senior Ross Homan led OSU with nine stops while fellow senior Devon Torrence added eight with a forced fumble and pass breakup. Keeping in theme, Larimore played large in his final game with six stops, a forced fumble and two sacks while swan-songers Brian Rolle (six tackles, 1.5 TFL) and Jermale Hines (five tackles) offered support.