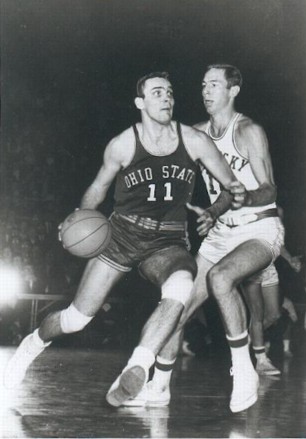 Hear the words Ohio State and images of Ohio Stadium and Script Ohio enter your mind. While football is the pastime of choice in Columbus, the hardwood variety also has a rich tradition. In fact, the Buckeyes' basketball history is one of the most underrated in the country.
Ohio State was the national runner-up in the first NCAA Tournament ever and is one of only two schools (Villanova) to make the tournament every decade since its inception. In 1960, the school won its first and only national championship in men's basketball.
That team was led by a group of sophomores. Because freshmen were not eligible in those days, it was their first year of varsity experience. Since that season, a common trend among some of the Buckeyes' greatest teams has been the impact play of first year players.
The 1959-60 Ohio State Buckeyes are considered to be one of the great college basketball teams of all-time. Before recruiting news was everyday fodder, Fred Taylor snagged one of the best classes ever assembled. Jerry Lucas, John Havlicek, Mel Nowell and Robert Montgomery Knight all chose Ohio State.
They spent their freshmen season honing their skills against Ohio State junior varsity and varsity team. Legend has it, the freshman were victorious a majority of the time.
The next season they joined established players Larry Siegfried and Joe Roberts. Lucas averaged 27 points, 17 rebounds and over five assists a game. However, Oscar Robertson beat him out for national player of the year honors. The other sophomore starters, Havlicek and Nowell, averaged double figures scoring as well.
The Buckeyes would finish runners-up the following two season to the University of Cincinnati. After their eligibility was up, Lucas and Havlicek went on to have distinguished NBA careers. They both named to the NBA's 50 Greatest Players Ever team in 1997.  
Fast forward nearly five decades and another stellar recruiting class was assembled and on its way to Columbus. This time they received the moniker "Thad Five." Head coach Thad Matta had recruited Mike Conley, Greg Oden, Daequan Cook, David Lighty and Othello Hunter since his first day on the job with Ohio State.  When he was able to bag all five of them, visions of 1960 danced in the minds of all Ohio State fans.
During their freshman season of 2006-07, the "Thad Five" led Ohio State to a school-record 35 wins and the program's 10th Final Four. We all know they lost to Florida in the national championship game, but, once again, Ohio State basketball was a national story and the reason was because of first year players.
Oden averaged nearly 16 points and 10 rebounds a game. He was a finalist for national player of the year but lost out to Kevin Durant. He was, however, named a First Team All-American. Conley was arguably the best point guards Ohio State has ever had. The offense went through him and nary a single turnover was ever committed. Cook came off the bench, but he provided instant offense. All three went to the NBA following their freshman season.
Four years later, a Thad Matta recruiting class is the talk of the town – again.
Jared Sullinger, Aaron Craft and Deshaun Thomas have shown that Ohio State is capable of hanging another banner from the rafters of Value City Arena. Ten weeks into the season, Ohio State has snagged 10 of 10 Big Ten Freshman of the Week awards, showing the trend to greatness at Ohio State is right on track.
The Buckeyes are 18-0 and No. 1 in the country entering tomorrow night's home game against Big Ten bottom feeder Iowa.
So, why the success with first year players in prominent roles?
In recent seasons you can chalk it up to a number of things, the new NBA Draft rule and the yearlong AAU circuit being the most noticeable. Basketball is also a sport where a small number of players can make a difference, regardless of age. In football and baseball, very rarely does one player carry a team to a high level of success. In basketball, it happens regularly.
Guys are entering college more ready to make an impact than ever. Playing all year keeps them in game shape and playing keeps their skills sharp. Not to mention, they keep getting bigger, faster and stronger.
In the '60s, though, it was rare for a team to come out of nowhere and be so competitive with a bunch of first year guys. Leadership and experience was the name of the game back then. While Roberts and Siegfried provided that, the play of Lucas and the other sophomores is what put the Buckeyes over the hump.
The past 20 years has seen some of the best freshman basketball players in history. When the "Fab Five" came on the scene in the early 90's no one would have guess they would go to two straight national title game. There is no doubt having veterans is an asset, but freshmen have soared even higher since the emergence of the "Fab Five."
If Ohio State wins its second national title this season a big part of it will be because of newcomers.