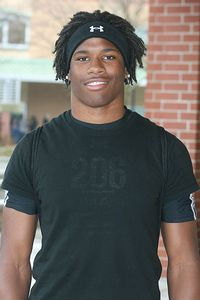 Division I college football programs are allowed 85 players on athletic scholarship. Recruiting is more than just a "go out and get the best talent" trade, as coaches (sans the SEC) have to strategically plan how many players to offer scholarships to each year based on the current roster, who's available to get in that particular class, and the talent pool of the classes in years ahead.
The Ohio State roster stood at 82 players on scholarship before last week. 17 of those will depart the program through graduation and end of eligibility, bringing the number down to 65. The Buckeyes, with the edition of Ejuan Price last week, have 21 players committed to the class of 2011, bringing that number up to 86. We also learned last week that Sam Longo will be leaving the program, satisfying the 85 player limit once again. The Buckeyes should close out their offers and end there right?
Unfortunately that's wrong. The Buckeyes seem to be on the way to bringing Keith Wells back into the fold and are still going after some top-level prospects in Ja'Juan Story, Aundrey Walker, Darius Jennings, and Curtis Grant, as well as kicking some tires around with the rest of the Glenville crew and UCF commit Kion Williams. Story just returned from his visit to Columbus this past weekend and apparently had a blast, saying it would be OSU or Florida on Signing Day. Walker, Jennings, and Grant also visited officially already and it's a real possibility that the Buckeyes can land three of the four top-notch players left on their board. Put into consideration that one or all of Williams, Shane Wynn, Andre Sturdivant, and Cardale Jones could sneak into this class at the last minute, and the scholarship number can go up to 89 or 90 players.
What does this all mean you ask? Well, it means that somehow the Buckeyes are going to have to make some room on their roster for Keith Wells and any of the available recruits that are still in the fold. It also means it's time for us to break down some scenarios that can lead to those spots coming open, as well as some other options for Jim Tressel to set his roster up for opening kick-off to the 2011 football season.
The most obvious and logical ending to this story here would be that players other than Longo will transfer or will no longer be counted against a scholarship for the official NCAA count. The prime suspects here include underachieving wide receiver James Jackson, the injured Chad Hagan and Scott McVey, and Adam Griffin, son of Archie who was given a scholarship late in the process last year via a leap of good faith from The Vest himself.
Jackson has been the subject of transfer rumors for a while and Chris Fields tweeting that one of his roomates (Jackson and Kenny Guiton) was transferring helped propel that closer to "truemor" rather than rumor. Hagan (heart) and McVey (arm) are both dealing with injuries that may not allow them to play football again and could be candidates to sign an exemption waiver, allowing them to stay on scholarship at OSU, but not allowing them to participate in football activites for the remainder of their time in Columbus. This would enable for their free rides not to count against the 85 and create an open roster spot. I think this is more likely to happen with Hagan, as McVey's injury may not be as serious as some think. Finally, Griffin could "voluntarily" come off schoplarship and Archie could probably find a way to get a free education for his son (OSU employee rate), as he is the head honcho of the Alumni Association. Griffin could still stay on as a walk-on and get his football scholarship back once one opens up, if it is even needed.
Another scenario that could help with the problem, for the immediate time being, is bringing Wells back to OSU without a scholarship. I can see Tressel making a move in which he takes back Wells as a "walk-on" and cuts a deal with him that he has to earn his scholarship back by getting good grades and working hard on the practice field. It seems Keith really wants back into the Buckeye family and I don't think it would be out of the question for JT to work something out along these lines with the once highly-touted defensive end.
While that would be only a temporary solution and free up just one more spot, other options include fifth year eligible players not returning for their final year, other players not mentioned previously transferring, and finally, some players interested in joining the team taking a gray shirt for fall quarter next year (see: Glenville players not named Walker). I certainly think anything is possible, but if I had to throw a bet down, I think there will be one or two more players on their way out the door and the situation with Hagan or Griffin possibly coming to fruition. Of course all this is speculation, but looking up and down the roster, these appear to be the only solutions that will allow for 3-4 more scholarships to free up before fall camp rolls around in August.
In the end the Buckeyes can strike out on all remaining prospects left on the board, but after this past weekend, you have to like their chances of landing at least one of Story, Grant, and Walker. With Williams, Sturdivant, and Jones all visiting this coming weekend despite not holding offers, anything is possible, and with Signing Day coming just one week from Wednesday, it will definitely be interesting to see how things play out both in the recruiting world and with widdling down the roster to fit in the newest Buckeyes.