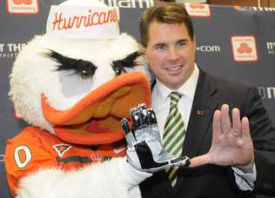 Golden Opportunity? So Miami hiring Al Golden has been a hot topic the last few days, as some feel that the former Temple coach can be the savior in South Beach, while others think he's not the man for the job. I'm not sure what will happen, but Golden has certainly set the bar high with his plans for the Hurricanes and took a page out of the "Jim Tressel interviewing with Miami book" by writing his own 300 page manual on how he plans to turn the program around. It all looks good on paper, but until it becomes a practice, it appears recruits aren't buying it. The firing of Shannon and hiring of Golden has left "The U" with just 2.5 commits as of yesterday. And you thought this class was looking weak?
 Going Bowling Ohio State bowl practices kicked off this week and excitement around the Sugar Bowl is starting to build up. Doug Lesmerises writes that the team is confident going against Arkansas based on their past defensive performances lately in bowl games. Bill Livingston discusses how Terrelle Pryor may use the lack of attention from the national and regional media to fuel an epic bowl game performance once again. Finally, bowl practice is a time for some of the younger players to show the coaches what they've got and one guy who has stood out amongst the rest is Rod Smith. Smith will have to battle with Boom Herron, Jordan Hall, Jaamal Berry, and Carlos Hyde for playing time next season, but if he's as good as advertised, I can easily see one of the aforementioned leaving town in the not so far future.
 New Logos, New Laughs Yes, we've all gotten a glimpse of the new Big Ten logos and division names, and yes, we all expected the rest of the country to have a good laugh over it once it got out. Well that moment has happened, and once again the haters get to poke fun at the conference. Quite frankly I don't care what our logo looks like or what our division names are, as long as the Buckeyes win football games and the rest of the conference represents during bowl season. Apparently Jim Delany feels the need to defend the conference's decision, further making him look like a fool in this process.
 Freshman Love Rivals came out with it's All-Freshman team and five Buckeyes made the cut. The honors went to Andrew Norwell, Jack Mewhort, Jonathan Hankins, Christian Bryant, and Jaamal Berry. I understand four of the five choices, but Mewhort? I mean I think the guy is going to be a good player and will likely start next year, but he barely played. Regardless, we'll take it. Adam Rittenberg's All-Frosh team also included Norwell, Hankins, and Berry, while Phil Steele's only had Norwell listed as a fifth teamer. 
 Hoops Hype The Dispatch's Bob Baptist says that despite popular belief, Thad Matta is trying to build the basketball Buckeyes a bench. I have watched every game so far this season and have to disagree. Other than in blow outs like last night's game, Matta is very tentative to throw any of his freshmen in tough spots, other than Jared Sullinger and Aaron Craft. McDonald's All-American DeShaun Thomas, Lenzelle Smith, Jordan Sibert, and JD Weatherspoon, on the other hand, have yet to gain the trust of Thad and until they show more consistency I believe that will continue to be the case. I don't know everything, but what I do know is that this team will not win the championship playing only six or seven players.
Flipping over to women's hoops, the Lady Bucks did suffer an upset on the road against Syracuse, but have a chance to avenge that and more this weekend as they take on defending champion UConn in Madison Square Garden. I will be on hand at the "Mecca of Basketball" on Sunday as Jantel Lavender, Sammy Prahalis, and the rest of Jim Foster's team try to deny the Huskies a chance to tie UCLA's record of 88 straight wins under John Wooden. Catch the game Sunday at 2:30 PM ET on ESPNU.