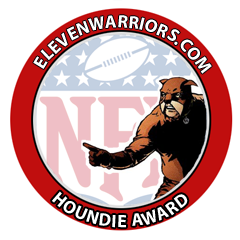 The Houndie is an award formerly known as the Buckeye NFLer of the Week.  After 2 years of existence, we searched for a catchier name, so with the help of a well placed typo and the ensuing 11W comments, the current title was created.
The playoff picture became a little clearer for both leagues, except for the Wild, Wild West in each, where 7 of the 8 teams are still in the playoff hunt. This weekend will always been known though as the week Brett Farve's streak came to an end at 297 straight games. As a Bears fan, I hated Farve his first 8 years or so, but then grew to appreciate his skill and love of the game over the last decade. I certainly won't miss the drama that has surrounded him the last couple of years, but one thing is for sure: He is a Leader amongst Legends.
We begin in Pittsburgh, where the Steelers continued the Bengals misery and handed them their 10th straight loss, 23-7. We mention this game due to the solo tackle that was made by Will Allen of the Steelers, his first since week 9 and just his 3rd since week 3. Allen was signed by the Steelers to a free agent contract this past offseason, but has yet to live up to his million dollar salary.
Another cameo in the box score was made by the long lost Vernon Gholston, who also made his first tackle in the last 3 weeks and 3rd since week 3. The Jets held the Dolphins to 131 total yards, but fell at home, 10-6 and are now 2 games behind the red hot Patriots. Santonio Holmes caught just 2 balls for 57 yards, as Sanchise connected on 17 of his 44 pass attempts. Brian Hartline was placed on IR with that hand injury he suffered against Cleveland last week.
In other special teams news, Bobby Carpenter was credited with 2 total tackles, as the Lions knocked Aaron Rodgers out of the game and stunned the Packers, 7-3. For the other side, A.J Hawk tied for the team lead with 10 tackles, including 5 solos, while Ryan Pickett gave this week's Houndie a run with 8 solo tackles (2 for a loss) and an assist.
Ohio's other team, the Browns managed just 9 first downs and had 3 TO's in their 13-6 loss to Buffalo. Donte Whitner slowed his pace of late with 5 total tackles, while Brian Robiskie had 2 catches for 17 yards for the Browns.
In Carolina, Chris Gamble is still out with his hamstring injury and Michael Jenkins caught 2 for 26 yards, but was targeted 5 times in Atlanta's 31-10 drubbing of the Panthers.
In San Fran, Troy watched from the sidelines, as the 49ers defense forced 5 Seattle turnovers and pulled within 1 game of the division lead at 5-8, with a 40-21 win. Nate Clements had 2 solo tackles, including 1 for a loss and his third pick of the season, while Ted Ginn returned 3 kickoffs for an average of 20 yards.
With the Cardinals beating the Broncos 43-13, Beanie had an opportunity for a big day, but carried it just 6 times for 16 yards, while he watched Tim Hightower carry the rock 18 times for 148 yards and 2 TD's. Meanwhile in San Diego, the Chiefs missed Matt Cassel in their 31-0 loss to the Chargers. KC could only muster 67 total yards, but still lead the division by a game, as Mike Vrabel had 4 total tackles, including 1 for a loss. Also in Dallas, Kurt Coleman was credited with 2 total tackles in Philly's 30-27 win over the Cowboys, while Antoine Winfield had 4 tackles in Minnesota's Monday night loss.
In the Big Easy, the Rams tried to hold it close after going down 14-0, but eventually stumbled 31-13. James Laurainitis had 8 solo stops for the Rams, while Larry Grant added a solo tackles as well. For NO, Will Smith had 3 solo tackles and Malcolm Jenkins stepped up to win his first solo Houndie of the year.
After splitting the award the week of Thanksgiving with Summertime, Jenkins decided to keep it himself with 4 solo tackles, 3 passes defended and 2 picks, one returned for a TD. As mentioned, the Rams tried to keep it close, trailing 14-6 just before halftime and were driving for another score, but Jenkins snagged the ball from his safety spot and took it 96 yards for his first career score and a 21-6 lead. His next pick came in the end zone after St Louis was driving again in the 4th quarter. It was Jenkins first 2 picks of the season and it now seems like he is settling into his role of corner/safety nicely as New Orleans has won 8 straight games.