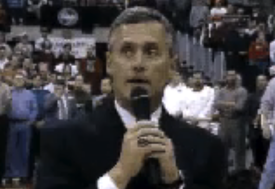 Way back in early January of 2001, the Buckeyes were reeling from back-to-back losses to end the season again. Six weeks prior, John Cooper had lost his 10th game to the hated Wolverines in 13 tries and his team followed that up by laying an egg against South Carolina in the Outback Bowl on New Year's Day. The 24-7 loss was one thing, but by now, Cooper had lost his program, with player arrests soaring and academic issues plaguing the team.  The school needed a change at the top and Cooper was fired the following day.
A little over two weeks later, on January 17th, athletic director Andy Geiger had his new man: Jim Tressel, coach of the Youngstown State Penguins.  Tressel was somewhat of a surprise pick -- most of the scuttlebutt coming out of the search focused on Oakland's Jon Gruden, Oregon's Mike Bellotti and Stanford's Tyrone Willingham -- but the new coach wasted little time impressing Buckeye Nation when he appeared at halftime of a men's basketball game against the Wolverines on January 18th and told the crowd that they could be proud of his "young people in the classroom, in the community and most especially in 310 days in Ann Arbor, Michigan on the football field."
So much for the trepidation over a little known coach coming from the lower ranks of college ball. This man got the rivalry, something his predecesor did not.
Now a decade after delivering those famous words, Tressel's Buckeyes have gone 9-1 against the Wolverines, atoning for Cooper's 2-10-1 mark to square the series over the past 22 years. As if the 9-1 run isn't ridiculous enough, Ohio State has won the last seven -- the best such streak from OSU's perspective -- leading to things like the tracking of the number of days it's been since Michigan's last win (2569) and a jokes about all of the billion dollar tech companies that didn't even exist the last time OSU tasted defeat in The Game.
As we wait patiently to find out where and who we're playing in January, we thought it would be worthwhile to look back on the 10 Michigan games of the Tressel era.  Today, we'll be recapping the first five games of the Tressel era.
November 24, 2001: Ohio State 26, #11 Michigan 20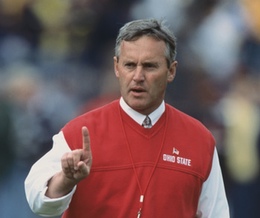 Living up to Tressel's promise, the players did in fact make us all proud when they went into Ann Arbor and handed the 11th-ranked Wolverines a loss, ending a seven game losing streak in Ann Arbor.
It was all OSU early as the team jumped out to a 23-0 halftime lead thanks to three Jonathan Wells touchdown runs and a late safety with just 35 seconds to go in the half.
The Wolverines, behind quarterback John Navarre, would rally in the second half, but Chris Vance's onside kick recovery in the waning moments sealed the result, ending Michigan's bid for a conference title.
| MVP | Key Play | Highlights |
| --- | --- | --- |
| OSU RB Jonathan Wells: 25/129 and 3 TDs | Wells' 46-yard TD run on 4th-and-1 early in the 2nd quarter to put OSU up 14-0 | YouTube |
November 23, 2002: #2 Ohio State 14, #12 Michigan 9
After racing out to a 12-0 start thanks to a talented freshman running back and a quarterback with a knack for delivering big plays when the team most needed them, the Buckeyes welcomed the 9-2 Wolverines to Columbus with a trip to the Fiesta Bowl on the line.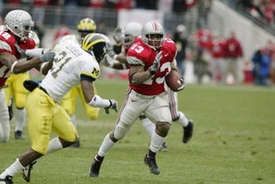 Michigan got on the board first, thanks to a 36 yard field goal from Adam Finley and proceeded to take a 9-7 halftime lead after Finley kicked two more field goals in the second quarter to answer a two yard plunge by Maurice Clarett. Both defenses continued their superb play through the third quarter and the Wolverines held on to their lead well into the fourth, conjuring up the familiar feeling of late November heartbreak, but the Buckeyes would answer late.
Starting from their own 37 with a little over eight to play, Krenzel and the Buckeyes put together a drive that would see them reach the Wolverine 34 before facing a 4th-and-1. Krenzel snuck the ball to pick up the first down and then followed it up by hitting Clarett on a wheel route for a gain of 26, setting up Maurice Hall's three yard sweep to take the lead with 4:50 remaining.
The Wolverines would have two more chances to take the lead, but both drives ended in turnovers. With 2:02 remaining and Michigan driving to OSU's 30, Darion Scott knocked the ball from Navarre's hands with Kenny Peterson recovering the fumble. After a Buckeye three-and-out, Michigan had one last chance to win the game, but Will Allen's interception on the game's final play sealed the win, setting up that sweet, sweet trip to the Fiesta to take on the Hurricanes.
| MVP | Key Play | Highlights |
| --- | --- | --- |
| OSU RB Maurice Clarett: 23/119 and 1 TD | Clarett's 26 yard fourth quarter reception to setup Hall's game winner. | YouTube |
November 22, 2003: #5 Michigan 35, #4 Ohio State 21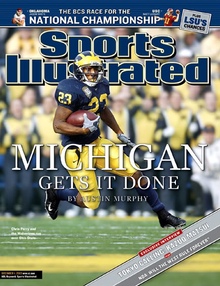 In the 100th edition of college football's greatest rivalry, Michigan was able to snap a two game losing streak to the Buckeyes, effectively ending Ohio State's hopes for a return trip to the national championship game.
Behind a dominating Wolverine offensive line, running back Chris Perry had a monster day, finishing with 154 yards and two touchdowns on 31 carries. For some context, the Buckeye defense had entered giving up just over 50 rushing yards per game. Michigan wide receiver Braylon Edwards got in on the act as well, finishing with 7 catches for 130 yards and two touchdowns, including a huge 64-yarder to open up a two score lead just a minute and a half into the second quarter.
Offensively, the Ohio State rushing attack was anemic, as they were most of the season, playing without the suspended Maurice Clarett. OSU's receivers, on the other hand, showed up. Michael Jenkins finished with 9 receptions for 132 yards, while Santonio Holmes -- who didn't start after getting busted following a campus fight -- wound up with 8 catches for 121 yards and two scores, giving a glimpse of the trouble he'd cause opposing Big Ten secondaries over the following two seasons.
It was the best performance out of Michigan's offense and defense in The Game in the last decade, which led to to Blue's only win against Tressel, wrapping up a Big Ten championship and Rose Bowl berth for Lloyd Carr's troops.
| MVP | Key Play | Highlights |
| --- | --- | --- |
| UM RB Chris Perry: 31/154 and 2 TDs | Braylon Edwards' 64 yard touchdown catch early in the second quarter to put the Wolverines up 14-0. | YouTube |
November 20, 2004: Ohio State 37, #7 Michigan #21
After a tumultuous (by the standards set during Tressel's tenure, at least) season that saw the team drop their first three conference game, struggle with a quarterback battle that was splitting the team, all the while playing under the cloud of allegations lobbed at the program by former running back Maurice Clarett, the Buckeyes, unranked at 6-4, welcomed the 9-1 Wolverines to town, hoping to just keep it close against a Michigan team that was undefeated in Big Ten play.
They did that and much more with the world getting their first glimpse of Troy Smith, Wolverine killer.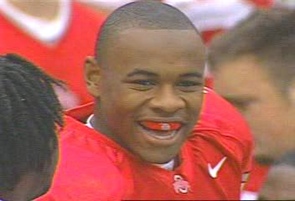 Just a little over one minute into the game, Smith hit Anthony Gonzalez for a 68 yard touchdown (peace out, Ernest Shazor) to take a 7-0 lead, but the Wolverines answered with a Chad Henne to Jason Avant four yard strike and a Mike Hart plunge from one yard out to roar back in front 14-7.  And then the second and third quarters happened.
Smith scored from two yards out, then Mike Nugent tacked on two field goals to put Ohio State up 20-14 at the half. Midway through the third, Ted Ginn fielded a punt at his own 18 and torched Michigan's coverage unit to extend the lead to 27-14. The return, his fourth for a touchdown that season, set a conference and school record for the sophomore speedster.  Eight minutes later, Santonio Holmes caught a 12 yard touchdown pass from Smith to make things 34-14 and that was pretty much all she wrote. Michigan would get a fourth quarter touchdown out of Braylon Edwards and the Buckeyes would follow by tacking on an insurance field goal for the final margin.
For the day, Smith finished with 145 yards rushing and 241 yards passing, accounting for three touchdowns as he broke hearts all across the Mitten State. The defense showed up as well, limiting Hart, the league's leading rusher to just 61 yards on 18 carries (3.4 per), though Edwards did go off a bit with 11 receptions for 172 yards (though to be fair, a chunk of that came during garbage catchup time).
| MVP | Key Play | Highlights |
| --- | --- | --- |
| OSU QB Troy Smith: 13/23 for 241 and 2 TDs through the air; 18/145 and 1 TD on the ground | Ginn's 82 yard punt return to put the game out of reach | YouTube |
November 19, 2005: #9 Ohio State 25, #17 Michigan 21
The series moved back to Ann Arbor in 2005, but the result was more of the same: Troy Smith destroying crushing the souls of Michigan fans.
The junior quarterback threw for a career-high 300 yards and a touchdown, while also scoring on the ground, but it was his fourth quarter heroics that really cemented Smith's legacy in Columbus as Wolverine Kryptonite. After the Buckeyes took a 12-7 lead into the locker room at the half, Michigan answered with a Garrett Rivas field goal and Kevin Grady touchdown run to take an 18-12 lead into the fourth quarter. Rivas would tack on another field goal, halfway into the fourth to give Michigan what looked like an insurmountable 21-12 lead, but really that just served as a wakeup call for Smith.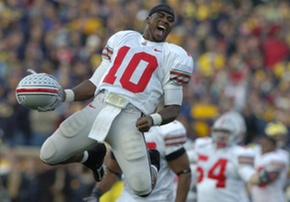 On the next possession, the Buckeyes quickly answered when Smith found Santonio Holmes on a 26 yard strike to cut the deficit to two. After an unsportsmanlike conduct call on Holmes forced the Buckeyes to kickoff from their own 20, the Wolverines took over on their own 48 after a 19 yard return from William Paul.
Up two and with the ball at midfield, the Wolverines were set to put things away with just a little over six minutes remaining in the game.  After Chad Henne completed an 11 yard pass to Steve Breaston to move the ball to OSU's 41 things sputtered to a halt for Michigan. Grady was stopped for a loss of one on first down, Henne threw incomplete on second down, and then facing a third-and-11, completed a seven yard pass to Breaston setting up a Michigan punt.  The punt was exactly what Michigan needed, going out of bounds at the OSU 12.
Taking over with 4:16 to play, Smith went to work. In what is likely one of the finer drives in the history of Buckeye football, OSU put together a 15 play, 88 yard march without facing a single third down. Smith worked the field like a maestro, spreading the ball out between his three talented receivers: Ginn, Holmes and the young Anthony Gonzalez.  On first down from the Wolverine 31 with just 47 ticks on the clock, Smith faced pressure when he stepped up in the pocket, forcing him to bounce back, Randall Cunningham-style before firing a bullet that Gonzalez airwalked to go up and grab. Two plays later, Antonio Pittman took it in from the four and that was the ballgame.
| MVP | Key Play | Highlights |
| --- | --- | --- |
| OSU QB Troy Smith: 27/37 for 300 and 1 TD + Mad Clutch Skills | Anthony Gonzalez's 27 yard highwire catch with just 47 seconds remaining, setting up Pittman's game-winning run. | YouTube |
Look for the remaining five games next week. (Hint: It's more of the same.)