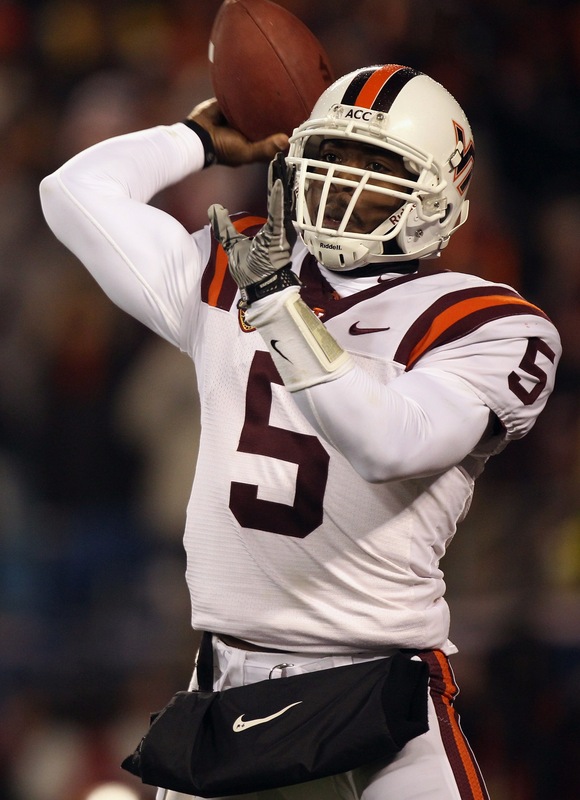 So there you have it. The top two teams in the BCS standings took care of business Saturday, preserving the spots they've held in those standings since week nine (give or take some swapping between the two) and will now meet in Glendale for the BCS Championship game on January 10th.
The exact pairings of all of the bowls will be announced later tonight, but we have a pretty good feel for who will be BCS-bowling.
Virginia Tech 44, Florida State 33
This game was over as soon as Virginia Tech pushed its lead to 35-17 late in the third on a Tyrod Taylor touchdown pass. The seemingly-rejuvenated Seminoles were forced to operate with back-up quarterback E.J. Manuel in place of the injured Christian Ponder, and never really looked settled on offense: Manuel finished with two picks and one garbage-time scoring toss, while the previously potent ground attack finished with 57 yards rushing on 28 attempts (though tailback Ty Jones did score three of FSU's four touchdowns on the day).
Tyrod Taylor and the Va. Tech offense, on the other hand, were excellent, with Taylor completing 18 of his 28 passes for 263 yards and three scores, adding a rushing score in the fourth to ice the game. The 'Noles scored with a couple TDs and a blocked VT PAT returned for two late to pretty up the score, but the overall outcome remained the same: Tech is Orange Bowl-bound, where they'll likely be playing an at-large team (Stanford, in all probability). Florida State, meanwhile, heads to the Chick-Fil-A Bowl in Atlanta.
Auburn 56, South Carolina 17
The Tigers answered the call of Oregon's 37-20 win over Oregon State by carpet-bombing a solid South Carolina team to win the SEC championship. Any doubt about whether it was Auburn's night was erased when, holding a 21-14 lead just before the half, Cam Newton lobbed a desperation Hail Mary toward the end zone, which was tipped by a South Carolina defensive back into the waiting arms of receiver Darvin Adams, giving the Tigers a 28-14 lead and taking all the wind out of the Gamecocks' sails.
As if that didn't wrap up the Heisman vote enough, Newton then joined Tim Tebow as the second player in NCAA history to pass and run for 20+ touchdowns in a season, scoring his 20th touchdown run in the third quarter. He finished 17/28 for 335 yards and four touchdowns, along with another 73 yards and two scores on the ground. They're going to the national title game, while South Carolina will probably meet Michigan State in the Capital One. After watching the Gamecocks get ripped like this, the game becomes a bit more of a must-win for the Big Ten's bowl season ego.
Oklahoma 23, Nebraska 20
It would have been nice to add the Big 12 Champ to the Big Ten's roster of teams next season, but the Huskers ended up gacking away a potential 24-7 lead over perennial Big 12 darlings Oklahoma with numerous stupid, unforced errors. Roy Helu opened the scoring with a 66-yard scamper for a score, then proceeded to gain 20 yards on his next 10 carries. Rex Burkhead was a little bit more consistent, but never found his groove behind a struggling Husker offensive line. The front five for Bo Pelini's team surrendered 7 sacks on the day, repeatedly letting pint-sized Taylor Martinez get mauled by Oklahoma defenders.
By game's end, Martinez was a shell of his former self, completing just 12 of 26 passes for 162 yards, tossing a red zone pick for good measure (when Nebraska had the chance to go up 24-7), finishing the night with -29 yards rushing (and that line isn't much prettier without the sacks). It's truly frustrating for Nebraska's last season in the Big 12, which also featured losses to conference power brokers Texas and Texas A&M, to end this way. Even so, I look forward to seeing Bo Pelini's squad in the Big Ten in 2011, as they have the talent to compete for a spot in the new Big 10 title game right away.