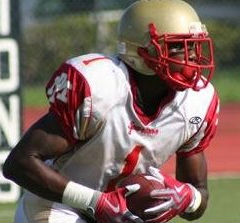 The 2010 college football regular season is now officially over and players on teams .500 and above can begin to prep for the bowl season beginning in two weeks. While players can enjoy some time off to get healthy and prepare for their final opponent of the year, coaches don't have it as easy during the month of December.
Like many of their counterparts across the nation, the OSU coaching staff has already started the hectic month on the recruiting trail and will spend December and January not only preparing for the Razorbacks in the Sugar Bowl, but will be trying to lockdown the signatures of top high school football stars around the country before National Signing Day in early February. The Bucks have 18 verbal commitments for the class of 2011, and Jim Tressel and company would like to work hard to fill the last 4-5 spots in that class, as well as add to a solid start that features five verbals for the class of 2012.
Arguably the recruit on the top of both the coaches' and fans' wish list is DB Jabari Gorman of Miami (FL) Pace. Gorman has long had Miami and the Buckeyes on the top of his list, along with Alabama, but has dropped the Crimson Tide and added Florida in the last two months. The Gators are making a strong push for the South Florida standout, and they are definitely a real threat to land him, as word from Miami is that Gorman's family wants him to stay relatively close to home. Unless "The U" lands a big time coach, I don't think Gorman will end up in Coral Gables now that Randy Shannon is out, so as of now I would say the Buckeyes lead for his services. I truly believe Gorman wants to be a Buckeye, but will the pressure of staying close to home be too much and send him to Gainesville?
Another hot topic in recruiting circles is the linebacker situation. Connor Crowell is the only player in the position on board thus far, and his status for next year is uncertain after undergoing ankle surgery after being injured in his final game. Ejuan Price from the Pittsburgh area and Curtis Grant of The Heritage School in Richmond, Virginia are the top two options left on the board and both have the Buckeyes in their top two.
Price has been to the OSU campus more times than Jim Tressel has this season and it would be shocking if he chose his other finalist, Iowa, over Ohio State. He is taking an official visit to Iowa next weekend and I expect a final decision not too long after. I think he could verbal to OSU during bowl practices and it would be anything but a shocker to see him in Scarlet and Gray next year.
Grant is one of the country's best and has been offered by virtually everyone in the nation, but has Florida and the Buckeyes on top. I would gladly give Urban Meyer Grant in order to land Gorman, but if the Bucks can get at least one of the two, it would be a big win. I think the Gators currently lead this one, but if Grant visits Columbus, that could change. The official visit could be a telling sign here, so look out for that.
Grants are a hot commodity and while Curtis may not end up a Buckeye when it's done, Doran Grant of St. Vincent-St. Mary could very well be. The Irish star was my #1 player in Ohio coming into the year and has done little to change that, having a solid year at both receiver and corner back. He could see the field immediately at OSU, but it will definitely be a battle to the end with Michigan State, where his father played a few decades ago. Grant also mentions USC and Notre Dame when asked about his favorites, and will likely take visits to those school, but expect this come down to the Spartans, who got his first official visit this past weekend, and the Buckeyes, who will have the last official, usually a good sign.
Glenville has been a pipeline to Ohio State since Jim Tressel arrived, but this year the flow might slow down a bit. Four top prospects from the school, OL Aundrey Walker, QB Cardale Jones, WR Shane Wynn, and LB Andre Sturdivant, are all being looked at from the Buckeyes, but only Walker holds an OSU offer. The status of the other three players are not clear, but it is known that academics could be in the way of one or all getting official offers. I think at the end of the day Walker will be a Buckeye, choosing OSU over Michigan State, USC, and others. Jones is a toss-up as I think he would be a nice addition to this class, but with Braxton Miller already on board, the question remains if he is needed. Wynn can be a solid slot receiver and return man in Columbus, but his size (5-8/155) is not that appealing and many feel he wouldn't be that productive at the next level. Sturdivant is probably too slow for linebacker in college, but could put on weight and slide down to defensive end. He would verbal to the Buckeyes immediately upon an offer if one did come his way.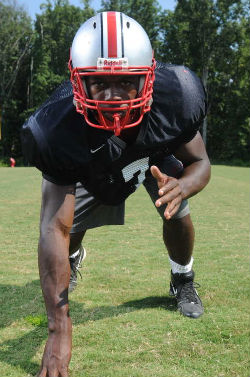 Speaking of Wynn, many feel that Mr. Ohio Football, Akise Teague, would be a better fit than the Glenville star. Teague (5-10/180) is a do-it-all type of athlete who played running back and defensive back for state champs Youngstown Ursuline. Teague's recruitment started off slow, but he has recently picked up offers from Wisconsin and Cincinnati. I like the idea of the Bucks taking him and grooming him to be a cornerback, but he is currently being recruited as a running back (don't need any more) and slot receiver (could use him here). This kid is a tremendous athlete and I think JT should try to find a way to get him into this class however he can.
Finally, the Bucks have Steve Miller, Kenny Hayes, Joel Hale, Chase Farris, and Michael Bennett, but will probably add one more defensive lineman in this class. While another player in this unit isn't needed, there a couple of prospects who are worth taking no matter who is already on board. The two players the coaches are looking at are DE Jadeveon Clowney of Rock Hill (SC) South Pointe and JUCO DE Cornelius Carradine of Butler County CC.
Clowney is nation's top prospect and has OSU in his top five along with South Carolina, Alabama, LSU, and Florida State. I think this is truly a two horse race between South Carolina and Alabama, but FSU could be a darkhorse with Jimbo Fisher at the helm. It's nice OSU was able to jump into things late, but getting Clowney out of the south will be tough. Once again, look for the visit, as that will tell how serious he is about Ohio State.
Carradine, on the other hand, is a very realistic possibility. He went to high school at Cincinnati Taft, but went to Butler after failing to academically qualify for Illinois, where he verbaled out of high school. He wanted to be a Buckeye his entire life and would have been from the start if he had the grades, but now may get the opportunity after starring at junior college, where he is widely considered the best player at that level. The 6-5/250 stud is visiting OSU this weekend and I wouldn't be surprised to see him verbal. He has three years left to play two and is also considering Florida State, Georgia, Alabama, Arkansas, Kansas State, USF, Tennessee, Ole Miss, and others.