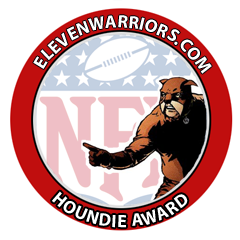 The Houndie is an award formerly known as the Buckeye NFLer of the Week.  After 2 years of existence, we searched for a catchier name, so with the help of a well placed typo and the ensuing 11W comments, the current title was created.
We are almost half way through the NFL season and there is still no clear cut favorite to win in either league. The NFC has 10 teams within a couple games of each other, with no one separating themselves performance wise, even my Bears still have a chance. While once again the stronger teams reside in the AFC, where 8 teams have 2 or less losses and the Steelers D is nasty, which makes me sick to my stomach just typing it.
There were some strong games Sunday on the defensive side of the ball Sunday starting with A.J. Hawk in Green Bay, Sunday night. The Packers defense forced 3 Farve picks, including a critical one by Hawk early in the 3rd quarter that lead to a TD and a 21-17 lead 5 plays later. Hawk also chipped in with 6 solo tackles and 5 assists, which ties him for 8th in the league with 60. Ryan Pickett tried to return from his sore ankle, but only lasted 7 plays and now may be out even longer. On the other side, Antoine Winfield may not play QB, but if he did, he'd give the Vikings a better chance than Farve. 'Toine was second on the team with 6 solo tackles and an assist.
In what was the most shocking game of the weekend, Cleveland went down to New Orleans and took down the Saints 30-17. Brian Robiskie led the Browns in receiving with 3 catches for 25 yards, as Colt McCoy only completed 9 passes for 74 yards. While for the Saints, Malcolm Jenkins lead the team in tackles with 8 solos and an assist, his most tackles this season, but had a crucial pass interference call at his own 4 yard line to set up a Cleveland TD. Will Smith returned from injury to record 4 solo stops, good for second on the team.
In another stunner, Buffalo was looking for their first win of the season, hitting a 50 yard FG with seconds left to tie it at 34, but lost to Baltimore 37-34 in OT. Donte Whitner continued to be a tackling machine in a losing effort once again, leading the Bills with 7 solos and an assist. Whitner now ranks 5th amongst NFL defensive backs with 54 total tackles and probably has most of his possessions packed up and ready to leave to town immediately.
The Buckeyes of St. Louis let one slip away down in Tampa, losing 18-17 on a TD with 10 seconds left. Laurinaitis lead the Rams with 7 solos and an assist, while Na'il Diggs had 3 tackles and Larry Grant didn't make the box score after his Houndie win last week.
In KC, Mike Vrabel continued to lead the turnaround of the Chiefs, chipping in with 4 total tackles on the day in their 42-20 drubbing of Jacksonville. The Chiefs are now 4-2 and sit atop the upside down AFC West. With their bye week behind them, KC plays just 2 teams with a winning record the rest of the season.
Chris Gamble and the Panthers got their first win on the season with a 23-20 victory over San Francisco. Gamble only had 3 tackles, but the Panthers defense held the 49ers to 183 yards passing and the wide outs accounted for just 6 catches. In another surprise, Ted Ginn didn't have any of those catches, but returned 2 KO's for an average of 23 yards and 3 punts for an average of 8.
Continuing with the offense side of things, Michael Jenkins had 3 catches for 25 yards, as Matt Ryan looked for Roddy White all day in Atlanta's 39-32 win over Cincinnati. For the Bengals, Nugent hit 2 of 3 FG's and both his XP's, missing a 53 yarder as the first half expired.
In Miami, Brian Hartline caught 5 balls for 57 yards, but fumbled at his own 38 early in the second quarter, which lead to a Pittsburgh TD 5 plays later and a 10-7 lead. Dick Lebeau's crew wasn't the normal fantasy stud, but they held Miami to 64 yards rushing on 21 carries. Speaking of poor rushing, Beanie had 54 yards on 14 carries in Arizona's 22-10 loss at Seattle. Wells and the Cardinals are pathetic on offense right now, as Beanie has 89 yards on 34 carries in his last 2 games and is averaging 3.5 YPC on 53 attempts for the season.
While a few guys lead their teams in tackles, the best performance on the day belonged to Nate Clements, albeit in a loss to the Panthers and he takes home his first Houndie of 2010. Clements lead the team in tackles with 8 solos and an assist, while also recording a sack and forcing a fumble. The FF came in the second quarter and the 49ers took possession at their 44, settling for a FG 8 plays later. The sack was his first since week 2 of 2007 and came in the final seconds of the first when Carolina was trying to score late. Clements has played in all 7 games, after missing the final 9 last year and in the crazy NFC West, the 49ers still have a chance to make a run at things.