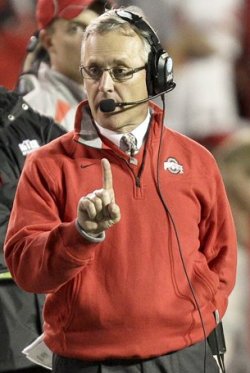 Despite the fact we all handle losses in different ways as evidenced by the Vent thread and my Sunday morning hangover, I think it's safe to say we all can agree on what we witnessed, which was one team seizing the moment while the other seemed to get lost in it (Red Zone?!?!). I couldn't even stomach completing my usual Sunday morning replay so hopefully my version of events is as accurate as my game notes. I'll try to be careful and not dwell on all the negatives from Saturday night because there were also a few positives sandwiched between the curb stomping in Madison. I tried to OD on the anti-sarcasm pills so let's see how this goes...
decisions, decisions
Naturally, with any loss a rabid fan base is going to arm chair quarterback. It's in our DNA. And just as I read in a few comments last night, I don't think there's anything wrong with that though some readers apparently do. Whatever. I'm not going to lambaste Tress or call for his head but I do think it's reasonable to question a few things from Saturday night.
First, I want to say how thankful I am that Kyle is in charge of attending pressers because I don't think I could sit there week after week and listen to Tressel talk about how important special teams are only to watch the Buckeyes get thoroughly dominated in that facet of the game. The timing of the KO return for a TD was absolutely dreadful in that it got the crowd even more amped and seemed to give some Buckeyes kind of an uh-oh feeling. I think Pryor even talked after the game how that play was an early dagger. You'd hope the team could overcome it but that sure did put a lot of pressure on the offense to go out and answer - whether it should have or not - and they couldn't respond. In turn, that put pressure on the D to go out and get the ball back - and they couldn't respond either. Maybe I'm overplaying it but the KO return seemed to have a hangover effect in that 1st half. One last rant on it - are we sure Aaron Gant belongs out there? He seems to whiff quite a bit and if after four years in the program he still can't supplant a very raw and ineffective Orhian Johnson at strong safety... Does he deserve a spot on special teams? I'm not trying to pile on - I think it's a very legit question.
Regarding actual in game coaching decisions, some folks in that notorious vent thread also took issue with the offensive play calling. Overall, I didn't have major issues with the calls but there were some exceptions. Tressel and company flat out botched OSU's first trip to the red zone. Trailing 21-0, they needed six, not three, but Tress got ultra conservative and predictable, somewhat wasting what should've been an "answer" drive. Riding Boom's hard running behind a line that opened a few creases, the Buckeyes marched from their own 32 to Wisky's 3 yard line setting up 1st and goal. Inexplicably, Tress dialed up a couple Pryor runs up the gut between a Boom run with no lead blocker out of the Wildcat. Why not roll Pryor out with the option to run/pass at least once during that sequence? Or if he wanted to run, why not have a fullback lined up behind Pryor? That sequence was junk.
And lastly, where do you stand on Tressel's decision to punt on 4th and 10 from the OSU 29 trailing 28-18 with roughly 6:30 left in the game? Sure, the offense on that possession was in total disarray after two straight incompletions from Pryor followed by the Posey drop of a poorly thrown ball but the defense had just got done surrendering a crushing 10 play, 73 yard TD drive leaving little confidence - in me at least - that they could get a stop. Don't you have to go for it there? 4th and 10 wasn't going to be an easy conversion but the alternative seemed even less likely, so much that so that Pat Forde couldn't resist accurately assessing Tressel's decision:
"The Buckeyes faced a fourth-and-10 at their 29 at that point -- a tough down to convert. But it certainly was no tougher than the Tressel plan at that point. When asked about it afterward, he said it was probably easier to hold Wisconsin, get the ball back and score, recover an onside kick and score again.

If you say so, Tress. But when your defense gave up a drive for the clinching field goal, it was all over but the unconvincing postgame spin that everything was going to be OK."
I know. I'm not a Forde fan either but it's like he read my mind, and probably yours. We needed to go for it on 4th down to have a chance. Period.
DAne is a boss
Devier Posey may be the #1 receiver from an NFL prospect vantage point but there's no question Dane is the best receiver on this football team. Comparing the two in my mind as I type just frustrates me further because I'm forced to recall yet another instance in which Posey was stricken with a case of the drops, and even worse - far worse - a recurring case of alligator arms. Already down 21-3, Posey appeared to show a lack of gumption on a 2nd down and 9 throw from Pryor over the middle. He basically stopped his route and half heartedly stuck out his arms though OSU was threatening to put up points and badly needed the yards. The incompletion was followed up by a sack on 3rd down - Shugarts got beat - then a missed 45 yard FGA to keep the Buckeyes from gaining any momentum headed to the half. Late in the 2nd half, Posey's drop on 3rd and 10 with OSU on life support trailing 28-18 turned out to be the final nail in the coffin.
Meanwhile, Dane spent the entire night leading by example, hauling in passes and sacrificing his body as if he was in the True Blood cast. Sanz defined leadership on this night grabbing six balls for 94 yards regardless of the impending punishment. A major play included his 3rd and 9 reception for 11 yards on OSU's first possession of the 2nd half following a Pryor scramble. Dane got loose and took a shot but held on to move the chains and OSU would score three plays later on a Boom Wildcat to make it 21-10.
On the ensuing offensive possession following a 5 and out by the D, Dane assisted on a mammoth 19 play, 94 yard TD drive with a 20 yard grab on 1st and 10 at the OSU 39 but his biggest play would come moments later. Still trailing 21-10 and desperately needing points to hopefully make Wisky uneasy, the Buckeyes faced 3rd and 6 at the Badger 37 yard line. After a wild scramble, Pryor threw high to Dane but the senior captain did his best Gonzo Redux and hauled in the 9 yard reception despite being flipped. Amazing grab. The catch extended the drive allowing Boom to score eight plays later cutting the lead to 21-18. You are a boss, Dane Sanzenbacher. Bottom line, Posey may have the physical tools and he truly seems to be an all around great kid who wants to improve (his interviews are always amazingly professional) but Dane's leadership, desire, sure handedness and dedication to details make him the guy the young receivers should pattern themselves after. He will be missed more than a lot of us realize.
punked in the trenches
Though the rushing stats don't look as lopsided as it felt (OSU 155 yards, 3.8 ypc / WISC 184, 4.3) the defensive line was absolutely dismantled when it mattered most. At times, the Badger front seemed to have little trouble pushing the defensive line off the ball and back into the linebackers, who didn't exactly have a great night themselves. Again scanning the Vent thread, I was surprised that virtually nobody brought up Cameron Heyward, as if he's a sacred cow or something. I will never argue dude isn't a beast and he is lining up at end, not tackle, but he was virtually non-existent Saturday night. I didn't chart plays this time around but it sure felt like Wisconsin repeatedly attacked Larimore and Heyward's side of the line with big time success. At the very least, I don't need to read anymore "I wanna have a season like Suh" fluff. Nathan Williams was also fairly invisible which shocked me. Going in, I felt he was having the best season of any Buckeye defender at their respective position. Strange how the season goes. Here I am most worried about the secondary coming into the season (though not necessarily against Wisconsin specifically) and it's the defensive line that fails to stand up to the test when the rubber hits the road. Of course, the secondary was far from untouchable as Chekwa getting burnt a few times when OSU still had a chance late was like a punch in the gut but in the end, I still felt the defensive line was most responsible for the unfavorable showing from the Bullets. It felt like Wisconsin always had 2nd and short or manageable, further compromising the defense as Wisconsin could employ the full playbook. The TD drive after OSU cut it to 21-18 was sheer agony in this vane.
Meanwhile, the Buckeye offensive line didn't completely disappoint me but that's probably because I've come to expect so much less from them in comparison to their defensive counterparts. I continue to think the middle of the line is fairly stout with Boren, Brewster and Browning opening up some lanes for Boom (seemed like a chunk of succesful runs were up the gut) but this group is still incredibly inconsistent on the outside. Adams and Shugarts simply don't seem to be improving at a rate necessary for this line to function as a consistent unit in a big game. Maybe he is anyway, but if not, those two bookends sure helped Watt look like the best DE on either team. And Pryor probably deserves an assist for holding on to the ball far too long in some cases but however you slice it, a highly mobile Pryor has now been sacked, what, 14 times, I think. Ridiculous.
Boom gets it
Though he was only the third best RB carrying the ball Saturday night, Boom Herron had another solid performance offering up a 19 carry, 91 yard effort, good for 4.8 per carry. Similar to Dane, Boom is a guy that truly approaches games in a workmanlike fashion and I felt he really ran with a purpose, never giving up on a play. Often maligned by a fanbase in desparate need of a Beanie or Eddie, or even a Pittman, Boom often put the Buckeye offense in winnable downs and was a major factor on all three scoring drives.
On the frustrating drive that stalled at the Wisky three resulting in a 21-3 Badger lead, Boom caught a pass for six yards and rushed five times for 37 yards. His back to back gashes of 14 and 16 yards moved the ball from the Wisconsin 33 to the 3 setting up 1st and goal. On the 10 play, 77 yard TD drive to start the 2nd half that put OSU back in the game, Boom carried the ball six times for 37 yards including a speedy dash around left end out of the Wildcat for the 13 yard touchdown. Finally, on OSU's TD drive cutting the deficit to 21-18, Boom toted to rock on 8 of the 19 plays, mostly out of the Pistol, and while he only logged 21 yards, he did find the endzone on a 1 yard run on 2nd and goal.
Overall, Boom's 4.8 ypc was his 2nd best performance of the year (5.7 LW against IU), and his 19 carries were also his 2nd highest this season. For the year, he's averaging 4.6 ypc, and while far from prolific, it's up from the dismal 3.9 a year ago.
Now what?
I hoped this post would wash the game away and cleanse my soul but even if it does, where do the Bucks go from here? I guess the good news for the immediate future is that there probably won't be a hangover effect with the Purdue game already having been circled since the self-inflicted fisting of a year ago. Coming off a loss, I have to imagine the defense will be chomping at the bit to get back on the horse. Meanwhile, the offensive line best come to play because Kerrigan will have designs on eating Pryor's lunch. Speaking of Pryor, I'm interested to see how he responds to a mediocre performance that would be falling under much larger scrutiny had so many other facets of the team not gotten exposed in Madison. What do you think - will the Buckeyes come out smoking against the Boilers?
I'm sure all the scenarios have been played out for OSU to still earn a clearly reachable BCS bowl game but I probably won't care about that until at least midweek. The rest of the schedule looks favorable excepting the road game in Iowa City. Though that team won't have the combo of offensive line and RB talent that the Badgers came with, they will obviously be similarly dangerous in that they are looking for payback, they are tough at home, feature vets at key spots and have a DE that can overwhelm our tackles in a game changing fashion. For completely unscientific reasons, I expect the Buckeyes to win the five remaining conference games but after another big game failure, I'm already fretting about a bowl game. A no-win proposition against Boise? A potentially disinterested Buckeye squad taking on Arkansas or South Carolina in the Capital One if they can't run the rest of the table?