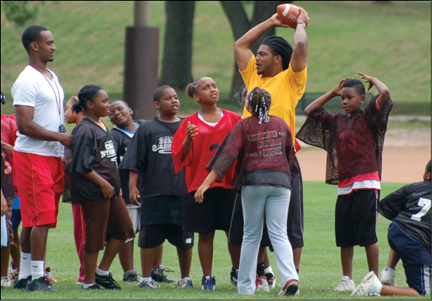 Last week I wrote an update that I had been wanting to do for quite some time now, a short, semi-biography of Brian Rolle. Part of the reason I had wanted to do it was because I think his story is pretty interesting and inspirational, but I also think that showing another side of college athletes is fairly important. As fans, our perceptions of players are often wholly dependant on their performance on the field; the idea that a player might've recently lost a loved one, or got an A on an important presentation, or might be really homesick doesn't really enter into our minds when we're screaming at the TV because DeVier Posey just ran the wrong route you had your guy beat come ON man you're going to college for FREE I am getting SO MAD HERE RAAARRHGHRGHGRHHH!!!!
My point is, college athletes, and athletes in general, are people too. They have lives and interests and hobbies outside of whatever sport they might be a part of. Luckily for us, the roster page at many of the offical school run websites for their sports programs have a nice little rundown of the player's accomplishments and their lives in general. Most of the content is related to their play during games, but as you will see, there are some surprising tidbits about some famous players in the Big Ten. Let's start with your Ohio State Buckeyes:
John Simon, DL: National Honor Society, Cardinal Mooney. Much has been made of Simon being a "workout warrior," but he proves that there is some brain underneath all of that brawn.
Joe Bauserman, QB: Spent three seasons in the Pittsburgh Pirates farm system as a pitcher. As noted on the official OSU website, "Baseball America rated him as having the best changeup in the Pirates' farm system." I always find it interesting when dual sport athletes have to choose between baseball and football, of all things. I love both sports, but they could not be more different (Devon Torrence also played baseball in the Astros' farm system).
Dexter Larimore, DT: Accomplished ceramics artist and sculptor. Has had his work shown in Washington DC and made a lifesize scultpure of his high school's pirate mascot.
C.J. Barnett, DB: Participated in Mock Trial in high school and is one of the football representatives to the Student-Athlete Activity Board at OSU. Definitely not afraid of public speaking.
John "HE ATE ME" Hankins, DT: Drama club in high school, played Tevye in Fiddler On The Roof to critical acclaim. Can you imagine the kind of stage presence this guy must have?
Drew Basil, K: Letterman in Bowling in HS, and considered one of the best bowlers in his age group in America. Pro Bowl Top Flight Magazine called him "...the best two sport bowler since Chris Paul" and said that Basil "...can show a generation of youth football players that bowling is not just a sport their overweight dads play when they can't afford both green fees and a case of Keystone Light."
Iowa Hawkeyes
Paki O'Meara, RB: Jazz pianist. Was once invited to play with the notable jam band String Cheese Incident, but had to decline due to football obligations. Has self-released two LPs that can be found in Iowa City music stores.
Ricky Stanzi, QB: AmeriCorps spokesman. His love for America is definitely not an ironic joke, and has been a spokesman for AmeriCorps since he began college. All three of his sisters are currently working with the program, and Stanzi takes time to volunteer at a different VFW at each away game during football season.
Penn State Nittany Lions
Evan Royster, RB: Video game beta tester for EA Sports and Rockstar North (formerly DMA Design). An avid video game player, his father was a programmer with EA sports and Evan helped his father's work as a tester, and later for other companies. Evan has said that he hopes that "...(his) skills at playing NCAA '08 will one day translate on to the football field."
Michigan Wolverines
Denard Robinson, QB: Expert knot untier. Denard's nickname of "Shoelace" actually began as a child when he found he untie any knot or tangled shoelace. As a 13 year old, he untied the famed "Cobble's Knot," something considered impossible in his hometown of Two Mills, PA. He was awarded a certificate for a year of free pizzas for his efforts.
Martavious Odoms, WR: Backup singer on Erykah Badu's single, "Gone Baby, Don't Be Long." Odoms is apparently an excellent mezzo-soprano in his own right, and was asked by his cousin Badu to perform backup vocals on her "New Amerykah Part Two (Return Of The Ankh)" album and he agreed.
Wisconsin Badgers
Scott Tolzien, QB: Licensed Master carpenter, having participated in the construction of over two dozen Amish barns. Though Tolzien is not himself Amish, many members of his family are, and as a result Tolzien does not build with power tools or even nails. In fact, if you look closely at his uniform you will notice no zippers or buttons, as everything is fastened with Tolzien's personal homemade horse glue.
Jay Valai, DB: Jay Valai is a big jerk.
So there you go, and hopefully this guide has enlightened you somewhat. So the next time you see one of these terrific student athletes take the field, please remember that these young men are people; not silly caricatures dreamed up by someone with far too much time on their hands, but real, living people who are more or less just a bunch of college kids trying to have fun.
Note: some details may have been embellished/made up wholesale. Hankins actually was a member of the drama club and Basil was a letterman bowler, but no record exists of HAM playing Tevye and Pro Bowl Top Flight Magazine does not exist. Paki O'Meara probably can't play the piano but I'm not sure. Stanzi absolutely should be an AmeriCorps spokesman. That was kind of a mean dig at Royster, sorry Evan. Everything about Denard Robinson is 100% accurate. Odoms may or may not have a lovely singing voice. Wouldn't that be really cool if that stuff about Tolzien was true? And Jay Valai is most likely a wonderful human being and not at all a jerk. But he did concuss Sanzo. What a jerk.