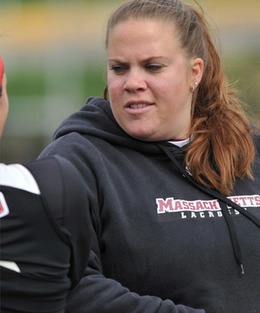 First year OSU women's lacrosse coach Alexis Venechanos has filled out her coaching staff, plucking an assistant from UMass and Cincinnati to begin work in Columbus immediately. Both are more than qualified, bringing years of playing and coaching experience with them. That's fine and dandy, but why is this news on a site that only thinks about lacrosse when trying to figure out when to arrive for the spring game?1 Well, the assistant from UMass is a Belichick.
[Amanda] Belichick, who coached under Venechanos at UMass in 2010, helped the Minutewomen to repeat performances as Atlantic-10 champions and NCAA Tournament participants. She joined the UMass program after serving as head lacrosse coach at Choate Rosemary Hall for two years. Belichick, the daughter of New England Patriots Head Coach Bill Belichick, also served as an assistant coach for the varsity soccer team and the junior varsity ice hockey team.
On this surface, this is a head coach bringing an assistant with her to a new school, but to those of us in the know, this is clearly the work of Gene Smith, acquiring elite consultation services (mostly on Dad's Weekend) for his prize horse.
1 We wish we were better with the non-revs. We really do. If you would like to start a writing career by covering them for us, hit us up.