One of the funny things about having a veteran team is that there is less preseason excitement for new faces at different positions. Obviously, this is more true on offense than defense this year for the Buckeyes, as the unit returns former starters and/or familiar faces along the offensive line, as well at wide receiver and running back.
I suppose you trade off championship dreams for excitement over new talent, and that's a pretty good trade off. Nonetheless, there is still a chance, however minor, that somebody is going to step up and shock us heading into this season on this side of the ball.
The foremost contender is the one who plays at the most forgotten position in the Jim Tressel offense.
Jake Stoneburner
As Johnny previously pointed out:
Look at the spring depth chart. Now that Carter and Small are gone, the people behind Posey and Sanzenbacher are Mr. April and about 50 other guys with next to zero playing time. Stoneburner has been in the program for two years now, knows the offense, and the assumed starter at TE this year meaning he will often be on the field regardless of what he's being assigned to do. With no consistent receivers behind Posey and Sanzo (and possibly the RB's), someone will have to step up to become an established threat in the passing game. And hey, how about this TE over here why not?
While I think 30 catches for a tight end is a tad bullish, it's hard not to get excited about the possibilities. I know, every year we talk about throwing more to the tight end, and it never happens, but with all the attrition at wide receiver, it's more likely to happen this year than any previous year in recent memory. But there are other potential stars in this offense.
Jordan Hall
This is the one I'm keeping my eye on. Even in a packed situation at running back, I think Terrelle Pryor's high school backfield mate will separate himself from the crowd early this year. Though Jim Tressel is talking about taking things aerial, I think the interior of this offensive line is going to crush fools, and it'll allow even a 3rd option like Jordan Hall to rush for 500+ yards and 5 or more touchdowns. Chances are good he'll be filling in for either Saine or Herron when one comes up gimpy, and I don't think there's going to be much of a drop-off.
Marcus Hall
How about a breakout year in a position group where we sorely need breakout years? Marcus Hall was solid in his first year as a Buckeye, acquitting himself well enough as a true freshman when thrust into action against Penn State and Iowa, two of the league's best defensive lines. I'm bullish on him, Chris is bullish on him, and Tress himself has indicated that Hall will see some serious PT this year.
Taurian Washington (lol)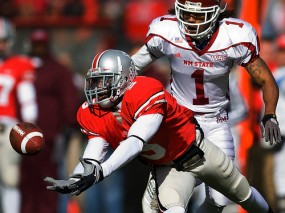 I'm kidding.
Let's move on.
James Louis/James Jackson/Chris Fields
If this offense is going to go more vertical, it needs a lot of help at wide receiver. While there isn't much experience, it's Ohio State, so there's plenty of talent to go around. Jackson and Louis are two speedsters at wide receiver who could be deadly weapons if JT decides to "open up" the offense, as he's been rumored to be doing every year since 2007. Fields, meanwhile, is a Robiskie-type hands guy. If Washington is rocking a case of the dropsies again as the starting slot receiver, one of these three guys will see more and more time in his stead.
Who do you think's most likely to impress this season? Who do you think everyone's overlooking? Am I selling T-Wash too short?