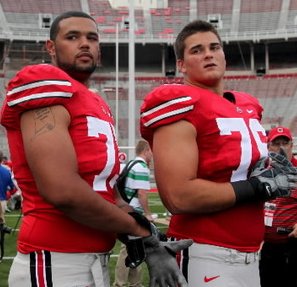 With expectations soaring as the Buckeyes prepare for the opening of camp, the key question marks are found on special teams, in the secondary and on the offensive line. We explored the secondary back in early June and gauged your confidence level in all three units.
The secondary was the least concerning with most of the angst centering on suspect special teams and a hyped offensive line that dominated at times but also had its share of troubles.
Like many, I assert this team will go as far as the offensive line will take it. Going a step further, it could very well come down to how far the offensive tackles can take it.
Sure, the offense features versatile depth in the backfield, a Heisman Trophy candidate under center, a freakish pass catching tight end and the steady combo of Posey and Dane on the outside but without an offensive line producing holes, protecting the QB and preserving timing in the passing attack, those weapons are greatly diminished.
Feeling as I do about the interior, the pressure is squarely on tackles Mike Adams, J.B. Shugarts and Marcus Hall with Andrew Miller and Andrew Norwell possibly in the mix.
Its been assumed that Shugarts is the clear cut right tackle starter with Adams getting first crack at left tackle however his position is seemingly far less secure than his RT counterpart. Tressel said as much earlier this week when he surmised Adams would be with the 1st team during Friday's practice but that another guy, most likely Miller, would run with the ones on the second day. From my vantage point, it seems Tressel is once again trying to challenge Adams to put a stranglehold on his spot but will he finally step up?
Big Mike's 2008 freshman campaign never really got going after a spring practice shoulder injury required surgery forced him to miss fall camp. Later, he would hurt his foot against Purdue and his season was done after playing sparingly in four games. The new year started off just as bad after Adams, with Shugarts riding shotgun, was pulled over in January and cited for possession of drug paraphernalia. The charges against both were later dropped but Adams would remain squarely in Tressel's doghouse culminating in a two game suspension to start the '09 season, presumably for more transgressions with the hippie lettuce.
Adams did manage to play in some games down the stretch and even earned his first career start against Illinois but there's a lot left to prove. Chatter this spring and summer indicates Adams has officially turned the corner with regard to work ethic. That's great news but when it comes down to it, what do you think Tressel will get from Adams this year?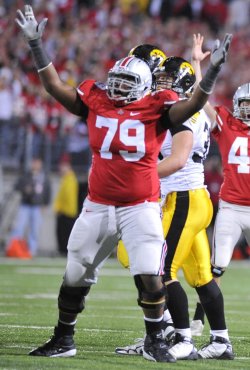 As noted, Shugarts appears firmly entrenched as a starter at right tackle with what might be OSU's second best tackle, Hall, waiting in the wings. Shugarts had his moments a year ago, in between a wheelbarrow of false starts and Hall impressed in spot duty including a start in the Rose Bowl clinching win over Iowa.
Tressel has indicated both Shugarts and Hall could shuffle around a bit and if Adams starts slow again, it seems probable that Shugarts and Hall emerge as your starting tackles because I just don't see Tressel putting Miller out there ahead of Hall. Maybe I'm sipping too much of the Hall kool-aid but I think he is every bit as good as Shugarts and more reliable than Adams at this point.
None of this assumes Norwell makes an impact beyond serviceable depth but maybe you think differently? Bottom line, barring injuries, which two tackles do you see emerging as the starters?