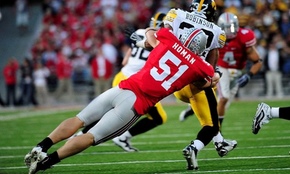 Ohio State, like most power program, typically enjoys two year cycles with talent on the field. The first year, household names are replaced by newcomers as questions float through fall camp. The hope is the newcomers can come close to matching the output of the departing veterans in year one and then emerge as stars of their own by their second season of playing time. Perhaps this is no more evident than at the linebacker position where guys have been stepping up and developing into all-Americans for the better part of the past three decades in Columbus. We saw it most recently with the departure of AJ Hawk and Bobby Carpenter. James Laurinaitis and Marcus Freeman went from unknown commodities to focal points of a defense that helped a rebuilding unit make back-to-back appearances in the BCS national championships. After those two departed for the NFL in the spring of 2009, Luke Fickell turned to Ross Homan and Brian Rolle to fill the void. Their performances were more than adequate.
Unit Eligibility

| | |
| --- | --- |
| SR | Homan, Rolle |
| JR | Jackson, Sabino, Sweat |
| SO | Klein, Newsome |
| FR | Bell, Durham, McVey, Whiting |
Stepping into the "Will" spot, Homan, a redshirt junior, led the team in tackles with 108 on the way to capturing second-team all-Big Ten and the team's Randy Gradishar award. Amazingly consistent, he often saved his best work for the Buckeyes' biggest games, leading the team in tackles against USC (9), Wisconsin (15), Penn State (10), Michigan (12), and Oregon (12). A tremendous run-stopper, Homan is underrated (outside of Columbus, at least) as a pass defender, as he also notched five picks on the year, good enough for second on the team, including a key 20-yard interception return in the Rose Bowl. Homan was joined as a first year starter in the corps by fellow junior Brian Rolle, an undersized defender that had long been the talk of practice because of his oversized hits and uncanny ability to be at the right place at the right time. Rolle is generously listed at 5-11, but plays as if he's 6-4 and led the team in clutch plays last season, none more significant than his 98-yard interception return of a Ricky Dobbs two-point conversion throw to seal the win in the waning moments against Navy. The plays would continue, propelling Rolle into a fan favorite on the way to finishing second on the team to go along with seven TFLs in his 13 starts. Returning at the "Mike" or middle spot, all-conference honors are expected of the veteran.
Joining the two established stars is junior Etienne Sabino. Blessed with a nice blend of size (6-3/240) and speed, the Miami native bit as a pup, returning a blocked punt 20 yards for a touchdown at home against Purdue as a freshman. Limited to special teams duties over the past two years, he's finally getting his chance at the "Sam" position. The former Army All-American had an offer list that was a who's who of elite programs coming out of high school (USC, Florida, Miami, Notre Dame, etc.) and will finally get an opportunity to live up to the amazing early hype he brought with him to Columbus. He's grown in the program, forged by the strength program and the time it often takes younger players to truly understand the concepts and the playbook. Coaches have pointed out that he made the jump from thinking to reacting this offseason and that should be a lot of fun to watch play out on the field.
Torch a Dumpster If
Homan and Rolle improve upon their junior seasons and Sabino emerges like the two of them did last year.
Avoid Sharp Objects If
Homan or Rolle gets injured. The depth behind them is talented, but very unproven.
The three starters provide the perfect blend of force and agility needed for today's offenses and college schedules that are unique in their ability to force defenses to prepare for a wide array of offensive schemes. All three are more than capable run defenders, but better yet, they should all feel at home dropping into coverage to take away the short passing game of opposing quarterbacks. Though the defense will replace one of the backers with Tyler Moeller playing from the "Star" position when it makes sense, it's nice to know that's more of a luxury than a necessity. Backing the group up is a bevy of talented youngsters led by Dorian Bell and Storm Klein.  Bell, a redshirt freshman from Joe Paterno's backyard, will back Homan up, while Klein, a local product from Newark, looks to serve as Rolle's backup in the middle.  Andrew Sweat, another Pennsylvania product, looks to be in position to serve as Sabino's backup after rumors persisted all spring about a potential redshirt heading his way due the knee injury and subsequent surgery that kept him out of several games last season. Providing additional depth in the group are redshirt freshman Jordan Whiting, and true freshman and Cleveland St. Ignatius product Scott McVey. While it would be a surprise if McVey didn't redshirt this season, he's impressed coaches and observers with his mind for the game and appears to be picking the system up pretty quickly. Whiting, on the other hand, has already burned his redshirt season but if biceps were the measure of a linebacker's ability, he would be entering the season on award watch lists. A wildcard at the position is sophomore Jonathan Newsome. The Glenville product has spent time on the defensive line and in the linebacker corps, which is where I think he will eventually break through. He'll battle Sweat for the honor of earning playing time behind Sabino this fall and should eventually turn into something special. How can he not, with a nickname like "Double Nickel"? Overall, the unit is in fine shape heading into this season. As blasphemous as it might be to say, I would put this group up against any other from the Tressel era. Laurinaitis and Freeman were incredible players and earned a lot of pub, but if you get down to it, there's not much of a drop off between those two and Homan and Rolle. If you assume Sabino will turn out better than Spitler or Grant, it's easy to see why we're so bullish on the group.