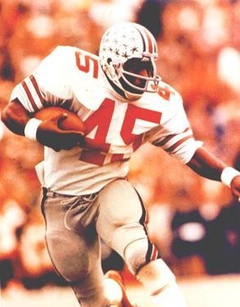 Leafing through the OSU record book is bittersweet in many ways. On one hand, there's an appreciation for the school's rich heritage, but there's also a pang of regret for having been born too late to see so many of the memorable performances (like Archie's 31-straight 100 yard performances). We all know that records are made to be broken, but given that, there are more than a few that should be relatively safe for the foreseeable future due to a variety of reasons, from the evolution of collegiate passing attacks to the fact that elite players typically only stick around to accumulate three seasons' worth of statistics. Given that, the following Ohio State records appear to be the safest of the safe.
Rushing
Career Rushing Yards: 5,589 - Archie Griffin. Eddie George holds the marks for the best single game (314 yards vs Illinois in 1995) and season (1,927, again in 1995) in OSU history, but Archie is nearly a full 2,000-yard season in front of George's career total (3,768). Likewise, Beanie Wells, the best running back of the Tressel era and the school record-holder for rushing yards as a sophomore, would have needed over 2,200 yards as a senior to surpass Griffin's total.
Career Rushing Touchdowns: 56 - Pete Johnson. Johnson at fullback for Woody Hayes, was a touchdown machine. It's scary to think of just how good those early 70s backfields were with both Johnson and Griffin. Keith Byars checks in 2nd on the list with 46 career touchdowns, while George finished with 44.
Career 100-Yard Games: 34 - Archie Griffin. The 34 is impressive enough, but when you consider 31 of these came in a row (still an NCAA record), it's even more impressive. Eddie George is a distant 2nd on this list with 20 career 100-yard games, while Beanie and Byars check-in with 17 each.
Receiving
Pass Receptions in a Season: 85 - David Boston (1998). Boston also has the second-most receptions in a season with 73 in 1997 and Cris Carter is 3rd with his 69 in 1986. Meanwhile, Posey put up a very quiet 60 last year, which was good enough for 6th all-time (and second in the Tressel era, behind Michael Jenkins' 61 in 2002). Posey has the tools (and quarterback) to make a run at Boston's mark, but Dane Sanzenbacher is probably a better option than the '98 team's second receiver, Dee Miller, and there likely won't be enough balls thrown his way to get it done.
Average Yards Per Catch in a Season: 27.6 - Cedric Anderson (1982). Anderson is almost a full five yards better than his closest competition in this category, surprisingly Brian Hartline with a 22.8 average in 2008. (It's worth noting that to be eligible for this mark, a receiver must have at least 20 catches.)
Touchdown Catches in a Season: 17 - Terry Glenn (1995). Glenn came out of nowhere to rewrite most of the single-season marks in '95 on the way to eventually capturing the Biletnikoff Award as the nation's top receiver. David Boston checks in 2nd and 3rd on this list with 14 in '97 and 13 in '98, but the top performer of the Tressel era is Brian Robiskie with just 11 in 2007.
Consecutive 100-Yard Receiving Games: 5 - Cris Carter (1986). David Boston put together two streaks of three games with at last 100 yards receiving in each game and Glenn did it once in '95, but getting to five is another level, altogether.
Career Pass Receptions by a Tight End: 121 - John Frank. If you've watched any Buckeye football over the past few seasons, you realize how safe this one is. Indeed, Ben Hartsock, Tressel's most prolific tight end, finished with just 58 career receptions.
Passing
Passing Yards in a Game: 458 - Art Schlichter (1981 vs FSU). Joe Germaine is sitting in 2nd, a full 80 yards off Schlichter's mark and only four times have Buckeye quarterbacks crossed the 300-yard mark in Tressel's tenure (Troy Smith three times and Justin Zwick once), so, um yeah, this one should be pretty safe. Art's record of five interceptions in a game (1978 vs PSU in his first outing) should also be safe. We hope.
300-Yard Passing Games in a Season: 7 - Joe Germaine (1998). Schlichter did it twice in '81, as did Smith twice in '05, but two is a far cry from seven.
Defense & Special Teams
Tackles in a Season: 211 - Tom Cousineau (1978). Chris Spielman finished with 205 in 1986, so technically another defender could make a run at Cousinea's mark, but in the last 20 years, A.J. Hawk's 141 in 2004 is the closest anyone has been able to get.
50+ Yard Field Goals in a Season: 5 - Mike Nugent (2004). A slew of kickers are tied for 2nd on this list with two in a season, most recently Pettrey in 2009, but Nuge's five in 2004 (including an epic hammer to win the Marshall game) put him in a class all to his own.
If you're so inclined, you can take a look at the
team's record book here
. Did I miss any?