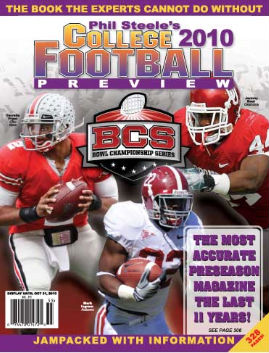 This past weekend I was fortunate enough to take a trip with 16 of my high school buddies to the mecca of all man-fun, Las Vegas. In between the table service and bottles at Pure and Jet, nice dinners all along the strip, the cabana at Tao Beach (which I fully recommend), countless hours spent at the craps table losing my 11W salary, and other activity not appropriate for this particular website (including getting into a fight with Glen "Big Baby" Davis), there was actually some downtime for me to think about The Ohio State University. No, I'm not talking about heckling the four Wolverines that were on the trip. I'm not talking about the fun I had with three dealers I met that all went to OSU (two of which actually carried around Buckeye nuts in their pockets). I'm not speaking about the 12 or so people that shouted O-H's at me or even about the hours I contemplated putting $1,000 down on the Buckeyes to win the championship at 4:1 odds. What I am talking about is the time I spent on the plane and in the bathroom at the hotel reading the latest edition of
Phil Steele's College Football Preview
. I don't know about all of you, but the first order of business for me when taking on the king of all preview magazines is to check out what Phil has to say about the Buckeyes. Already having released a sneak preview of his All-America team (featuring TP as first team QB) and All-Big Ten team, I wanted to check out his bowl predictions, Heisman Trophy predicitions, and outlook on the 2010 season for Ohio State. After being satisfied with a predicted Buckeye MNC appearance, Terrelle Pryor at the top of the Heisman candidates, and a solid write-up on the good guys, I decide to tackle on the schedule for the upcoming year. While 8 out 9 of Phil's power rankings had the Buckeyes going 12-0, I couldn't help  but feel the need to analyze the schedule myself. I looked over all of the opponents' two-page previews in the magazine, as well as the notes on the Buckeyes and combined my already somewhat vast knowledge of the upcoming season. The result was just over an hour and forty-five minutes on the plane ride home coming up with the following prediction for the 2010 season, 11W style.
Marshall, September 2, Ohio Stadium, 8 PM
Ah, the opener we've all been waiting for since Mike Nugent booted a ball 55 yards through the uprights to give the Bucks a 24-21 victory in 2004. The Bucks will come out with a little bit of Miami on their minds and a little rusty to start the year, leading to a slow first half. Things will pick up towards the end of the second quarter and Boom Herron will take a hand-off 12 yards for a score to give OSU a 17-7 lead just before the break. Terrelle Pryor will lead a dominant Buckeye third quarter and finish with 2 touchdowns and 217 yards on 15-21 passing to go along with a touchdown and 65 yards rushing on 8 carries. The Bucks will win this one 38-10 and head into preparation of The U with a little bit of confidence.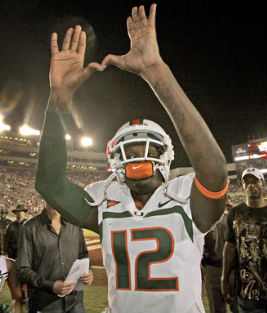 Miami, September 11, Ohio Stadium, 3:40 PM
The U will come into the 'Shoe seeking revenge for what they feel was a phantom pass interference call that of course lead to the long awaited Buckeye crystal ball. The Buckeyes won't be caught off guard though, as they know a championship season could be at stake, and also know that Latwan Anderson has been talking enough smack to make Ocho Cinco look like a quiet guy. Many Buckeye fans think this one will be easy, but I'm not buying it. I see Miami as a squad similar to that of the 2005 Buckeyes who lost tough games at home against Texas and on the road against Penn State, before finally pulling it together to run the table and knock off Notre Dame in the Fiesta Bowl. That team was just found it's way toward the end of the season and I see that happening for Miami after they drop one or two in the beginning to middle of the year. Jacory Harris will play an outstanding game, picking on Chimdi Chekwa and an inexperienced Ohrian Johnson throughout the afternoon. The Canes will struggle running the ball, and soon rely on throwing it, leading the Buckeye defense to cause a costly Harris mistake and key interception by Ross Homan with about 8 minutes left and the Buckeyes up by 6. Never one to let a turnover cost him a game, Tressel will run the ball, but will be creative doing so with Pryor, Saine, and Herron. The Buckeyes will get the ball to about the 28 yard line, run it three times up to the 21, and Devin Barclay will nail a 34 yard field goal to give OSU a 30-21 lead with 1:56 left, ultimately icing the game. In an attempted comeback drive, Harris will be intercepted for the second time in the half, this time by Jermale Hines. The Bucks sit on the ball and mayhem on High Street follows.
Ohio, September 18, Ohio Stadium, 12 PM
The Bobcats almost pulled off an upset last time before Ray Small and Shaun Lane saved the day, but that will not happen again. The Vest will drill that game into the players' heads and the result will be a dominating effort, a la Toledo last year. The Buckeyes win this one easy by a score of 37-7, as Pryor goes 18-23 for 256 yards and 3 touchdowns through the air. Kenny Guiton and Joe Bauserman get their chance to play, with Guiton outplaying the 25 year old veteran, leading to a flurry of fans calling for Kenny to be #2 on the depth chart if he already isn't. James Louis will score his first touchdown in Scarlet and Gray, and Jaamal Berry will earn his Buckeye leaves in this game, rushing for 62 yards on 7 carries en route to adding the last Buckeye touchdown of the afternoon.
Eastern Michigan, September 25, Ohio Stadium, TBA
If you thought the beat down on OU was bad, wait for the Eagles to come to town. EMU is predicted by some to be the 118th (out of 120) ranked team in the nation this year and this game could bring back memories of New Mexico State (hopefully without the Pryor injury). The Bucks will pour it on once again with Pryor playing only half or three quarters of the game and Guiton and Bauserman once again receiving some solid game time. The defense will finally get their first shut out of the season and fans will get to see the likes of Carlos Hyde, Jordan Whiting, Christian Bryant, David Durham, and other young players. The Bucks roll on to win 45-0 and start the season a solid 4-0.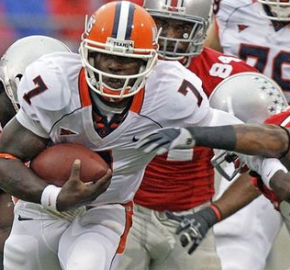 Illinois, October 2, Memorial Stadium, TBA
The Illini aren't expected to be that good this year, but I think this is a trap game (see: Purdue 2009). The Orange Crush usually get up for the Battle of Illibuck and I don't think this will be any different with a 4-0 Ohio State team coming to town. Just thinking of this match-up reminds me of the 2006 season in which a 2-8 Illinois team gave OSU all it had in Memorial Stadium, but came up just short, 
losing 17-10
. I think Pryor struggles in this game that will include a little bit of sloppy weather and frigid temperatures in early October, leading to the Buckeyes trying to keep the ball on the ground and eat the clock out. The running game will finish with 260 yards (Saine 94, Herron 68, Pryor 57, Hall 22, Berry 19), while the Bucks will only notch 128 through the air. Pryor will throw for a touchdown, but also will throw for 2 interceptions, and will only complete 10 of 22 pass attempts. Despite all of that, the Bucks will emerge victorious by a score of 24-14 and will be happy to land in Columbus after clinging on to a 5-0 record.
Indiana, October 9, Ohio Stadium, TBA
The Buckeyes will not take this week lightly after a tough week in practice of Jim Tressel showing them they can't take any game for granted. The Hoosiers will have a solid aerial attack this season featuring an underrated passer in Ben Chappell and one of the conference's bets receiving units. Unfortunately for Bill Lynch, the Buckeyes will be hungry and the IU defense is once again suspect. Pryor has his best game of the season, carving up Indiana for 322 yards and 4 touchdowns through the air, while running 12 times for 114 yards and another touchdown. Jake Stoneburner is the recipient of two of the four scores through the air, while DeVier Posey and Taurian Washington nab the other two. Boom Herron runs a touchdown in on the ground to cap off the scoring and the Buckeyes win 42-13 to move to 6-0.
Wisconsin, October 16, Camp Randall Stadium, 7:15 PM
To me this is the Buckeyes' toughest game of the season, and if you've been to Camp Randall for a night game, you know why. The crowd will once again be electric and "Jump Around" will be in full force following the third quarter, but will Terrelle Pryor be able to play hero once again to escape the Badgers? The Bucks will once again look to stop John Clay, but with a veteran signal caller in Scott Tolzien, Brett Bielema finally has a weapon to help him defeat OSU through the air. I think this one will go down to the end and can go either way, but I can't see Terrelle Pryor letting his team lose to a defense that could possibly be taking a step backwards from last season. Pryor's late game heroics and possible Heisman moment come into play once again, as he hits Dane Sanzenbacher on a 14-yard slant for a touchdown with just over 3 minutes remaining in the game to give the Bucks a 31-20 lead and put Bucky to bed.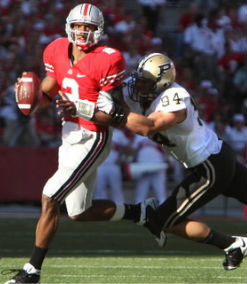 Purdue, October 23, Ohio Stadium, 12 PM
Revenge is sweet as the saying goes and there may not be another game on the schedule providing the offensive line and TP with more motivation then they will have for this one. Former Miami (Fl) QB Robert Marve takes over for the Boilermakers behind center and Danny Hope brings back a great receiving corps as well as defensive standouts Ryan Kerrigan, Jason Werner, and Mike Neal. Kerrigan is still giving Buckeye fans the chills in their sleep and it will be up to Mike Adams to make sure it's not deja vu all over again for the senior who had three sacks in last year's match-up. With motivation on their minds the Bucks will storm off to an early lead, but with the respect he has for Hope, I don't see Tressel running this one up too far. The Buckeyes win 27-13 in a game that holds a score closer than it actually was.
Minnesota, October 30, TCF Bank Stadium, 8 PM
It will be the Buckeyes' first trip to the Gophers' new outdoor stadium and boy will it be cold at night in Minnesota on Halloween weekend. Many are pegging this as a tough night game, even a trap game, but I'm just not buying it. The Bucks have gone into the Twin Cities at night in the past, coming out victorious, and that just won't change. Minnesota has a weak offensive line and a shoddy defense, despite being somewhat sured up at the skill positions. Tim Brewester will suffer another defeat in what I see is his last season at the helm in Minnesota, losing this time to the Buckeyes 31-9. The Buckeyes leave Minneapolis with a 9-0 record and Terrelle Pryor remains atop the list of Heisman hopefuls.
Penn State, November 13, Ohio Stadium, TBA
Penn State is predicted to have an "off year" in 2010, but will still prove to be competitive in every game they play. The Buckeyes will have a bye week before this game to prepare for the tough three-game stretch against Joe Pa, Iowa, and Michigan, and that time off will be very helpful in getting the team rested and prepared for the home stretch. Former Buckeye recruit Kevin Newsome will be the quarterback for Penn State, but his youth and inconsistency will cause him to throw costly three interceptions in this game, one that will be returned for a score by Devon Torrence. The Bucks will get their first special teams touchdown of the year through a punt return by Jordan Hall, and Terrelle Pryor with throw for and rush for a touchdown a piece. The Buckeyes will give up a score on the ground to Stephfon Green, while keeping starter Evan Royster relatively quiet on the ground with 66 yards on 17 carries. The Nittany Lions will add two field goals, but come up short in a 28-13 loss that leaves Ohio State 10-0.
Iowa, November 20, Kinnick Stadium, TBA
This will likely be a 3:30 start, so expect a "night game imprat" to take effect come the second half, just like the game in Columbus last year. Ricky Stanzi will actually get to play in this match up that could possibly once again decide the Big Ten title, which could be good, in terms of his veteran leadership and experience, or bad, in terms of his tendency to turn the ball over, giving teams undeserving chances to stay in or win games. I think this one will play out similarly to last year's and could end up going to the team who makes the least amount of mistakes. Iowa's defense will continue to be tough and with one of their best offenses in years, they are certainly for real. If Wisconsin didn't prove to give Terrelle Pryor a Heisman moment, this game could lock up the award for the junior, as the chance will certainly be there to take the trophy home that evening in Iowa City. It's a tough call, but my Buckeye roots and gut tell me Tress won't fail to clinch a record-tying sixth straight conference title and remain one game away from a fourth championship appearance in the last nine years. Buckeyes squeeze it out by a score of 23-17.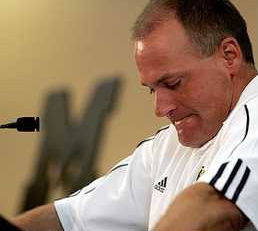 Michigan, November 27, Ohio Stadium, TBA
Rich Rod will indeed be sitting pretty to keep his job at 6-5, but a far inferior Michigan team coached by that guy will not beat a determined 11-0 Ohio State team in Columbus.....or will they? If John Cooper was coaching this team or if Lloyd Carr (or anyone not named Rich Rod) was still around, I'd say there was a glaring chance. That isn't the case though, and with a locked and loaded Pryor playing as good as Troy Smith circa 2006 (before the MNC), you can forget about it UM fans. Pryor throws for 286 yards and 2 touchdowns through the air and rushes for 70 yards and another touchdown on the ground. Brandon Saine and Boom Herron continue to terrorize the Wolverines with a combined 196 yards and a touchdown, while Carlos Hyde gets his first taste of the rivalry, scoring late on a 3rd and goal from the 1-yard line to seal the deal. Ohio State puts up 31 points and gives up just 13, en route to Tressel's 7th win in a row and 9th overall against the team's most hated rival. Ohio State heads to the National Championship for the fourth time in nine years and awaits the conference championship games to see who their opponent is.
Virginia Tech, January 10, University of Phoenix Stadium, 8:30 PM
Terrelle Pryor will be coming off the heels of becoming the seventh Buckeye to win the Heisman Trophy, but won't be spending his time at award buffets or In-And-Out Burger at the advice of Troy Smith. The Hokies will come into this game as a bit of a surprise to fans who expect to Boise State, Alabama, Oklahoma, or other early season picks here. Tyrod Taylor, like Pryor, will have come into his own at this point in the season and poses a dangerous dual threat quarterback for the Buckeye defense to stop. "Beamer Ball" always includes solid special teams play and excellent defense that isn't afraid to bring the blitz and put tremendous pressure on opposing passers. Ohio State is 0-2 at University of Phoenix Stadium, but this team is ready to fill it's destiny. Terrelle Pryor won't have a spectacular game, but will throw for 226 yards with 2 touchdowns against 1 interception. Those two touchdowns will give Buckeye fans a heart attack, as the recipients will be Jake Stoneburner and Zach Boren, but they'll have to keep it together as Taylor will throw for two scores and Ryan Williams will run one in as well. With the score tied at 21-21 after a Boom Herron touchdown, Jermale Hines will intercept Taylor at the OSU 42 with 6:34 left. Tressel will grind the clock down to about 2:15 after two straight runs to the 18 yard line, setting up a 3rd and 5. Virginia Tech calls a time out to decide how they're going to defend the expected run, but Tressel fools them all, calling a play action pass, which results in a 14 yard gain to the VT 4-yard line. After stuffing Herron twice and calling their final time out, Virginia Tech fails to stop a Pryor bootleg on 3rd down with 1:23 left, and has a USC moment of watching Vince Young glide into the end zone. Trailing 28-21, Taylor fails to bring his team downfield, as a hail mary to the end-zone is batted down by Devon Torrence and the Buckeyes celebrate Jim Tressel's second National Championship as head coach at Ohio State.