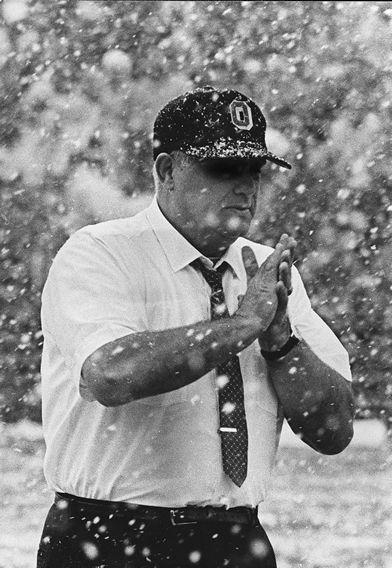 A few days ago, it was announced that Super Bowl XLVIII will be played at the new Meadowlands stadium in Jersey, which led to some fans moaning and various editorials from more than a few writers bemoaning the idea that they might have to wear more than their usual flip flops and Party Naked t-shirts to cover the Super Bowl. Cold weather, it has been claimed, will turn the Super Bowl into a comedy of errors and rendering it so unwatchable that the Puppy Bowl will seem professional by comparison (and with fewer interceptions). Snow will fall, children will cry, Dennis Quaid will freeze to death looking for Jake Gyllenhaal in a storm, and a gaping maw will open up in the earth, swallowing whole all stupid enough to venture near. Essentially, as put by Jeff Pearlman of Sports Illustrated:
Does the NFL really want its calling card matchup to be plagued by, say, snow-caused sloppiness; by passes slipping out of the hands of quarterbacks; by halfbacks and wide receivers pulling off pratfalls atop the ice. Does it want to show the world a live shot of a half-empty stadium, with 41,250 people having retreated to the heated, mall-like concourses.
The Pinstripe Bowl, to be held in the new Yankee Stadium between the Big East and the Big 12 this coming season, has drawn similar concerns, almost all of these related to the horrible, horrible weather that is certain to befall New York City during the event. To these concerns, I say... Yes. I hope all of that happens. Especially the part about Jake Gyllenhaal. To me, football (especially college football) cannot and should not be played in a vacuum. Hell, in general virtually no team sports should be played in a vacuum. And for over the course of a dozen or more weekends in the fall, most of the country seems to accept the idea that both teams could be playing under any sort of conditions on any given day; rain, wind, snow, they all add to the thrill of the game that we already love. But for some reason, during bowl season some college football fans and writers act like Nic Cage with a bee filled net over his head if the temperature even dips below "pit stains after 8."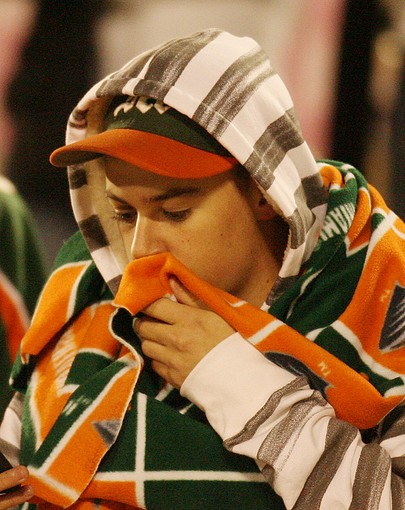 At no time has this been more evident than last year during the Champs Sports Bowl between Miami and Wisconsin and the Orange Bowl, both held near Miami. Virtually every story about those games mentioned the unusual cold, speaking as if all of a sudden southern Florida has been transformed into Hoth and we were all out of Tauntauns. To me at least, this was awesome. Being a native Ohioan myself, I loved watching a bowl game being played in the same kind of weather that I had watched teams from the Big Ten play in all season long. For me, seeing a team like Wisconsin or Iowa play in southern Florida is a bit like what I can only imagine Betty White looks like in a tube top; weird, unsettling, and not something I'd discuss with my friends. Ever. But with the (relatively) cold weather, it feels like maybe Betty decided to go with the sweater after all leaving me not nearly as mortified and creeped out. And of course, I got immense satisfaction seeing various Miami fans in about 7 layers of clothing more than usual, trying desperately to stave off the effects of frostbite in 50 degrees Fahrenheit. What does bother me about this is the overall imbalance of it all. Last year, colleges north of the Mason-Dixon line and between Iowa and the Atlantic sent 20 teams to bowls. In those same states, there was only one bowl game, the Little Caesar's Pizza Bowl in Michigan, and then the International Bowl in Toronto (there was a bowl played in RFK Stadium, the EagleBank Bowl, and temperatures were fairly cold, and the media attributed the lower attendance numbers to  this. On the other hand, it might, MIGHT be possible that having UCLA play a  five hour plane ride away from home had something to do with it). And this isn't for lack of available space. There are tons of excellent NFL stadiums that could be used in the event that a bowl would decide to move north. Even if you want to pout and and not play any games outside, Lucas Oil Stadium in Indianapolis would still be an excellent choice among many. The options are there, and it's time to explore them.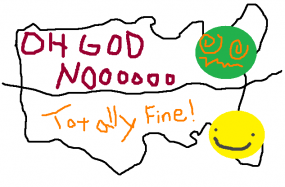 Here's what I'm trying to say: having outdoors football games above the Mason-Dixon Line during bowl season (both Super and otherwise) will not kill football. Yes, it will likely be cold. It could snow. Some teams might even *gasp* be forced to adapt to the playing conditions. But that is all part of football. We look back on rare games like the 1950 Snow Bowl with fondness, not scorn, because they show that football can be played any time, anywhere. Was it a quote unquote good football game? Hell no. Would I have loved to see it? You bet your ass. How can we, as fans, trumpet the toughness of a game for the entirety of the regular season and then act squeamish because our team might be forced to wear sleeves during the prestigious Advocare V100 Independence Bowl? Bottom line? The Big Ten and its' fans, the Big East, and the MAC all deserve to have upper tier bowls in their backyards as well. I'm not suggesting that we should be making reservations at Lambeau or Mile High Stadium, or that we should create a dozen new bowls just to placate ma and pa Buckeye who can't make the trip to the Rose Bowl. But diehard college football fans in the north deserve an upper tier bowl that they can call their own and want to send their teams to. So, this year support the Pinstripe Bowl, watch the hell out of it, and even make the trip if you can. Show the powers that be that football can be loved and appreciated in any conditions and maybe things might change.