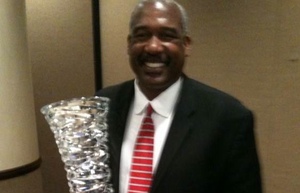 Are you a good news first or bad news first type of person?  Can't decide?  Okay, I'll make the call. First, the good news:
Gene Smith captured
the 2010 Sports Business Journal Athletic Director of the Year Award in New York, edging out peers from North Carolina, Boise State, UCLA, and Alabama. Previously nominated for the award 
in 2008
, Smith is being recognized for keeping the engine that Andy Geiger built purring, and in some cases, tweaking for the better. In March of 2009, Smith
negotiated a multi-media rights management deal
with IMG worth $110m over 10 years and then, three months later, the AD was appointed chairman of the Division I men's basketball tournament selection committee for the 2010-11 season.  He recently had his first opportunity to make a hire in a big-six sport when he tabbed Badger assistant Mark Osiecki to replace John Markell as coach of the hockey team and he'll get another chance this summer when he selects Bob Todd's successor on the diamond. The IMG move is likely outside of the evaluation period for the award he picked up Thursday night, but clearly the man is on the roll
1
.  For proof, look no further than the
latest Director's Cup Standings
, where the Buckeyes are 2nd behind the Cup's rightful owner, Stanford
2
. So, yeah.  Hat's off to Gene.  Now, let's keep this party going by reeling in Tony La Russa!
And now for the bad news.
Rumors are flying that running back Jermil Martin was booted from conditioning drills and is now looking to transfer.  His Twitterstream
seems to corroborate
.
I'm not quite sure what the "F5" means, unless it's a super-
leet
way of saying he's about to refresh... his surroundings? The former Tarblooder delighted fans with his
big day
against the Gophers last year, highlighted by his 39-yard rumbler to the paydirt that moved the Buckeye lead to 35–0 in the early minutes of the fourth quarter.  The love he received from the faithful was boosted a bit because this outing took place when Ohio State was having difficulties getting any type of traction at all out of their running game. It's no secret that the backfield will be crowded this fall and it's hard to envision scenarios in which Martin will see a lot of snaps, but being disgruntled over playing time does not appear to be a factor here – or at least from what we've heard. If Martin does in fact leave, we hope he lands on his feet and gets a shot to play somewhere.  And by all means, F5.
1 There's also a rokken podcast.
2 With just men's baseball to report until early next year when football closes the competition, the hold on 2nd looks pretty safe unless Penn State (8-14, no chance) or Florida (21-7, there's a shot) wins the CWS.