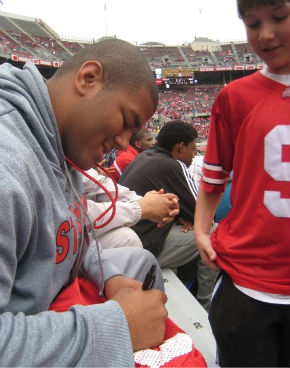 There have been some great defensive lineman that have battled in the trenches for the Ohio State Buckeyes over the years. Some names that come to mind in the last two decades are Mike Vrabel, Will Smith, Kenny Peterson, Dan Wilkinson, Ryan Pickett, Tim Anderson, Quinn Pitcock, Simon Fraser, Vernon Gholston, Thaddeus Gibson, and Cameron Heyward. While Nathan Williams, John Simon, Keith Wells, Solomon Thomas, Melvin Fellows, and others vie to become the next Buckeye great on the d-line, an up-and-coming high school star could join them in the coming years.That player is Washington DC St. John's College High School's Kevin McReynolds.
McReynolds, a 6-3/280 defensive tackle from the nation's capitol, is a freak of an athlete. He has been recorded as running a 4.77 forty-yard dash and says he can bench press over 400 pounds. He has offers from the likes of Ohio State, Auburn, LSU, Oregon, USC, North Carolina, Illinois, Michigan, Michigan State, and others. He is one of the most highly sought after players in the country and possibly the most highly recruited defensive tackle in the class of 2011.
McReynolds recently visited OSU for the spring game and we caught up with him following his return home to DC. He called the visit "excellent", saying the coaches, fans, and the program were extremely appealing to him. He got to speak to all the coaches while on his visit, including Jim Tressel, and also got to catch up with Dominic Clarke, who he is good family friends with.
Clarke's role in McReynolds' recruitment may be the key for Ohio State as the big defensive tackle said that the OSU cornerback has been honest with him about the school, something he has been looking for when selecting his future college. McReynolds said Clarke loves Ohio State and said "Everyone can put a front up [when they are recruiting you], but I want to know what it's like when the coaches aren't around. Dominic was telling me how the coaches are and what it's like at Ohio State when you play there".
While the Ohio State visit went well, the rumors circulating that McReynolds gave the coaching staff a commitment before he left Columbus were not true. He claims to have no favorites at this time, despite really liking Ohio State, and will take visits in the coming month to Rutgers, Auburn, Arkansas, and Arizona State. He is not sure of where he will take his official visits yet, but plans to announce a top 15-20 schools on May 20 and plans on making it back to Columbus for another visit this summer, a strong indication that OSU will be on his short list come the end of the month.
Getting McReynolds will certainly be important for the coaching staff as you can never get enough defensive lineman, especially elite ones, which the future Under Armour All-American is. Last year the staff missed out on Shariff Floyd and Garrison Smith and was only able to bring in one tackle in Jonathan Hankins. With Dexter Larimore and Cameron Heyward (who will play 3-technique occasionally) departing after this season, the staff has clearly made defensive tackle a priority and already has Chase Farris verbally committed and is recruiting Michael Bennett and Joel Hale in addition to McReynolds.
McReynolds and Bennett are definitely at the top of the list though and are special, unique players that have the potential to come in and contribute right away. McReynolds sees himself as that type of player as well, and when asked what player he compares to he said, "Ndamukong Suh or Marvin Austin [of UNC]". Those are certainly big shoes to put yourself in a position to fill, but the young star seems up to the challenge and with the confidence that he holds, he is built for future success.
His recruitment is far from over, but McReynolds did want the Buckeye Nation to know that he plans on continuing to get to know the program better and that the visit to Columbus last weekend "opened his eyes". We will have another update come May 20, when Kevin narrows his list down to about 15 or 20, but for now know that the Buckeyes are in good shape to be in it to the end for this future star.