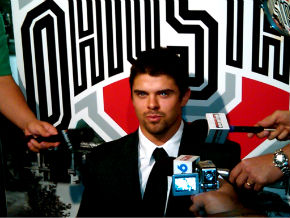 After rounding out  the conference's
best signal callers
and
horses in the backfield
, it's time to take a look at everyone's favorite divas in the wide receivers and their blocking/catching partners in the tight ends. This group is actual pretty solid across the conference, especially at wide out, and was very hard to rank from 1-11. Evaluation consisted of elite talent at the top, as well as depth, and anticipated contribution from some emerging stars and incoming freshman. While many of the members in these groups also serve as return specialists for their respective teams, that area was not part of the evaluation of the following rankings of receiving corps in the Big Ten.
11. Northwestern
When you look at Northwestern's receiving stats at the end of this year you may be shocked to see some of these players with good statistics, but keep in mind the heavy passing, spread attack of the Wildcats inflates statistics greatly for not-all-that-talented receivers. Andrew Brewer and Zeke Markshausen take with them 148 receptions, 1,783 yards, and 6 touchdowns from 2009 as they leave Evanston, leaving the cupboard a little bare for Pat Fitzgerald's team and new quarterback Dan Persa. Sidney Stewart (42-470-2), Jeremy Ebert (21-226-0), and Demetrius Fields (24-225-2) return as the top guys for 2010, and get help from Charles Brown (8-65-0), Lee Coleman, and incoming freshman Jimmy Hall, Tony Jones, and Rashad Lawrence. At tight end the 'Cats return starter Dranke Dunsmore (47-523-3) and he is backed-up by Brendan Mitchell (4-38-1) and Josh Rooks (3-34-0). Northwestern has a long way to go to get their corps to where it was last season, but their system should help relieve some of the growing pains they will surely go through in training camp this fall.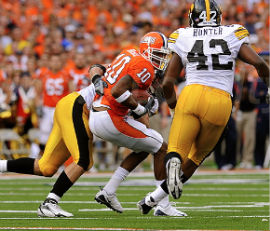 10. Illinois
While stats aren't the strong suit for the Illini receivers, the potential for emergence is there. Gone are the top two yard-getters in Rejus Benn and Chris Duvalt, but the next generation of Orange Crush pass-grabbers includes Jarred Fayson (16-218-1), AJ Jenkins (10-123-1), Jack Ramsey (16-182-0), converted quarterback Eddie McGee (4-108-0), Chris James (4-61-0), Fred Sykes (10-75-2), and Steve Hull (redshirt in 2009). Jenkins and Fayson are expected to see most of the field time with McGee and Ramsey in the spread look, giving whoever the new quarterback is a group of unproven receivers. There isn't much help on the way in terms of the recruiting class of 2010, as Darius Millines, Ray Lankford (not, not that Ray Lankford), and Spencer Harris aren't exactly Julio Jones, AJ Green, DeVier Posey, or Rejus Benn coming out of high school. At tight end the Illini lose their top two players in announcer favorite Michael Hoomanawanui and Jeff Cumberland. Starting this year will be London Davis (1-2-1) and backing him up will be Justin Lattimore (no stats in 2009), and freshmen Anthony Williams and Evan Wilson. This group as a whole has potential, but they remain at the cellar of the conference due to no proven worth.
9. Minnesota
The Gophers bring back six receivers and two tight ends who saw action last season, but lose their best receiver in Eric Decker. Decker going down midway through the season with an injury could have been a blessing in disguise, though, as Troy Stoudermire, Brandon Green, and Da'Jon McKnight were able to get more reps. The three, who combined for 64 receptions, 910 yards, and 3 touchdowns in 2009, will be starting for the Gophers this season, but will need to have more production than that for the aerial game to play a significant role in success. Complimenting the three starters are Ben Kuznia (2 rec., 15 yds. in '09), Hayo Carpenter (2 rec., 43 yards), Bryant Allen (5 rec., 45 ards), and incoming freshman Logan Hutton. At tight end Minnesota is always solid and that does not change, as Nick Tow-Arnett is back in 2010. Tow-Arnett caught 37 passes for 505 yards and 3 touchdowns last season and is joined by returnee Eric Lair (1 reception, 12 yards), and incoming freshman Tiree Eure, both of whom provide little if any depth.
8. Purdue
The Boilermakers bring back the conference's leading receiver in Keith Smith, who hauled in an impressive 91 catches for 1,100 yards, and 6 scores. Smith is joined by Keith Carlos (21-242-1) and Cortez Smith (17-177-2) on the first team, who will try and replace the departed Aaron Valentin, a face Buckeye fans are very happy to see out of West Lafeyette. Antavian Edison (1-15-1), Waynelle Gravesande (1-11-0), and freshmen Charles Torwudzo, OJ Ross, and Cherin Davis. At tight end, Kyle Adams (29-249-0) and Jeff Lindsay (16-162-0) return with early enrolle Da'Ron Flood and fellow frosh Gabe Holmes also competing for minutes. Purdue has a fairly solid group, but the loss of Valentin puts them slightly behind in the middle-of-the-pack receiving groups in the Big Ten for 2010.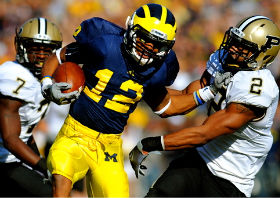 7. Michigan
The Wolverines like to spread things out, but most of the catches will go to Roy Roundtree (32-434-3), Junior Hemingway (16-268-2), Martavious Odoms (22-272-1), and Darryl Stonum (13-199-1). While none of the four has proven to be spectacular, Roundtree has the potential to be a very good #1 and the other three should serve as solid compliments in Rich Rod's system. Terrence Robinson and Je'Ron Stokes are players who could see action as well and Ann Arbor is also welcoming in a talented group of freshmen wide receivers in Cameron Gordon, Jeremy Jackson, Ricardo Miller, DJ Williamson, and Jerald Robinson. Kevin Koger (16-220-2) returns at tight end, while Martell Webb (4-44-1) and Brandon Moore (1-19-0) will also see some action. This group is constantly improving and could make it's way up the rankings by year's end if the Michigan offensive line and quarterbacks can get it together.
6. Indiana
The Hoosiers climb a bit in the receiver rankings due mostly to the tandem of Tandon Doss and Damario Belcher. The two juniors-to-be combined for 138 receptions, 1,732 yards, and 10 touchdowns in 2009, bringing some of the best production in the conference last year back this season. Joining the two rising stars out wide are Terrance Turner (46-443-1), Mitchell Evans (33-366-3), Jamonne Chester, Duwyce Wilson, Tyler Adetona,and freshmen Logan Yound and Tim O'Connor. At tight end Max Dedmond (18-141-1) returns and is complimented with Brad Martin and a couple of newbies in LeNeil Himes and Paul Phillips.
5. Penn State
Derek Moye (48-785-6) and Graham Zugg (46-600-7) have a great knack for finding the end zone, but the loss of Darryl Clark and now the uncertainty at the quarterback position will hurt them statistically in 2010. Chaz Powell, who had a solid year at receiver last year and is the third returning leader in receiving, is getting looks at corner this spring, and that mover could hurt this group a little bit. The rest of the receivers are made up of Curtis Drake (8-98-0), Brett Brackett (3-13-1), AJ Price, Justin Brown, Devon Smith, Brandon Moesby-Felde, early enrollee Shawney Kersey, and incoming freshman Alex Kenney. The Nittany Lions lose top tight ends Andrew Quarless and Mickey Shuler, leaving the position in the hands of the inexperienced Gary Gilliam, Andrew Szczerba, Mark Wedderburn, and frosh Kevin Haplea, who could be the team's best option come August. This unit would be a lot better off if Powell stays at receiver and if the quarterback position can be settled, but expect Joe Pa to keep things on the ground with Evan Royster and company often this season.
4. Michigan State
Determining the difference between Michigan State and Penn State was very difficult, but the Spartans get the nod due to having a little more depth past their top two. Keshawn Martin (18-411-50), BJ Cunningham (48-641-4), and Mark Dell (26-449-1) return in 2010 to lead this talented group, while converted quarterback Keith Nichol, Bennie Fowler, Fred Smith, Patrick White, Donald Spencer, Cam Martin, and Milton Colbert, as well as a bunch of talented athletes in the 2010 recruiting class provide quality depth. Tight end is where the Spartans earn bonus points. Charlie Gantt (22-348-2), Brian Linthicum (20-266-2), and Dion Sims (11-133-3) all saw meaningful snaps last season and figure to factor in to the passing game once again in 2010. Between the talented returners at receiver and the options coming off the line at tight end, this group figures to be very talented and will more than make up for the loss of Blair White who took 70 receptions, 990 yards, and 9 touchdowns to the NFL this spring.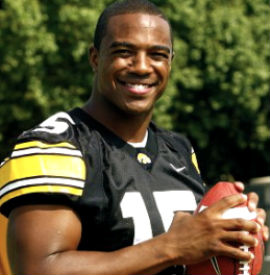 3. Iowa
The Hawkeye receivers got better as the year went on last season and there is no reason to think that progression can't continue. Derrell Johnson-Koulianos (DJK), Marvin McNutt, Colin Sandeman, and Kennan Davis all return to lead this unit in 2010. DJK and McNutt showed the goods last year when they combined for 69 catches, 1,424 yards, and 10 touchdowns last year, while Davis and Sandeman showed great promise and the potential to be big time contributors in 2010. Paul Chaney (7-50-0) and incoming freshman Kevonte Martin-Manley, as well as some other young guns looking for playing time will compliment the group. Tony Moeaki is gone, but Allen Reisner (14-143-1) and incoming freshman CJ Fiedorowicz take over at tight end. Fiedorowicz was the nation's best high school tight end last year and if Buckeye fans remember he chose the Hawkeyes due to their constant use of the position in their offense, so look for him to be heavily involved in the passing game this season. While this group may not have as much depth as the Penn State or Michigan State units, I feel DJK and McNutt are absolute studs and Keenan Davis will emerge as the third musketeer this season.
2. Wisconsin
When you talk about a combination of depth and talent, look no further than Madison. Nick Toon could end up being the most productive wide out statistically in the conference this season, as he looks to build off a 2009 year in which he notched 54 receptions, 805 yards, and 4 touchdowns. Scott Tolzien's development can only help those numbers, as well as the numbers of Isaac Anderson (30-480-2), David Gilreath (12-177-0), and Kyle Jefferson (4-35-0). Anderson has the potential to be a star as the number two receiver, while Gilreath is a do-it-all type of athlete who is utilized well on reverses, screens, and short slants. Jefferson, a Glenville product, hasn't lived up to his potential yet, but the talent is still there and 2010 offers a great opportunity for him to emerge. Freshmen Marquis Mason, Chase Hammond, and Isaiah Williams could provide help right away to a unit that is very top heavy, yet extremely talented. At tight end Garrett Graham has moved on to the Houston Texans, but Lance Kendricks (29-356-3) looks to become the next star tight end to play for Brett Bielema. There isn't much depth beyond Kendricks, although someone always emerges at the position for the Badgers and freshman Warren Herrin could be that guy. This group as a whole should help the Wisco offense develop throughout the season and gets great help with an ever-improving Scott Tolzien and John Clay, who will draw major attention from opposing defenses.
1. Ohio State
The Buckeyes finally get the top spot in the Big Ten position rankings and they can thank the conference's top receiving duo in DeVier Posey and Dane Sanzenbacher. Posey had a tremendous sophomore season (60-828-8) and has emerged as Terrelle Pryor's go-to-guy. Expect his numbers to eclipse 1,000 yards and 10 scores this season with Pryor's acceleration as a passer and an early jump to the NFL is not out of the question. Sanzenbacher may be undersized, but nobody can question his toughness and ability to hold on to passes thrown over the middle. Dane has a knack for making big plays, which will continue in 2010, and his production should go up for the same reason as Posey's. Although he hasn't been cleared yet, Duron Carter will claim stake on the third receiver job once he spends the first few weeks of August getting out of Jim Tressel's dog house. The guy who currently holds that spot, Taurian Washington, provides good leadership and experience to the unit, and Chris Fields seems likely to emerge as a legitimate receiving threat after posting an excellent spring. James Jackson, Grant Schwartz, and freshmen Corey Brown, James Louis, and Tyrone Williams provide talent all the way down the depth chart, giving the Buckeyes insurance this year and a bright future ahead. A tight end may finally get involved in the passing game this year, as Jake Stoneburner appears to be the real deal. After having a minor role in the offense in 2009, Stoney showed everyone this spring why he will be too fast for linebackers to cover and too big for defensive backs to stop. If the coaches actually open up the offense look for him to have a big year. Reid Fragel takes over as the blocking tight end, while Nic DiLillo and Spencer Smith provide some depth to the unit. If Terrelle Pryor progresses as we believe he will, expect this corps to do some big things a la Teddy, Santonio, and Gonzalez.