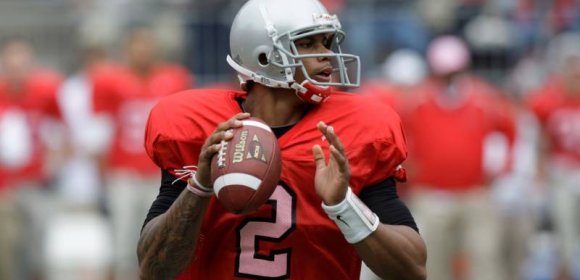 Another season brings us a new year of Five Things, although it sure is a lot more fun writing about Rose Bowl victories as opposed to scrimmages, even if it is our last taste of delicious Buckeye football until fall camp. Still, there's plenty to pontificate, much of which Jason's bullets touched on yesterday.
Terrelle: Locked and Loaded
Looking to build on a monster Rose Bowl effort and prove his knee is completely healthy, Terrelle Pryor shook off a couple early quacks to finish 8/12 with 108 yards and a TD in limited action. After his initial three and out was answered by a Kenny Guiton led TD drive, Pryor countered with a four play, 78 yard drive to tie the score at 7.
Pryor looked poised throwing (gasp) a pass over the middle to (super gasp) TE Jake Stoneburner for 23 yards setting up the Scarlet near midfield. Showcasing his improved mechanics, Pryor then rolled left and lofted a well placed 33 yard strike to Sanzenbacher along the left sideline to the Gray 22. On the next snap, out of the shotgun, Pryor hit Dane in stride on a quick hitting out route for 10 yards before capping the drive with a 12 yard TD connection with Sanzenbacher in the left corner of the end zone.
Pryor would play only one more series and though no points were generated, he still jazzed Buckeye fans everywhere hitting Stoneburner for 15 yards on another out route and later looked for him down the seam though the pass fell incomplete.
The good news here is two fold. First, TP hasn't really been willing and/or able to attack the middle of the field much in his first two seasons as the coaches looked for safer routes with less defenders. Maybe Pryor now has not only his confidence in place but also the coaches confidence at a level that will see OSU attack the middle more often. Second, OSU actually looked to utilize the TE as a pass catching option with Stoneburner hopefully deemed a legit weapon, not just in April, but in the fall. With Stoneburner's freakish skills, Tress can line him up in various slots, not just as a traditional TE, and take advantage of some physical mismatches. Can't believe I just typed that. Real quick, while we're finishing with Stoneburner, can someone page Tomczak and Co. at the BTN and remind them his name isn't "Stonebruner"? Have some pride, gentlemen.
The Backup Quarterback Should Be...
Obviously, it's safe to say OSU is majorly screwed if Pryor goes down as neither Joe Bauserman nor Guiton could likely manage a game against an elite opponent but the good news is KG looks like a young project that is starting to put things together. Alex said after many practices that Guiton is at least developing and showing flashes of being capable and after Saturday, you'd have to agree the kid is putting in the work to improve.
It's overkill at this point but Guiton was the star of the scrimmage connecting for 2 TD including the game winner in the final minute and completed 11/21 for 167 yards. Conversely, Bauserman was 6/15 with 2 INT and seemed more interested in tucking and running at the first hint of pressure. Moreover, I think the statement Guiton's Gray teammates made, selecting him ahead of Bauserman in the draft, tells you all you need to know with regard to whom the players think is the true backup.
Guiton was far from perfect as he struggled to feel pressure and had some bad throws but he also made plays. The first TD strike to a hungry Mr. April was a confidently thrown ball (though he had an even more wide open Reid Fragel down the middle for an easy six, as well). I also liked when Guiton hit T-Wash over the middle on what looked like his third progression on a crossing route. Good stuff from a young kid looking to seize an opportunity whereas I just get the feeling Bauserman is holding on to second string for dear life.
It will be interesting to see what happens in fall camp because it'll be hard to ignore Guiton over Bauserman if the unthinkable happens. If nothing else, we've already seen what Bauserman can do and, well, it's not enough (in my eyes) to not give Guiton a shot.
The Case for Jordan Hall
Jaamal Berry's spring exploits have been discussed and I have no doubt the kid has skills but what I also know is that Jordan Hall is a football player. A healthy one. He's not here just because he played high school ball with Pryor. I know his stats weren't eye popping but he did finish second in total yards for the Scarlet with 66 and he's a versatile kid.
Clearly, Boom and Zoom deserve the bulk of the carries but I'm hoping Tressel can install Hall in particular packages to get him a few touches outside as a rusher or receiver. Further, I'd really like to see him get a legit chance to return punts and kickoffs. He's got excellent vision, he's shifty and tough to find in a crowd with that low profile. Posey's a pimp but his hands scare me a bit plus he'll get plenty of chances to make plays from his WR slot. Devon Torrence also had a nice day on returns but more on that later. I just want to remind anyone chugging the Berry flavorade that he'll get a chance at some point but for now, Hall has earned some touches, however they may come. If Berry can stay healthy long enough to get in a game and he takes off a la Saine last year, then so be it. But make him earn it through consistent performance in practice, just like Hall did.
Personally, I can't wait for Berry to stay healthy so we can truly see what he can do in a game. Plus, the competition will only make Hall that much better. Keep 'em hungry, right?
Secondary Thoughts
Though the divided roster certainly hurts cohesion in the secondary, I was still a little surprised at the consistently wide open receivers roaming around, and even more noticeable was the amount of receivers who got behind coverage.
Leading up to '09, I watched Torrence outplay Andre Amos at the various practices/scrimmages we attended but he wasn't awarded the starting spot until early in the season. Torrence went on to have a solid if not spectacular campaign showing not only coverage ability but also an effective desire to play the run.
I have no doubt he'll be fine, but Saturday was rough. He was beat significantly no less than four times including T-Wash's first TD, Posey's drop early (PI called), and on a fade route that fell incomplete after Torrence stepped inside at the line with the WR racing outside. Again, I don't want to make too much of it, Torrence is a solid boundary corner, but I wonder if he's spending less time on his cover skills this spring as the coaches try out different guys on the return team?
Projected strong safety Orhian Johnson also saw Posey get behind him though he did record the defense's lone pass break up on 58 pass attempts. Dominic Clarke also got beat a few times and Chekwa struggled to handle Dane near the goal line.
It's a scrimmage, not the end of the world, but I think the defensive line got some decent pressure and since blitzes were relegated to what I believe was only 3rd downs, I was hoping for a little better performance from the secondary. The QB's from both squads managed just a 50% completion rate but receivers were open much of the day. The good news is these guys have a lot of film to look at and I'm convinced the talent is there, it's hopefully just that the projected starters were split down the middle.
Think Pink
What a classy move to have the players sport pink numbers that would later be auctioned in support of the Stefanie Spielman Fund for Breast Cancer Research. I would imagine this will turn into an annual affair as a way to honor her and support the cause.
At halftime, it was amazing to see Chris and his family at midfield while Carmen Ohio rang out. Obviously, Spiels was truly touched by the moment and I just can't say enough about how proud I was to be an Ohio State fan at that moment.
Also, Coldwater coach John Reed was set to be an honorary coach but the cancer stricken Reed was too ill to attend. In his absence, former Coldwater players Tony Harlamert and the Homan brothers filmed a video tribute which was aired on big board at the stadium. Ross Homan summed up Reed's impact succinctly saying, "Coach, you're the reason I wear the scarlet and gray." Good stuff.