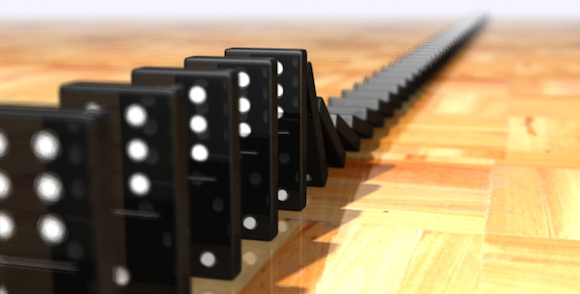 Late Thursday evening, ESPN Insider's RumorCentral section ($) picked up on a juicy tidbit that's been making the rounds in Columbus circles and had also been paid lip service to recently over around the premium section of our friends at Bucknuts. The origin of the subject isn't entirely a new one: essentially the scuttlebutt surrounds just what will happen to the vacant NCAA presidency and whether or not Ohio State's athletic director Gene Smith could be on the shortlist to be named to the prestigious position. The Chronicle of Higher Education touched on the subject after the passing of the late Myles Brand back in September, coming out as one of several publications mentioning Smith as a potential candidate for the job. While the rumor isn't a new one in the least, the thought that perhaps his candidacy could be gaining traction begins to raise questions about just who could be in line to fill one of college athletic's most high profile jobs.
TWWL insinuates that former Ohio State senior associate AD Paul Krebs could be in the mix should the job become vacant. Krebs spent 14 years at Ohio State before becoming Bowling Green's AD and famously gave a coach by the name of Urban Meyer his first head coaching opportunity. Krebs parlayed his time at BG into New Mexico's vacancy, but has since almost as quickly undone much of that good will by hiring Mike Locksley to replace long-time successful Lobos football coach Rocky Long. While admittedly Locksley was something of a buzz candidate around coaching circles, the subsequent sexual harassment complaints and assault allegations against a fellow coach in just his first year on the job reflect really poorly upon the individual who could potentially find themselves heading the decision making process for the most important football related decision facing Ohio State in the next decade or so. To his credit, Krebs was able to lure Steve Alford from a volatile situation in Iowa, who's since won a MWC regular season title and the school's first NCAA tournament game in a decade. Fortunately, it doesn't look like Ohio State will be looking at a men's basketball vacancy any time in the near future.
Another obvious candidate, particularly in lieu of the legal language added to the revised contract he signed just over a month ago, would happen to be an in-house candidate. While no one close to the man's felt he would coach late into his 60's, many do feel Coach Jim Tressel's next career opportunity may come in a university administrative capacity of some kind. Tressel's made it no secret that he desires to stay actively involved in academia after leaving coaching, and there aren't many higher profile opportunities to do just that. The obvious drawbacks arise when you begin to consider the daily demands of overseeing an athletic empire the scale of Ohio State's. The days of the legendary football coach sliding into a figurehead AD role are by and large a thing of the past at this level, and Tressel may be better positioned to get his feet wet in an associate AD's role before adopting the full responsibilities of an athletic director. This of course assumes he'd even been interested. Interestingly enough, Tressel reportedly garnered minor consideration for Youngstown State's vacant presidency when the school began their open search back this last Fall. Tress, in his typical diplomatic manner, downplayed the act of flattery:
Tressel, who could help with the school's fundraising even though he might lack academic credentials, said he has received some mail about the nomination. But he seemed to weigh his words carefully when asked whether he had ever thought about being a college president or whether this is a position he would ever consider.

"I love that place," Tressel said. "But I wouldn't want to say anything at all that would indicate that I don't love what I'm doing right now."
While that certainly fits the bill for the garden mill variety non-answer we're accustomed to around these parts, as lofty as Athletic Director positions have become, University presidents require even more grandiose resume requirements. The lack of a lifetime of involvement with academic administration and politicking makes the already unlikely happening that much more improbable. Particularly considering the recent circus surrounding former Oregon coach Mike Belotti's short tenure as an athletic director, the idea that Tressel would prematurely step aside from coaching and/or "double dip"/man both gigs concurrently (an even less conceivable scenario), a move into either kind of front and center university leadership role seems less and less likely. Accordingly, we'll save the speculation for which Tressel assistant (Fickell? Hazell?) he'd hypothetically hand pick to succeed him for another time all together.
A final candidate who could be in the mix for a potential vacancy would be Wake Forest's Ron Wellman. While the decision to extend head basketball coach Dino Gaudio back in October only to summarily terminate him Wednesday has become an increasingly controversial one, Wellman's reasoning mitigates some of the potential concern. Wellman explained to ESPN's Andy Katz that he was simply desiring to change the culture of late season collapses that had become the norm their last two seasons. He viewed the team's improbable tournament upset over Texas an aberration as opposed to a reason to keep the faith and keep a coach he'd lost faith in running his program any longer. Certainly a bold, risky (and pricey) move on his part, but if he recognized a critical moment in the program's growth that necessitated a sweeping sea change and can find the right replacement to steady things, perhaps history will speak kindly of what otherwise seems short sighted at this point in the process. To the Ohio native's credit, he was responsible for bringing Jim Grobe from OU to Wake, whom ultimately led the school to it's first ever BCS berth and ACC Championship. Wellman was also named 2008/09 Street & Smith's Athletic Director of the Year and is widely heralded amongst his peers.