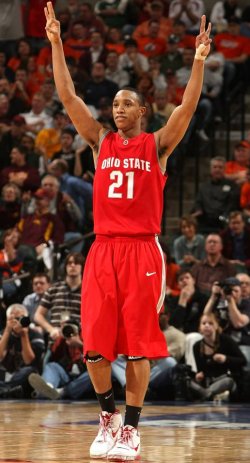 Though some would argue it's of little consequence to lose early in the conference tournament if you are already firmly entrenched in the field of 65, you can bet Thad Matta's crew isn't subscribing to that logic. After reaching the clubhouse at 14-4 assuring themselves of at least a share of the regular season crown, OSU watched Sparty and Purdue win out and grab a share of the title. As a result, the Buckeyes view this weekend in Indy as a tiebreaker of sorts.
Beyond the bragging rights of being both regular and postseason conference champs, a sweep could mean a #1 Dance seed but that's still long enough odds to make Peter North blush. Syracuse fell to Georgetown last night however their resume still screams #1 seed meaning the Buckeyes would need help in the form of Friday losses from at least one, if not both Duke (vs. Virginia) and Kentucky (vs. Alabama).
Regardless, picking up a #1 seed really wouldn't mean much other than OSU would obviously be on a nice roll entering the Dance. My bottom line says grab at least a #2 then hope the bracket breaks in a way that presents favorable matchups avoiding teams with crazy size and/or extreme depth until the Elite Eight.
I digress. The first step to any of this is to do Michigan a favor and deliver the proverbial shot between the eyes that would euthanize their horrific season and the need for any more occurrences of having to witness the result of Beilein's obvious dressing in the dark. I guess the old adage rings true...You can take the wardrobially challenged out of West Virginia but you can't take the West Virginia out the wardrobially challenged. Wait. Nevermind.
| # | Name | PTS | REB | ASST | POS | # | Name | PTS | REB | ASST |
| --- | --- | --- | --- | --- | --- | --- | --- | --- | --- | --- |
| 21 | Evan Turner | 19.5 | 9.4 | 5.8 | G | 1 | Stu Douglas | 6.5 | 2.1 | 2.5 |
| 33 | Jon Diebler | 12.6 | 2.9 | 1.6 | G | 4 | Darius Morris | 4.7 | 1.8 | 2.7 |
| 44 | Wil Buford | 14.3 | 5.5 | 3.2 | F | 0 | Zak Novak | 7.5 | 4.3 | 1.6 |
| 23 | David Lighty | 12.4 | 4.6 | 2.7 | F | 3 | Manny Harris | 17.7 | 5.9 | 4.1 |
| 50 | Dallas Lauderdale | 7.2 | 5.2 | 0.3 | C | 34 | DeShawn Sims | 16.9 | 7.7 | 0.9 |
Opponent
The Wolverines started their post-season outlasting Iowa in a 59-52 win led by the usual suspects. Manny Harris put up 22 and 9 while DeShawn Sims added 14 on 6/13 from the floor. Michigan shot just 38% but committed only eight turnovers against the 10-22 Hawkeyes. Clearly the aggressors, TSUN hit a sharp 15/18 from the stripe as Iowa managed four trips to the line. The win improved Michigan to 2-4 in their last six outings.
As you know, this is predominantly a two man team that's largely competitive only when Harris and Sims have it going big time offensively. In conference play, UM is 10th in scoring offense (60.2), 9th in FG% (41%) and 10th in 3FG% (30%).
Aside from the big two, Michigan will hope for meaningful efforts beyond the arc from Stu Douglass and Zack Novak. If that doesn't happen, it's one and done.
Buckeye Breakdown
Though the nine day layoff sounds like a dream come true for most fans that closely follow this 5.5 man team, I'm (as an admitted pessimist) wondering if the layoff will cause some rust early on. Of course, my typing that probably means they'll come out on fire but hey, I can live with that. Regardless of how they start, like you, I expect this team to finish strong and post a workmanlike win over a team with only two scorers.
Ohio State actually split the regular season matchups with Michigan benefiting from facing OSU sans The Villain back on January 3rd. The nine point loss was tough on the eyes as the Buckeyes surrendered an 11-0 run during a key four minute stretch late in the game after having actually taken a 55-54 lead with 6:40 left thanks to an 11-2 blitz of their own. Sims (28 and 9) and Harris (24 and 7) flat out took over against the offensively challenged Buckeyes in this early tilt.
OSU would get revenge in the late February rematch handling the Wolverines 66-55 behind 24 and 9 from Wil Buford and and 18, 11 and 7 from Turner. It wasn't pretty but it was enough as the Buckeyes held Michigan to 36% from the floor while winning the glass 35-20.
Obvious keys to this one will be keeping Sims and Harris somewhat in check while completely shutting down the rest of the Maize and Blue combined with limiting any rust associated with the lengthy layoff. As usual, a win would be helped by one of the Lighty/Diebler combo chipping in to help Turner and WB pace the attack. It will also be interesting to see the defense can create some turnovers after having very little luck in the first two matchups (15 total).
Etc
Matta has won three of OSU's eight B10 Coach of the Year awards (O'Brien '99, '01, Ayres '91, '92, Miller '83)
Turner is the fifth Buckeye to win league POY honors (Dials '06, Penn '99, Jackson '91, '92, Hopson '87)
OSU is 3-0 all time versus Michigan in the B10 tournament
With a win, OSU faces the winner of Wisconsin/Illinois at 1:40pm Saturday on CBS.