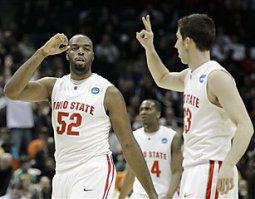 With the probable NPOY left frustrated thanks to a pesky defense influencing a 2/14 shooting night, Jon Diebler stepped up and caught fire from deep (7/11 3FG), good for 23 points as Ohio State advanced to the 2nd round of the NCAA Tournament following a 68-51 win over UCSB tonight in Milwaukee.
Wil Buford also had a big night with 16 points (6/12) and eight boards while Turner finished with nine points, 10 rebounds and five dimes against four turnovers. Turner spent a good chunk of the night showing his frustration and forcing the action but he picked a great time to produce an offensive stinker considering how his teammates came through.
After a 7-2 start to the second half cut OSU's lead to 32-24 at the 17:07 mark, Ohio State went on a game seizing 10-3 run featuring a Diebler triple, back to back thunder dunks from a rejuvenated Dallas Lauderdale and a Lighty triple propping the lead to 42-27 with 15:01 left. UCSB wouldn't get closer than 10 the rest of the way meaning the Buckeyes will take on Georgia Tech at 2:20pm on Sunday.
Lauderdale, a no-show for the bulk of the conference tournament, finished with probably his most meaningful game as a Buckeye recording 12 boards and a ridiculous eight blocks while Kyle Madsen joined the block party with two of his own. Throw in swats from WB and Lighty and the Buckeyes finished with 12 while winning the glass 37-30. OSU's tight man defense overwhelmed the Gauchos holding them to 31% from the field and from distance (6/19).
Meanwhile, Ohio State hit only 40% of their shots but that swells to 50% minus Turner's off night. OSU also rained 48% from beyond the arc powered by Diebler's 7/11 and WB's 2/4.
The Buckeyes jumped out to a 13-3 lead with 12:49 left in the half highlighted by a Buford circus reverse lay-in following a drive down the left baseline and a Diebler trey from up top. The Gauchos would respond, however, with a 10-1 burst of their own cutting the lead to 14-13 as OSU went cold missing six straight shots. Enter John Diebler. The supposedly sick part time sharpshooter ignited a 13-0 blitz draining three triples and a floater along the right baseline pushing the Buckeyes back in front by 14 at 27-13. Lauderdale was also instrumental with four swats in the 4+ minute momentum grabber. Turner closed out the first half scoring with a 3/4 effort at the stripe giving OSU a 30-17 lead at the break.
Diebler paced the Buckeyes in the opening 20 minutes with 14 points (5/7 FG) with Buford and Lighty adding six apiece. Turner's frustrating offensive half read five points on 1/6 shooting with two assists. He forced some shots but did manage to pull down six boards.
The defense was the real story of the half with OSU holding UCSB to 24% from the floor (7/29) including 1/10 from deep. Lauderdale (5 blk, 4 reb)and Madsen (2 blk) controlled the paint allowing the wings to really pressure the ball leading to five steals (7 TO).