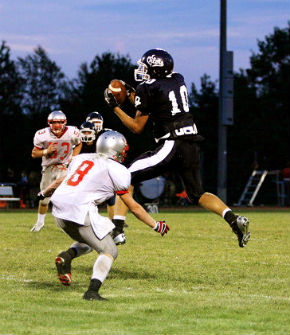 Jim Tressel and the Buckeye coaching staff went hard after a few tight ends in the class of 2010 including Alex Welch (Notre Dame), Alani Fua (BYU), and CJ Fiedorowicz (Iowa), but came up empty handed, making the position a priority for the class of 2011.
The staff has wasted no time and quickly identified a list of players at the position that they would like to have sign next February. At the top of that list is a player by the name of Ben Koyack from Oil City, PA and the Buckeyes are not alone in recruiting the 5-star stand out from the Keystone State. Despite offering Koyack early, OSU is joined by many of the top programs in the region and around the nation in trying to enlist the services of the talented junior.
Recruiting the tight end position at Ohio State continues to be a challenge as players in the slot have not been targeted too often in the passing game during the past couple of years. This challenge will not change with the recruitment of Koyack, but the good news is that Koyack seems to like the Buckeyes early and things may change for the Scarlet and Gray this year with the emergence of Jake Stoneburner taking over for the departed Jake Ballard as the starting tight end. We caught up with Koyack to discuss OSU's standing in his recruitment, how rehab from a season-ending injury is going, when a decision will be made, and more.
Ben, how has the recruiting process been for you so far? Is it getting to be too much or are you still enjoying it? The recruiting process has been more fun and eye opening than anything. It's given me a lot of opportunities to meet people and see different places that I normally wouldn't be able to.
Do you have a top 5 or 10 right now? What schools are you looking at? I do have a few schools I'm looking at, but it really could change at any point for me right now. I'd have to put Notre Dame, Penn State, and Ohio State all at the top, and then have like Pitt, Florida, and Oklahoma down near the bottom. But there's still not a ton separating any of them.
When do you expect to make a decision? Will you take all 5 official visits? If, so where? I'm not sure if I will take them. I'm planning on committing before senior season. If I don't, then I'll take as many visits necessary to make the right decision clear to me.
What is your relationship with Ohio State? What do you like most about the Buckeyes? What coach is recruiting you? I believe I have a good relationship with them. Every time I go, they're always talking to me, and kinda getting past all of the football aspects, making it seem more like a friendship. I mean, I know all coaches do that, but it makes visits a lot easier. Coach Peterson and Gillum do a lot of it, and Coach Tressel came to the school once this winter.
Does the history of how a team used the tight end in the past matter to you or is it all about what the coaches are telling you how you'll be used? What has OSU been telling you about their use of the tight end and how they will use Jake Stoneburner this year? What about how they will use you? History of the position does matter up to a point. A lot of teams say that they can change their offense to something it hasn't been before, and sometimes, I can believe it, because they haven't had a true receiving tight end. OSU has told me that they'll do what it takes to get me the ball. Even though it's not my main concern at the moment, I would like to catch a lot of passes if I went there. They haven't really said how they're going to use Stoneburner this year.
OSU has had some pretty good players come out of Western Pennsylvania the past few years. Do you know any of them and does this have any effect on your recruitment? To be honest, I really don't know of them. But it doesn't really affect the overall recruitment either. Any school can get anyone from any part of the country. It's just how they work together on the field and the coaching that makes the difference.
You had an injury that shortened your junior season. How is your rehab coming? What were your final junior stats? Rehab is over and done with. Just trying to catch back up with my lifting. I've been power cleaning like crazy, and just started squatting again. My stats through seven games were 41 catches for 748 yards and 6 touchdowns.
Academically, what are you looking at in a school? Do you know what you'll major in yet? I really don't have an exact match for a major yet, so right now it's just making sure that academics in general are good. I'm making sure there's no holes or anything.
What are your goals for your senior season? What are your strengths and what do you need to work on before you get to college? Help the team out, make it deep into the playoffs. As far as personal goals, I wanna be a lot more aggressive on defense. I know I can't realistically expect a monster season next year, but I'm going to be going as hard as possible every play. I'd have to say one of my strengths is running after the catch. I may not be the quickest, but it's definitely not easy to tackle me, and I always find ways to avoid tackles. I do need to work on being more of a leader, and my blocking. Neither are bad, but if I work hard, I can be a lot better.
And now for the highlight reel: