Sometime later today in an air conditioned hotel conference room in Tempe, USC and the NCAA Infractions Committee will come together to hear various allegations leveled against the program as part of an investigation that began in 2006.
What first started as questions related to improper benefits received by former Heisman winner Reggie Bush and his family grew additional legs when the story of OJ Mayo's matriculation to LA broke in 2008 and the Trojan basketball program announced self-imposed penalties that included a postseason ban, forfeiting wins, the loss of scholarships and coach Tim Floyd riding off into the sunset -- a move that looked to us like the basketball team taking a grenade for the highly profitable football program.
Then, just two months ago, running back Joe McKnight was caught driving a Land Rover provided by an LA businessman... that just so happened to own a company called USC Marketing. Only the USC stood for United States China. Allegedly.
McKnight was kept out of the Emerald Bowl as another preemptive strike of sorts, but this new heat was too much even for perpetually cool Pete Carroll. He accepted the head job with the Seahawks just three weeks later. No worries, the Trojans would just go on to hire Lane Kiffin, a coach with a string of minor violations to his name in only one season with the Volunteers. That is how you show the NCAA that your chain hangs low, my friends.
Despite the mountain of allegations evidence, many of us were sure we'd never see this day come to fruition. Now that it's here, what should AD Mike Garrett and the Trojans expect?
For starters, the proceedings should resemble a trial:
Both sides will give opening statements, the enforcement staff will outline evidence it gathered and USC will give an overview of its case. Committee members then have an opportunity to question both sides. After that, USC and then the enforcement staff will make closing statements.
The whole thing is so secretive heading in, so there's nothing firm on who will be representing the Trojans either as part of the defense or as NCAA witnesses if you will. Garrett and his less than desirable people skills will certainly be there, though his presence can't be the most reassuring thought to the school compliance officer and whoever else makes up the Trojan delegation.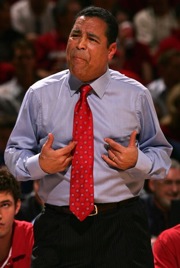 There's word that Floyd will be called to testify and it would make sense for the committee to hear what Petey has to say, either in person or via video uplink. Floyd, you have to figure, won't go out of his way to help the administration, particularly because there's supposed to be bad blood related to how his exit was handled. Carroll is a wildcard, but likely won't say anything more than that he was unaware of everything going on around his program.
The final report on the findings and any punishment likely won't be known for approximately 10 weeks. Sadly, the wrist slaps have been lighter and lighter these days: The Seminoles lost one scholarship in both basketball and football for the next two seasons, along with 12 football victories for the program's widespread academic fraud while Memphis had it's entire slate of 38 wins from the 2007-08 season erased and will pay a $500,000 fine (pending appeals) for playing Derrick Rose. The majority of both punishments was felt more in a retroactive sense and unless the NCAA has some serious dirt leading to charges of a lack of institutional control, we can probably expect the same for USC.
Beyond rooting for some pain for the team that humbled your own team the past two years, Buckeye fans are taking special interest in the proceedings thanks to Seantrel Henderson. The nation's top recruit, depending on which service you're looking at, announced his intent to play for the Trojans on national television only to back off with his father saying the family wanted to wait and see what the NCAA doled out to the Trojans.
Despite the absurdity of announcing and then waiting on something you knew was out there the whole time, we're going to be polite and play this one out -- and by play this out, hope for the worst in LA. You may think our coach is boring, but if your son is really that good at protecting the blind side and steamrolling defenders, I'm sure the fanbase, and Tressel can forgive and forget.