After earning their fourth pair of Gold Pants in as many tries against the Wolverines, Ohio State's seniors find themselves in the awkward position of trying to earn the first bowl win of their careers today in the Rose Bowl matchup with the Oregon Ducks.
Likewise, despite a 1-1 start for the conference this bowl season, the Big Ten finds itself looking for a bit of postseason respect after taking it on the chin the past few seasons.
So once again, Ohio Sate is playing with more than their own pride on the line, but for the first time in three years, they are entering a BCS bowl matchup where they're not decided dogs. The Ducks represent, both from a tradition and style of play standpoint, the polar opposite of what OSU does, but both teams have had very similar seasons: early season losses that brought on anguish, a midseason upset to a conference foe and a strong finish to punch their ticket to Pasadena.
Ducks fans are quick to trumpet the fact that they beat each of the two common opponents the teams faced, but if we're going to give credence to that worthless link, we should toss in the Pac-10's uninspiring bowl start. There's some transitive cancellation for you.
What we're left with is two solid teams playing distinctly different styles of football in the Grandaddy of Them All. Should be a good one.
Opponent
By now, we're well versed on quarterback Jeremiah Masoli and the potent Duck rushing attack. We've heard about the tempo the Oregon offense plays at and are well aware of their arcade-like scoring average coupled with their average time of possession, hovering around the mark it takes to put down a couple of sliders.
Masoli is the engine that powers the show and his running ability will present a test unlike any Ohio State has seen this season save for maybe Ricky Dobbs of Navy and we all remember how that one went down. He'll use ball fakes to confuse the defense and then won't be afraid to lower the boom on runs he keeps for himself. If the Buckeyes try to counter the Duck rushing attack by moving men into the box, he'll gladly put the ball into the hands of junior wideout Jeff Maehl (a former DB) or senior tight end Ed Dickson. Dickson is like Ballard in that he has great size (6-5/243), but he differs from Ballard in the sense that he actually gets balls thrown his way.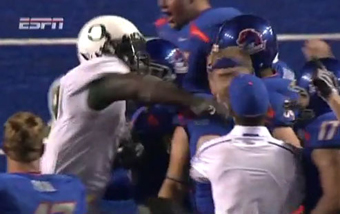 The 1-2-3 tailback punch of LaMichael James, Kenjon Barner and LeGarrette Blount is as good as perhaps anywhere in the nation. LG started the season on the Doak Walker watch list after putting up 1,002 yards and a school record 17 touchdowns as a junior in 2008 before going Ron Artest in the loss to Boise State to start the season.
No worries, James, just a freshman, shattered the conference rushing mark for first year players and was named Pac-10 Offensive Freshman of the Year after piling up 1,476 yards on the ground. He'll kill you with his patience and jets and then Blount (who Kelly said would play early) will come in and mop up with his physical brand of football.
Thanks in part to the run-first style of play Chip Kelly's Ducks operate in, the offensive line is a smaller, quicker bunch that does not give up many sacks. Junior tackle Bo Thran is the anchor of a unit yielding just one sack per game. If the Ducks get their running game going, getting to even one could be a tall order.
On the defensive side of the ball, the Ducks also play smaller and faster than what the Buckeyes typically see out of opposing Big Ten defenses. The front rotates two full units keeping bodies fresh and coordinator Nick Aliotti loves to stack the box against teams and bring blitzes from different angles. This leaves a lot of man coverage for teams with competent passing attacks to take advantage of.
Compounding matters is the fact that the Ducks have a Matthews boy playing for them. In this case, junior linebacker Casey. If he has anywhere near the game his brother had against the Buckeyes in the Coliseum last season, I will probably get violent in the stands.
The good news is the Ducks have a decent, but not great secondary. They're especially young at safety and as alluded to above, when Oregon is forced to stack the box or blitz more than they'd like to, opportunities will be there. USC had them, but Barkley couldn't get it done. Stanford also had them and took full advantage of them.
Buckeye Breakdown
If you're cheering for the good guys in this one, you have to be encouraged with the health of the team. After suffering through one of the more injury-plagued campaigns of Tressel's tenure in Columbus, the entire team is in good health and is expected to be ready to go. This includes kicker Aaron Pettrey, who will probably be back to handling field goal and extra point duties after his quick return from having his knee blown out against New Mexico State.
The offensive line, a unit hit particularly hard with injuries in '09, has had a solid month of work together, all healthy again, and will start (from left to right): Cordle, Boren, Brewster, Browning and Shugarts. Tressel revealed Mike Adams would be the 6th lineman into the game working relief at left tackle, while freshman Marcus Hall will follow him, seeing time at right tackle.
Saine and Herron will be playing their first game together since midseason when both were at full speed. Saine really came on during the last month of the season and it will be interesting to see what a rested, healed Boom will be able to do because Lord knows Tressel loves feeding him the ball despite whatever success Saine might be having (see Iowa). The Ducks can certainly be run on and I don't think any of us would be surprised to see OSU put up 40 or more rushing attempts on the day, especially if things work well early.
The receiver corps and return game took a bit of a hit last month when Duron Carter and Ray Small were ruled out of the Rose Bowl and this will lead to Tuarian Washington entering the game as the third wideout and Flash Thomas coming in as the fourth. Further, the punt return unit will feature Posey and Sanzenbacher, while Flash and Saine will return kicks.
Even without two of his receivers, Pryor is talking about a breakout and is looking to throw the ball more than we might expect. Though he was bottled-up after Purdue Harbor, the staff did try to work the passing game in order to set up the running game and we should see more of that today. Further, with the amount of blitzing Oregon likes to do, TP is well suited to make them pay with breakdown plays -- even with the sore knee.
Defensively, the boys will have their hands full. Spitler mentioned that Pryor did some work mimicking Masoli in practice, and my hope is that not only did it help the defense prepare a bit for the run-first QB, but perhaps Pryor even improved his own ball fake skills. The tempo and speed at which Oregon plays is concerning, but Heacock pointed out that Navy ran nearly the same type of tempo in the opener, so it's not like the Bullets will come out in awe. Let's just hope they have gas in the fourth.
Prediction
We really like our odds today and you know we're not homering it up either -- just take a peak back at our USC prediction. Masoli and the Ducks offense will be a challenge, but in this knife fight, our knife is pretty accomplished and has cut quite a few teams this year. The pass rush might get off to a slow start, what with Masoli's fakes and the teams just generally trying to feel each other out early on, which is why it's imperative that the defense tackles well and forces advantageous down and distance situations.
You know it's going to be a close game. That's just how JT rolls, but this team has been in this type of environment before and won't be as struck with the pageantry and touristy spectacles that the Ducks, who haven't been to a bowl this big in 15 years, might be. The media vibe of the Ducks being a tad overconfident heading in will help as well.
Ohio State 28, Oregon 24