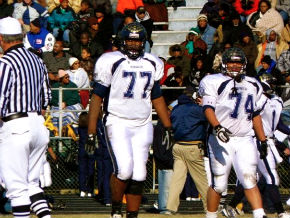 While many of the OSU recruiting pundits are worrying about the Seantrel Henderson's and Matt James's of the world, there has been one very large prospect that has flown under the radar the last year. Enter Morgan Moses, a 6-7/345 offensive lineman from Richmond, Virginia who is currently attending Fork Union Military Academy.
Moses was an elite prospect and Army All-American in the class of 2009 and signed with the University of Virginia last national signing day, but did not qualify academically to enroll at UVA this past season. Like Carlos Hyde, Moses decided to attend FUMA in order to work out academic issues so that he could be eligible to play for the Cavaliers this upcoming season. Unlike Hyde, things did not go according to plan for Moses, and while his academics are now in order, his school of choice has changed a bit now that Al Groh is no longer at the head of the UVA Football program.
Still considered a "soft verbal" to his home state school, Moses has decided to open things up a bit and the schools involved were considered to be South Carolina and LSU. That was until news leaked last week that Jim Tressel was making an in-home visit with the big lineman, throwing Ohio State into the mix of things for the highly touted player.
We caught up with Moses to get the full scoop on what's going on with his recruitment, what has been going on while he attended FUMA, his relationship with two future Buckeyes, and how he feels about Ohio State.
What has the experience been like playing at and attending Fork Union Military Academy? It was rough, but in the long run it will payoff.
When are you intending on finishing up at FUMA and enrolling at the college of your choice? I'll be enrolling in either March or May.
What schools are you looking at playing for? Is Virginia totally out of it now that Coach Groh is no longer there? Virginia is still in it, but so is Ohio State, LSU, and Florida.
How was Coach Tressel's recent visit? What did you think of him? Coach Tress's visit went real well. I believe he is an outstanding coach and man.
What is your relationship with Carlos Hyde and Jamel Turner? Carlos and Jamel attended Fork Union and they are good people. Carlos came home with me everytime we got a break, so we chilled a lot.
What position do you think you'll play in college? I'll play anything as long as I'm on the field, but I really haven't played anything but left tackle.
What has it been like having to overcome obstacles to play college football? It's going to make me better and hungry for the next level. There is more to come
Was Ohio State always a school that interested you? Yeah, it always has interested me.
What can Buckeye fans expect from Morgan Moses if he ends up in Scarlet and Gray? Hard work, a promise to give it all I've got, and somebody that's going to bleed the school colors if you know what that means.
Moses is certainly an impressive prospect and seems to have really benefited from having to go through an experience like he has. It looks like it's down to UVA, OSU, LSU, and Florida and I can certainly seeing the loser of the Seantrel Henderson sweepstakes (between OSU and UF) pushing even harder to claim Moses's services. Moses could end up playing tackle or guard at the next level, but with his size, I project him more so as a tackle. Here is a highlight video of Moses from his senior season at Meadowbrook in Richmond, VA: