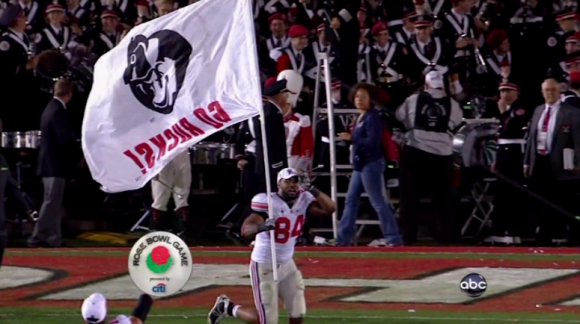 The national narrative seemed prewritten long before the game even kicked off. Could Ohio State's defense slow down the vaunted Oregon rapid-fire assault? Unlikely. After all, Oregon had faced plenty of highly regarded defensive minds/talent in what was arguably the deepest top-to-bottom football conference in the country during the better part of the 2009 season. And even suppose the Ohio State defense found a way to limit Oregon to, let's say, 24 points -- a tie for what would be the lowest output by the Ducks in the what many had dismissed as an aberration BCS game. How then can we expect the often sluggish, arguably overly conservative offense would possibly up shift and suddenly find a way to rack up 4+ touchdowns? Even against Oregon's hardly elite defense, the Ducks' team defensive speed was expected to keep the Buckeyes' pedestrian offense at the same output it'd be limited to during much of the Fall.
Enter reality: Ohio State's defense didn't bulge an inch in limiting Oregon's total output to its lowest total since the Boise State game, just 260 total net yards as the Bucks rolled to a 26-17 victory over Oregon. The Ducks found no continuity on 3rd down attempts, executing just 2 of 11 attempts and repeatedly finding themselves unable to keep drives alive. The elite, cohesive effort from a Bucks defense suddenly in the discussion amongst the school's best in the last decade received a more than game effort from their counterparts on the offensive side of the ball. Terrelle Pryor, despite going on a rather flat tire (see: torn PCL) put together arguably his most complete game from a quarterbacking standpoint in his two years as a Buckeye. Pryor went 23/37 for 266 yds, 2 TDS (including a perfectly placed, NFL caliber touch lob to DeVier Posey) and just a handful of hand-meets-face necessitating errors in judgement (only one of which resulted in a turnover). Pryor only needed one good leg in adding 72 yards on 20 attempts, including his patented teleportation act resulting in a 24 yard gain. On the heels of this as the cliche "break out performance"/maturation before our eyes stepping stone, could you fault your fellow fans for imagining what a year better, fully healthy version of the young quarterback will entail?
Accolades are also in order for sudden 2010 Biletnikoff Award candidate DeVier Posey. Posey hauled in 8 of Pryor's passes for 101 yards and a TD in showing precisely why he garnered so much attention during the 2008 recruiting sweepstakes. Dane Sanzenbacher continued his usual brilliance in the slot providing the safety blankoff/dump off option du jour for TP. #12 led the team with 9 receptions, including a high effort 18 yard catch precipitated almost entirely by the run after the catch. Junior running back Brandon Saine continued adding to his post season resume of turning in phenomenal catch and runs. His early 13-yard remarkable exhibition of balance set the tone for the remainder of the contest.
Defensively, Ross Homan turned in the very sort of play he's made for the entirety of the season, intercepting Oregon QB Jeremiah Massoli and returning the ball 20 yards in a huge momentum killer. The entirety of the OSU defensive line continued playing at the highest level during almost the entirety of the late afternoon/evening. Cameron Heyward carried out a thoroughly Suh'ian feat early in the first quarter, the kind of play that likely has many nervous as to whether they'll benefit from a fourth season in the Scarlet & Gray. Doug Worthington had a hand in the deflection which resulted in the aforementioned Homan pick, and the recently back from injury Dexter Larimore and freshman John Simon found their way into the Duck backfield seemingly all afternoon. Ohio State's secondary too turned in one of the better outings of the entire season. Chimdi Chekwa and Devon Torrence helped jam their men at the line and provided the kind of man coverage necessary to help force Jeremiah Massoli into unplanned quarterback keepers and ill advised throws.
So what does 2010 entail in turn of turnover? Doug Worthington, the little seen as a result of a surplus of nickel packages Austin Spitler, embattled but strong willed Anderson Russell, sometime nickelback Andre Amos, all-time great Kurt Coleman, and defensive line contributors Rob Rose and Todd Denlinger have exhausted their eligibility and will move on to the next chapters in their lives. The latest Buckeye to make an emphatic, immortality soliciting reception Jake Ballard, human swiss army knife Jim Cordle, the suspended for the Rose Bowl but principle special teams contributor (who's usual offering was noticeably absence in a strongly suboptimal special teams evening) are gone on offense. The kicking job is Devin Barclays alone with the true-from-45 Aaron Pettrey leaving. Highly erratic punter Jon Thoma yields the punting job to former high profile recruit Ben Buchanon. But what about the early draft applicants? This year's flight risks are potential first rounder Cam Heyward, likely 2nd-to-3rd round grade receiving Thaddeus Gibson, safety/nickel back Jermale Hines, and first year starter Chimdi Chewka. Hines and Chewka's relatively low compared to most early entrants draft grades would seem to suggest senior seasons in their futures. While Heyward's generated far and away the most buzz/hype, the statements put forth by the DE/DT would seem to indicate he's more of the Laurinaitis/Jenkins build of Buckeye who cherish the experience more than the opportunity cost of instant millions and would probably be a more than likely return to school candidate. ESPN's Adam Rittenberg's sources would seem to indicate much of the same, but adding that Gibson seems likely to bolt despite not generating the same level of buzz Heyward has. I'll speculate Gibson indeed does bolt (as yesterday's poll also seemed to indicate many of you feel is probable) while the other 3 all return for a potential national championship run.
As for the schedule? Conditions seem favorable for a very legitimately conceivable run towards possible redemption in Glendale. The Bucks open with Marshall head coach Doc Holiday's first ever game in the Shoe before a sure to be hyped matchup with a talented, but still very raw Miami team. The Bucks get a third bowl team in Ohio, before closing out with Ron English's sacrificial lamb, Eastern Michigan. Much like in 08, Penn State and Michigan will be in Columbus. Traveling to Iowa and Wisconsin should prove to be the season's greatest challenges. But we'd be well served to ahead and let recruiting, defections across the conference, and spring ball run their course before we even begin to over analyze what may lie ahead. As of today and this moment in time, it's a celebration: 2010 Rose Bowl Champions.