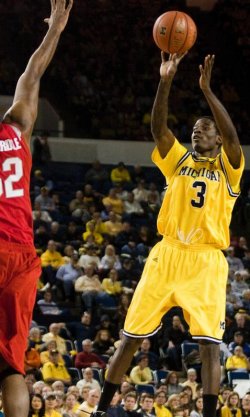 It looked like the Buckeyes might have a chance to capture their first conference win of the season but another typical scoring drought mixed with the prolific Michigan tandem of Manny Harris and DeShawn Sims resulted in a 73-64 loss this afternoon in Crisler Arena.
In a battle of second half runs, the Buckeyes answered an 11-3 Michigan burst that gave UM a 52-44 lead with an 11-2 blitz of their own paced by eight points from Wil Buford and a triple from P.J. Hill pushing OSU in front 55-54 with 6:40 to play. Unfortunately, the last run of the night would belong to Harris and Sims as they answered Hill's triple with an 11-0 run by themselves to giving the Wolverines a commanding 65-55 lead with 2:56 to play.
Dallas Lauderdale ended what became a 4+ minute scoring drought on OSU's next possession with a putback of a David Lighty miss drawing the Buckeyes to within eight but they would get no closer in what was a disappointing effort down the stretch.
The Buckeyes simply couldn't keep up with the scoring of Sims (13/18, 28 pts) and Harris (9/16, 24 pts) as OSU went cold in the second half making just 11/39 field goals (28%) after shooting 50% in the opening 20 minutes.
Speaking of the first half, it featured a Jon Diebler sighting as the junior guard led the Buckeye cause with 14 points on 5/9 shooting including 4/7 from downtown. Unfortunately for OSU, there was no carryover as he shot just 1/5 in the second half to finish with 17 points on 6/14 from the floor. Though his second half was disappointing, it was good to see him finally get some shots up after averaging just 6.8 FGA since Turner's injury.
If not for nine first half turnovers, OSU would've seen themselves on the good side of a 34-32 score.
Wil Buford picked up the scoring slack scoring 12 of his 16 in the second half to go along with a game high 13 boards but he shot just 5/17 with three turnovers. Lighty, like Diebs and WB, played 40 minutes and spent most of the game trying futility to contain Harris. Still, he added 13 points, seven boards and six dimes but with five turnovers.
Michigan rode the hot hands of Harris and Sims to shoot a blistering 56% on the day while the Buckeyes won the battle of the boards 36-29. Amazingly, OSU held a 17-7 advantage on the offensive glass but timely O-boards by UM helped seal the deal in their decisive second half runs.
Word is Evan Turner will have an MRI tomorrow or Monday which could likely give Matta a better indication of if ET might be back sooner than the originally projected January 30th date. After what we've seen these first two games of the season, make sure you say your prayers after you brush your teeth tonight.
Next up: Indiana on Wednesday night.