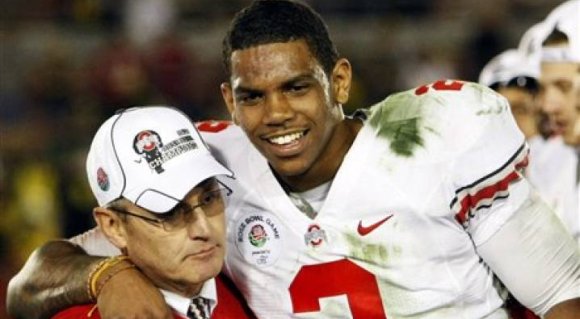 Offensive Gameplan: Wide Open Approach to Controlling T.O.P.
If you're like me, you almost missed Aaron Pettrey's extra point giving OSU an early 7-0 lead due to tears of blinding yet joyous surprise as Jim Tressel dialed up pass plays with
Terrelle Pryor
Lebron in Cleats completing 5/8 on a 10 play, 74 yard TD march culminating with an in-Saine-ly placed 13 yard touch pass to Brandon Saine.
The wide open, or at least less cautious approach to moving the football was an obvious change from what was admittedly working during three straight November wins but proved that if your QB can make throws, the Tresselball principle of controlling the clock can allow for passing the football while still shortening the game. I find it remarkable that Ohio State was able to hold a 42 to 18 minute edge in time of possession while throwing a season high 37 times.
The chub inducing field goal drive in which OSU took a 13-10 lead saw the Buckeyes run a ridiculous 19 plays chewing up 8:00 and taking back momentum after Oregon had scored 10 quick 2nd quarter points to tie the game. The march was absolutely astonishing as Pryor completed 8/10 while Tressel extended the drive going for a 4th and 1 from the Duck 14.
Even more impressive, OSU controlled the clock for 11:24 of the 4th quarter giving Oregon just 3:36 (8 plays!) to try and overcome what began as a 19-17 deficit before expanding to 26-17 thanks to Pryor's pinpoint back-shoulder toss to Posey with roughly seven minutes left capping the drive of the season. The killer series, a 13 play, 81 yard march chewing up 6:01 of valuable time, saw Pryor complete 4/5 including OSU's version of "The Catch", a 24 yard snag by Jake Ballard on 3rd and 13 giving the Buckeyes a 1st down at the Oregon 31. The drive, and a quick 'modified three-and-out' (45 yard FG miss on 4th down) proved a devastating upper cut to the Duck cause setting up the haymaker in the form of Tresselball Classic, 11 straight rushes to run out the final 5:10. Rose Bowl Over. BCS Curse Over. My Angina On Hold Til August.
Looking at the stats, Tressel's surprisingly open plan saw OSU throw it 38 times and rush it 51. Obviously, 11 straight rushes on the final clock-bleeding possession swayed the stats a bit but how 'bout the sexy fact Pryor threw it unofficially on 16 of 31 first down plays excepting the final drive where throwing the ball on any down would've been insane. Man, I'm tearing up again and its been three days.
The Emancipation of Lebron in Cleats?
So, we had stowed away the LiC moniker - I think it was after USC - waiting for the day it became valid again and holy sh!t did it ever against the shocked Ducks (and some sorta-shocked Bucks fans). The kid was simply sensational in what we can only hope was his coming out party.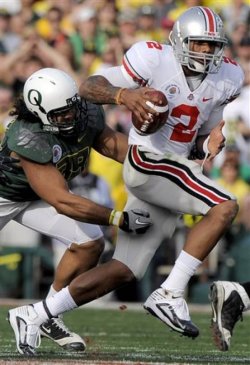 I'll be the first one to admit I had become skeptical if he would ever truly put it together after watching the same mistakes over and over in the first half of the season but I give him all the credit in the world for how he performed down the stretch even if some of his margin for error was masked in the ultra-conservative play calling enabled by a resurgent rushing attack leading up the the Oregon Outburst. Now, I pray the Oregon defense isn't really the joke I think it might be but still it was the way in which Pryor put up the gaudy stat line of 338 total yards (23/37, 266yds, 2TD/1INT, 20/72 rushing) that gives me reason to think Troy-like-greatness might hopefully be around the corner.
The kid looked in total command of the offense from the jump connecting on 5/8 and converting a huge 3rd and 6 with a 24 yard scramble up the left sideline. Then, the 13 yard TD toss to Saine in which he rolled right and collected himself before calmly placing the ball over Saine's right shoulder near the goal line, on 3rd and 10 no less, brought the fans to their feet. He flashed his touch once again on OSU's third possession with a nice running lob to Saine for a 46 yard gainer on a well timed wheel route call setting up a field goal for a 10-0 lead.
Further glimmers of hope for 2010 came as Pryor consistently stepped into his throws completing hot slants to Dane and Posey throughout the evening. He also worked the middle of the field more than we've seen in the past including a key 15 yard strike to Boom on 3rd and 11 extending the 8:00 FG drive that recaptured first half momentum. He also had a great night reading man defenders on Posey capped by previously mentioned perfectly placed back shoulder fade to DeVier for the game winning TD.
Lastly, I was very impressed and proud of how Pryor handled himself after the game, projecting a humble yet confident attitude. His teammates raved about the way in which he prepared for the game and how he showed leadership in a way that wasn't seen to that point. This is great to hear because I was personally unimpressed with how he handled himself at early practices and scrimmages we were able to witness. If the kid truly views this game as a springboard and not just an 'arrival' of sorts, then he can do big things leading an offense with nine starters returning.
See-Saw Special Teams
Another veer from the usual Tresselball was the bipolar play of the special units. Kickoff and punt coverage was dismal enough to almost singlehandedly keep Oregon in the game. Leading 10-0, Kenjon Barner peeled off a 28 yard return of a very short (fielded at the 13) Devin Barclay kickoff allowing Oregon to set up shop at the their own 41 yard line. The Ducks would take advantage of the short field as a 37 yard rush by Barner led to a field goal cutting the lead to 10-3. The KO return team would get burned again allowing another big Barner return (39 yards) to start the second half and Oregon took advantage of the field position (own 47) scoring a go ahead TD (17-16) with 11:03 left in the 3rd quarter.
The lackluster coverage would continue as the Buckeyes surrendered a 36 yard return by Barner after answering the Oregon TD with a FG to regain the lead at 19-17. This time, the defense wouldn't allow Oregon to take advantage though much of the credit goes to LeGarrette Blount for javelin-fumbling out of the back of the endzone for a much needed touch back. Tempting fate one last time, the KO coverage would get scorched again after Pryor's TD toss gave Ohio State a 26-17 lead with 7:02 to play. The return saw Barner lateral to Cliff Harris who took it 42 yards to the Buckeye 36 but the defense held and Morgan Flint missed a 45 yard field goal to overcome the short field.
Thankfully, the positive side of the special teams equation saw Barclay drill all three of his FG tries (19, 30, 38) with the clutch 38 yarder recapturing the lead for Ohio State at 19-17. The return of Aaron Pettrey was also a successful one as he hit a big 45 yarder to close the first half after Ross Homan's interception gave OSU the ball at the Oregon 46 with :25 left.
Defense Locks Up Ducks
Hats off to a Buckeye defense that shut down one of the most hyped offenses in recent memory. All we heard was how the Ducks didn't care about time of possession, they only cared about putting up points as quickly as possible so they could get the ball back and do it all over again. Well, Ducks, welcome to big boy defensive football.
The front four controlled the line of scrimmage with Cam Heyward and Thaddeus Maximus making their presence known early and often. Heyward sacked Pacific Northwest legend Jeremiah Masoli on the third play from scrimmage and forced him to scramble out of bounds on Oregon's first 3rd down as the high octane offense generated just 17 yards on their opening possession. The Ducks would fare even worse on their second possession as Thaddeus blew up LaMichael James for -3 on first down before Heyward and Devon Torrence closed the door on Masoli for no gain on 2nd down. Masoli got lucky on 3rd down as he hit Anderson Russell in the hands for what shoud've been an INT at the Oregon 8 yard line but Russell tipped it then started pouting not realizing the ball was still in the air.
The Silver Bullets would keep the pressure on the Ducks despite the shaky special teams putting Oregon in good field position from time to time. In fact, the Oregon never put together a long scoring drive marching 52 for a field goal, 30 for a touchdown and finally 53 for a touchdown. In total, the Ducks managed just 260 total yards against a season average of 424 as they were held to 20 points under their average. Another telling stat came in the form of Oregon converting just 2 of 11 third downs as Masoli completed only 9 of 20 passes for a paltry 81 yards. Lock down, bitches.
Reflections
In what was a wild ride thanks largely to some early inconsistent offensive line play by a group plagued with injuries coupled with the slower than desired maturation of Pryor, the Buckeyes still accomplished what we projected prior to the season; an 11-2 record capped with a win in the Rose Bowl.
We saw the defensive line live up to their potential thanks to monster campaigns from Doug Worthington, Heyward and Thaddeus, among others and Homan separated himself from the rest of the LB's as a tackling machine with a penchant for big plays.
While the corners failed to achieve greatness, Devon Torrence seized the boundary corner spot early on and showed he's got some cover skills combined with an ability to offer run support. Chekwa seemed to regress as the season went along or at the very least he's got some work to do as it relates to ball skills. He often found himself step for step with receivers this year but struggled to finish plays which isn't something I'm sure can be taught. As a result, I find it interesting that he appears to be seriously considering a jump to the league whereas the latest on Heyward and Gibson indicates they'll be back. Personally, I think both should go but obviously I hope they stay with an eye on a title run. And what is Jermale Hines planning to do? There could be some serious holes to fill if things don't break right for Jim Heacock.
Much respect to the seniors, especially Kurt Coleman, Jake Ballard, Lawrence Wilson and Worthington. Coleman made the most of decision to return and I'm interested to see if he can stick at the next level.
Offensively, I thought at one point this year Jim Bollman might be on his way out but with his comments talking about next year in the interviews after the victory, it seems clear he'll be back. He only loses two starters in Jim Cordle and Ballard so Mike Brewster, Justin Boren, Bryant Browning and J.B. Shugarts are in place for next year with Mike Adams and Marcus Hall vying for a tackle spot and Jake Stoneburner likely stepping in for Jake. That's a pretty seasoned group to protect Pryor and allow skill guys Boom, Zoom, Posey, Sanzenbacher plus whoever feels like stepping up in the slot to accomplish great things. Things are definitely looking bright on this side of the ball as we count down the days to spring practice.