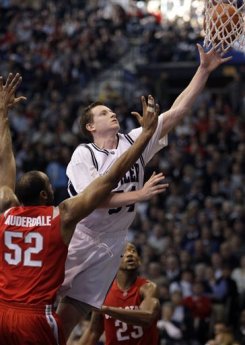 Playing their first game without injured Evan Turner, the Buckeyes staged a furious comeback trying to offset a key nine minute stretch in which they scored just two points but it wasn't enough as they fell to Butler 74-66 this afternoon in Hinkle Fieldhouse.
Tied at 48 with 13:20 to play after a Dallas Lauderdale thunder dunk, Ohio State felt the sting of Turner's absence as they struggled to find any offensive rhythm making just one of their next nine shots (Lighty 1/5, 0/2 FT) with two turnovers while the defense failed to switch and close off drives to the bucket triggering a 19-2 Butler run giving the Bulldogs a 67-50 lead with 4:35 to play.
To their credit, Ohio State would respond with a 16-2 run powered by Matta switching to a full court 1-2-2 press along with six points from William Buford and five each from Jeremie Simmons and Jon Diebler cutting the Butler lead to 69-66 with just under a minute left in regulation.
Unfortunately, the refs would then deal OSU a major blow on the ensuing possession by missing what looked like a carrying violation then blowing a more obvious charging call on Willie Veasley. Instead, Simmons was whistled for a blocking foul, Veasley promptly buried both free throws and a missed three by Simmons on OSU's next trip down sealed the deal.
I should be clear that I'm not crying too much sour grapes on the missed calls as this game was clearly lost via the two points in nine minutes combined with Matta probably being a little tardy on installing a press to try and push the tempo though I can understand his thinking considering the lack of depth he has to work with.
Another huge factor in the defeat was what we were worried might happen with Turner on the shelf, and that's the fact Diebler is undoubtedly going to struggle to score because he simply cannot get his own shot against legit defenders and opposing coaches will surely put their best stopper on him to take him out of the offense. One thing I noticed was Diebler didn't always rub off screens tightly making it easier for the defenders to stay on his hip. In this game, it was hard for Diebler to even get touches, let alone shots, as evidenced by his first field goal attempt not coming until the 12:54 mark of the first half and his first bucket not coming until 1:34 remained in the opening 20 minutes. In fact, he mustered only seven shots in 40 minutes with a few of those being forced attempts just for the sake of hoisting something toward the rim. The aftermath of his performance read seven points on 2/7 from the floor with five boards and a turnover.
What's even more worrisome about Diebler's stat line is the fact his teammates did actually step up and score but Butler refused to deviate from having a man shadow him all day with no intent of playing any help side defense. Surely, he'll face the exact same strategy quite often until Turner comes back.
It looked like this one might get ugly early as Butler built 10 point leads multiple times in the early going but a balanced Buckeye attack put together a 16-0 run to take a 34-28 lead with 2:37 left in the half. The run got started with a nasty inbound lob from Simmons to Dallas for the rim rattler and David Lighty chipped in with five points and an assist on another LauderDunk while Buford added four points and a dime for another Dallas flush before Simmons capped the fury with a triple from the top of the key. The defense also harassed Butler into 0/7 shooting during the blitz holding the Bulldogs scoreless for over five minutes before six late Butler points closed the Buckeye lead to 36-34 at intermission setting up the wild second half of runs.
For the game, OSU shot a respectable 49% (25/51) but with the Ghost struggling to provide buckets, the Buckeyes made just 29% of their triple tries (5/17) while Butler managed a 38% night from deep (8/21) on the strength of a 3/6 night from Gordon Hayward who once again killed the Buckeyes with 24 points and eight boards.
Buford led Ohio State with 20 points (7/12) and seven boards with 14 of those points coming in the second half. He played a fairly heady 40 minutes with just a few questionable shots which was impressive to see considering he knew he had to help the offense with Diebler a non-factor. He did have four turnovers but he also contributed three dimes and two steals in a tough road environment.
David Lighty also played big adding 16 points (6/14) and seven rebounds with both he and Lauderdale helping OSU respond to Butler's first half runs. Lighty had 12 points in the opening half with Dallas scoring 10 of his 12 during the same period. One dark spot for these two is their combined 3/9 from the stripe. Big DL was 0/3 with little DL 3/6. For the game, OSU shot just 11/18 (61%) from the line. This familiar trend is a killer especially on the road. You simply can't leave points on the floor in these types of games.
Simmons led the short bench's effort with 11 points (4/10) and five assists against only one turnover in 26 minutes again showing he's going to have to play more minutes than P.J. Hill (14 minutes) if the offense needs a lift. Hill took just one shot, and ill-timed three early in the shot clock during the opeing minutes of the second half, then followed that up with a travel before Thad had to take him out. Hill should keep starting but if Diebler and/or the rest of the starters encounter a scoring drought, look for Simmons to continue to log more minutes than Hill off the bench.
In the paint, the Buckeyes struggled to contain the Bulldogs as they gave up 12 offensive boards and plenty of uncontested layups due to poor rotations and unannounced switches. Lauderdale did what he could without much help though his stat line surprisingly shows just four boards in 29 minutes. Madsen came off the bench and contributed one block and three boards in 13 minutes.
Overall, I'm never happy with a loss but I think it's important to realize the team showed some moxie in their first game without Turner which was also on the road against a ranked opponent. I think most of us had this pegged as a loss anyway and with three lesser opponents lined up, the Buckeyes should find themselves at a respectable 10-2 before beginning conference play on New Year's Eve in Madison.