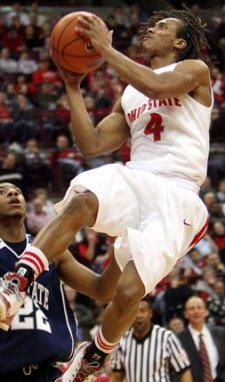 Ohio State ends their 4 game series with Butler Saturday, as they begin their journey without the services of Evan Turner. The Buckeyes lead the current series 2-1, after winning 54-51 in Cbus last season.
Surprisingly, this is the first time both teams are ranked coming into the game, but Butler could be out next week, after their 72-65 loss to Georgetown on Tuesday night.
Beyond the Georgetown game, the Bulldogs are battle tested, having played Davidson, Northwestern, Minnesota, UCLA and Clemson, but they don't have the offensive fire power they have had in recent years and the Buckeyes have a great chance of stealing this one on the road.
| # | Name | PTS | REB | ASST | POS | # | Name | PTS | REB | ASST |
| --- | --- | --- | --- | --- | --- | --- | --- | --- | --- | --- |
| 4 | P.J. Hill | 5.0 | 1.4 | 1.6 | G | 1 | Shelvin Mack | 14.8 | 4.0 | 3.3 |
| 33 | Jon Diebler | 17.1 | 2.9 | 2.6 | G | 5 | Ronald Norad | 2.8 | 1.9 | 2.4 |
| 23 | David Lighty | 11.9 | 5.2 | 3.0 | F | 20 | Gordon Hayward | 16.3 | 8.2 | 2.0 |
| 44 | William Buford | 11.1 | 3.0 | 3.2 | F | 21 | Willie Veasley | 8.2 | 3.0 | 1.4 |
| 52 | Dallas Lauderdale | 6.9 | 4.6 | 0.4 | C | 54 | Matt Howard | 11.6 | 5.1 | 0.3 |
Opponent
Butler comes in scoring 69 points a game, on 41 percent shooting and have scored more than 73 points just once, an 84-67 win over Valpo. Their overall shooting percentage ranks them 256th in the nation, while the 32.4 percent from deep puts them at 206. The Bulldogs lack size inside and it shows in their rebounding, pulling down 33 a game overall, with 10 of those coming on offense.
One thing Butler does well is get to the free throw line, making 250 trips thus far and sinking 187 of them. The FT's made ranks them 6th in the country and gives them over 20 points a game, but the Buckeyes only commit 16 fouls a game, which could help neutralize Butler's scoring output, unless the Bucks get homered.
Gordon Hayward should be a name familiar to Buckeye fans who watched these two teams last season. The 6'8" sophomore from Brownsburg, IN exploded to hit 7 of 11 bombs for 25 points and 7 boards, at times keeping Butler in the game by himself. While his scoring is up from his 13.1 last year, he has struggled shooting, as defenses have focused on shutting him down, hitting 42% of his FG's and 29% of his 3-point attempts.
Shelvin Mack and Matt Howard round out their scoring trio, as the three account for 60% of Butler's scoring and 53% of their rebounding. Coach Brad Stevens has used an eight man rotation thus far, with Shawn Vanzant (5 starts) and Zach Hahn leading the way off the bench, but he will more than likely run the majority of minutes with his starters against the Bucks.
Buckeye Breakdown:
Chris covered how the Buckeyes can hold serve during The Villian's injury and still have a strong chance to make the Big Dance. A win in Indy would definitely help their resume, if they find themselves on the bubble come March.
The Buckeyes have been dominate on the offensive end this year, ranking second nationally in shooting at 52.5 percent and fourth in scoring with 87.9 PPG. Even without Turner, they still have 4 players scoring in double figures and PJ Hill has the potential to do it on any given night, if he's selective with his shots. Simmons is hitting 64% (29-45) of his shots, including 54% (15-28) from deep coming off the bench, playing his natural 2 guard and I don't think Thad tinkers with that mojo. Hill is going to get most of the minutes at the point, but the Buckeyes do such a good job of grabbing a defensive board and taking off up court, any of the wing players can handle the rock.
I may be one of the few that think OSU is going to be all right during this stretch without ET. I know it will be a struggle at times, but the Bucks scored 95 points in the final 33 minutes after The Villian's fall. Granted it was Eastern Michigan, but the ball movement, unselfishness and shooting accuracy seemed to increase after he left. The team also had a week off to prepare and define roles without ET, so they should feel comfortable already with the need for increased production across the board.
It will be interesting to see what defense Thad comes out with tomorrow. Butler is not big across the front and Lauderdale could have a good game, if he can stay out of foul trouble. Since it is a big OOC game, Thad will probably shorten his bench even more and I wouldn't be surprised to see the matchup zone used the majority of the game. I don't have any doubts the Buckeyes can defend in the zone and contest Butler's shots, but the key will be how well they rebound out of it. I've sensed a greater urgency from all players on this team when it comes to crashing the boards and they just have to continue that trend Saturday.
I think the Buckeyes are going to take this one at Hinkle Fieldhouse tomorrow, as they play inspired ball without their leader. Simmons, Hill and Buford are all going to have good games and Diebler will get 20 points again. Lauderdale is a huge defensive presence in the zone and Lighty makes up for Turner's rebounding. Prediction: Ohio State 79, Butler 67.
Etc
Ohio State leads the all-time series, 31-9, but OSU is 7-0 against Butler when the Bucks are ranked.
Jon Diebler is 4th nationally in 3 pointers made with 35, but he's played the fewest game amongst the top 4.
Ohio State had 46 points off the bench against EMU.