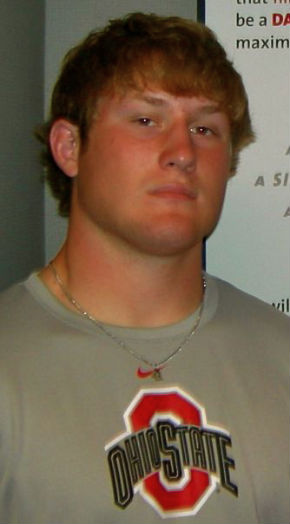 Earlier this year we were able to catch up with a committed Buckeye in James Louis, as well as a recruit still in the mix in Latwan Anderson. With recruiting heating up a little as the season has ended and in-home and official visits are occurring during bowl practice, we figured it was a good time to bring you another "Catching Up With" segment, and this time we bring you David Durham.
Durham, from Charlotte Christian School in Charlotte, NC, gave a verbal commitment to Jim Tressel way back in February of 2009. At that point, Durham was living in Texas and was a little known defensive end prospect that wasn't on any Buckeye fan's radar. At 6-3/225, Durham is considered a hybrid DE/LB player who can bring a combination of speed and strength in the pass rush and make plays on the defensive side of the ball. Scout ranks him as the #88 OLB in the class, while ESPN/Scout's Inc. has him as the #30 DE and Rivals has him notched as the #49 DE.
Despite his low rankings by recruiting services, OSU fans can be assured they are getting a player who will come to Columbus and make plays. Being a high school wrestler, Durham knows how to use his leverage to get advantage on opposing blockers and has had success against some of the best high school football competition in the nation in Texas at both linebacker and defensive end. He drew interest from UNC, TCU, West Virginia, UVA, Stanford, Illinois, Colorado and other schools before committing to Ohio State, but his offer list would have certainly grew had he waited longer to commit. His talents have become noticed by many, as he was chosen to play in the Aloha Prep Bowl earlier this month, along with some of the elite players in the country.
Durham took his official visit to OSU right before leaving for Hawaii and upon his return he was able to sit down with us to discuss why he chose Ohio State, which players he'd like to see join him in the 2010 recruiting class, what position he'll play in Columbus, and much more. I think you'll be very impressed with the type of player the Bucks are getting off the field even more than the talent they receive on the field after reading the following interview.
Living in Texas last year and coming from North Carolina, how did you get interested in Ohio State? I was never an Ohio State fan growing up but I obviously respected the program for the success that it has had on the football field. I was never interested in Ohio State until I took a trip to Ohio for a wrestling tournament with the rest of my wrestling team. My coach was trying to convince me to come wrestle in the tournament and miss a few junior days. He said that maybe I could visit Ohio State while we were in Columbus. Before my trip, I sent a tape to Coach Fickell. I had no idea what to expect on my visit, it wasn't even the main focus of my trip. I never thought I would end up at Ohio State. But I kept an open mind and that all changed as soon as I met coach Fickell and a few of the other coaches. People say you'll know when you have found the right school, and I knew right away that there was something special about The Ohio State University and I wanted to be a part of it. On my second trip, about two weeks later, I was offered a scholarship and the rest is history.
What other schools were you looking at and why did you choose OSU over those schools? One of my top choices early on was North Carolina, because that is my home state and I also really liked Coach Davis. West Virginia seemed like a great place to play and it was hard to say no to them. I had offers from Virginia, West Virginia, Stanford, Colorado, and Illinois at the time I committed but I was just starting to rack up offers. I could have waited and gotten more offers, but I was pretty set on Ohio State and I ended the recruiting process pretty early. For me, Ohio State offered the total package. They have a lot of tradition, a great coaching staff, the fans are second to none, they have excellent academics, and they send a lot of players to the league every year. The location is good for me because I will be close to some of my family that live in Pittsburgh.
You are slated by many as a hybrid DE/LB like Bobby Carpenter, Vernon Gholston, Thaddeus Gibson, etc. Will you play the LEO at OSU and if not, what position will you play? I could end up playing a lot of different positions at Ohio State. Definitely the two positions that suit me best would be the Sam linebacker position, or the Leo position. I honestly think I will start off at Sam. Coach Fickell told me I will play wherever I can make plays. I could also end up at Mike, which I played in high school this year. I feel like the Leo position suits me well because the guys that play it now and that have played it in the past play with the same style that I do. Hopefully I will get a shot at the position. I just have to trust the coaches to put me in the right spot and everything will work out.
How did your official visit to OSU go earlier this month? What did you like most about it? What did you learn that you never have before about OSU? My official visit was great. I got to spend a lot of time around the players, coaches, and other guys in my recruiting class. The part I liked most was getting to spend time with the guys on the team and just talk with them about what to expect as an incoming freshmen. I guess the biggest thing I liked was that most of the guys on the team are really down to earth and easy to get along with. I can't wait to get to Columbus and play with them.
What number would you like to wear in college? What do you plan to major in? Who would you like to room with? I would like to have a single digit number or a number in the teens. Alot of the ones I like are taken already, so I will have to see what numbers are available when I get there. I wore 5 my freshmen year and then was assigned 41 my sophomore year on varsity and everyone kind of knew me by that number so I kept it. When I moved to Carolina this year, the number 41 jersey didn't fit me. I chose to wear 47 because a lot of great linebackers have worn it, like AJ Hawk, Clay Matthews (USC), and David Pollack (Georgia). I will definitely want to choose a new number when I get to Columbus and stick with it through my college career. I do not know what I will major in yet-probably either communications or excercise science. Scott McVey and I have already talked about rooming together so hopefully that will work out.
Do you talk to any of the players OSU is recruiting that have not committed yet? Yes, I just played in the Aloha Prep Bowl with Shariff Floyd. He is a really good guy and I would love to see him become a Buckeye. He's also the best 3 technique I've ever played with or against.
What is the craziest thing a fan has said/done to you in the recruiting process? Any memorable moments from the recruiting process? At the spring game a bunch of us were signing autographs for a lot of fans when we came out onto the field. That was pretty cool. I was only a junior in high school and all of these people knew who I was. The most memorable moment of the recruiting process was when I committed to play for the Buckeyes. It was an amazing feeling to know that I was going to be a part of something that means so much to so many people.
Which coach do you have the best relationship? How is your relationship with Coach Tressel? I have the best relationship with Coach Fickell. He is the coach that recruited me and he will most likely be my position coach while I am at Ohio State. I know he is tough, but he gets the most out of all his players. I feel like he is always upfront and honest with me and that's what I like most about him. Coach Tressel and I have a great relationship. It has only grown stronger in the last couple of months. Two weeks ago he came and visited my family. Now that the season is over, he has had more time to call and talk with me.
What are your strengths? What do you need to work on to play sooner rather than later at the college level? My strength is definitely the passion and intensity that I play with. I feel that I am great at shedding blocks and getting to the ball. One of the things that I need to work on is being more explosive when I tackle and also getting faster. Speed is the name of the game in college football, and you can never be too quick.
If you could tell Buckeye fans one thing, what would it be? I have had the opportunity to see a lot of great programs with outstanding tradition. Coach Tressel has assembled a terriffic group of people at The Ohio State University who all strive for excellence. The more people I meet, from the university and from the state, the more I know that I made the right decision to become a Buckeye.