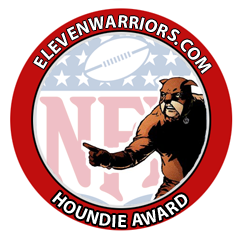 The Houndie is an award formerly known as the Buckeye NFLer of the Week. After 2 years of existence, we searched for a catchier name, so with the help of a well placed typo and the ensuing 11W comments, the current title was created.
I'm sure this week's award had no one waiting with suspense as to who would win the honor, because when a Buckeye sets an NFL record, there is no doubt.
Of course, there were other Buckeyes who took the field this past weekend, while some continue to battle the injury bug.
The Rams finally won a game, taking down Detroit 17-10. Little Aninmal was in on 7 tackles, 6 of the solo variety, as the Rams defense held the Lions to 289 yards on 68 plays and Laurinaitis once again lead his team in tackles. His sidekick Larry Grant contributed a solo stop, as they head into their bye week.
Staying in the NFC, the Vikings, who were without the services of Antione Winfield once again, beat the Packers in Brett Farve's return, 38-26. As a die-hard Bears fan I have always despised the play of Farve and I was hoping AJ Hawk and Ryan Pickett could help slow him down, but no such luck. Hawk had 2 solo and 2 assists, while Pickett chipped in with 4 solo and 2 assisted stops.
Out west, the Cardinals ruined my survivor pool run with a 35-21 home loss to the Panthers. Arizona was down 21 at the half and attempted only 17 rushes for the entire game, 8 of those going to Beanie. He managed 47 yards on his carries, once again leading the team, but with Kurt Warner turning it over 6 times, his chances were too limited. One of those INT'sg was a designed screen pass to Beanie, that Julius Peppers snagged out of mid-air and took it to the house. For the Panthers, Chris Gamble wasn't listed on the injury list, nor the stat sheet and I find it hard to believe that he wasn't in on at least one of the 46 Warner pass attempts. However, Na'il Diggs was in on 2 solo stops and an assist.
Bobby Carpenter continues to earn some valuable playing time as the Cowboys took down Seattle 38-17, to move into first place in the NFC East. Carpenter recorded 3 solo tackles, an assist and a wicked sack, his first since the 2006 season.
Sticking with defense, Nate Clements and the 49ers gave the Colts all they could handle, but eventually fell in Indy 18-14. Clements only had 2 solo stops and 4 punt returns for 7 yards, as the Niners secondary let Reggie Wayne snag 12 for 147 and a 22-yard score from Joseph Addai.
Moving to the AFC, Donte Whitner once again had to watch his teammates go down in defeat, this time to the Texans, 31-10. Kenny Peterson helped hold the Ravens to 3.6 YPC on 35 attempts, but the Broncos dropped their first game of the season, 30-7. Peterson has enjoyed a resurgence in Denver over the last couple of years, recording a season high 6 tackles, which puts him 4 away from setting a career high.
In the Monday night game, Will Smith was a beast, getting credit for 4 tackles and 2 sacks, but he was relentless in getting to Matt Ryan, prompting Chuckie to proclaim it was the best he had seen him play in five years. BTW, John Gruden doesn't need to coach again, he needs to stay in the Monday night booth for the next 20 years, that dude is a riot and knows his football. Michael Jenkins had 4 catches for 66 yards, his best production since week 3.
The highlight of the day though came from a player that has taken perhaps the most heat of any NFL receiver this year, getting ripped by fans, media and teammates for playing soft. Benched this week in favor of, wait for it...Brian Hartline, Ginn became the first NFL player ever to score TD's of 100-yards or more in a game, going back-to-back in the 3rd quarter.
If you saw any highlights from the first 2 kickoffs, Jets kicker Jay Feely got a little cocky after making the tackle both times, giving the crowd a few fist pumps as he jumped up from the turf. On the third kick, Ginn took it 100 yards, making a quick move outside and virtually going untouched down the sidelines. His second one was a yard longer and was absolutely sick. Ginn made a couple of jukes in the middle of the field and then sprinted outside, blowing by the Jets coverage team and the Dolphins sidelines.
The points were crucial for the Dolphins, as they managed just 104 total yards on offense in the 30-25 win, also relying on a Jason Taylor fumble return. Ginn ended the day with 6 returns for 299 yards, but no catches and the irony of it all, Hartline was also held catchless.