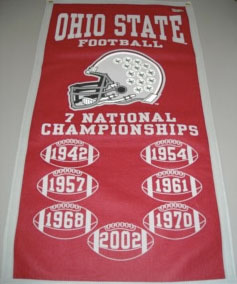 With the Rose Bowl on the line this weekend, Joe is offering up another freebie from his virtual Buckeye store. It will be hard to top the accuracy and speed of Buckeyeholicwompa's clutch choice last week, but the bigger the game, the bigger the imaginary score prediction is. I think.
This time, the commenter that most accurately predicts the final score for the Iowa game will win the lovely Ohio State championships banner you see pictured. Stewie Mandel may be hating, but the seven championships featured on the banner reflect the seven ringing the inside of the Shoe -- even 1970.
So get that magical prediction in and look forward to this beauty going up in your man cave. And think of Joe when you're looking for Buckeye gear for the family this holiday season.
The fine print...
Must be 18 years-old or older.
One entry/comment per person.
Your entry/comment must include a valid email address.
Duplicate predictions are ineligible — first come, first serve.
Deadline for entries is kickoff.