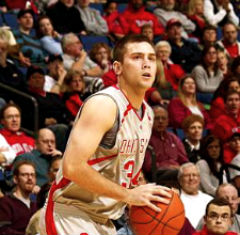 After coming out a little flat against a less than mediocre Lipscomb team, The Buckeyes will take their turkey-stuffed trot onto the court tonight as they host the Red Flash of St. Francis (PA). Thad couldn't have done a better job with the timing of this game, as the three day lay-off combined with last night's Thanksgiving feast could spell the code for another lackluster performance, but at 1-4, and coming off four consecutive losses, the Red Flash should not pose much of a threat to the Buckeyes.
The Bucks enter this game trying to carry the Big Ten victory flag that has been flown mighty and high throughout the week as conference teams Minnesota (vs. Butler), Michigan (vs. Creighton), and Wisconsin (vs. Maryland) have all notched significant wins at some point this Thanksgiving week. St. Francis will not pose as big of a threat as some of the Big Ten opponents this week, but the game should serve as one last chance for OSU to get in synch before they take on Florida State in the ACC/Big Ten Challenge next Wednesday night.
| # | Name | PTS | REB | ASST | POS | # | Name | PTS | REB | ASST |
| --- | --- | --- | --- | --- | --- | --- | --- | --- | --- | --- |
| 21 | Evan Turner | 20.6 | 13.8 | 7.0 | G | 3 | Chris Johnson | 2.3 | 2.3 | 3.5 |
| 33 | Jon Diebler | 15.4 | 2.8 | 2.2 | G | 14 | Sorena Orandi | 5.0 | 1.5 | 1.5 |
| 23 | David Lighty | 13.2 | 4.4 | 2.8 | F | 1 | Devin Sweetney | 20.8 | 5.5 | 2.3 |
| 44 | William Buford | 10.6 | 2.8 | 2.6 | F | 40 | Cedric Latimer | 12.3 | 3.3 | 2.5 |
| 52 | Dallas Lauderdale | 6.8 | 5.0 | 0.00 | C | 54 | Kurt Hoffman | 1.8 | 3.5 | 1.0 |
Opponent
After taking down American (a tournament team last year) in their first game, the Flash have lost four straight games to Notre Dame, Lafayette, Bucknell, and Lehigh. Things are not looking any better as they come to The Schott to take on a Buckeye team whose only loss is to UNC at Madison Square Garden, but Don Friday's squad will not just wilt over in fear.
St. Francis is averaging about 68 points per game on the offensive end coming into the game and is lead by 6-6 swing forward Devin Sweetney. Sweetney is by far the Flash's most explosive player with the ball in his hands and will most likely be the assignment of David Lighty to shut down. It should be interesting to watch Sweetney's offensive explosiveness against Lighty's lockdown defense and if Lighty wins out, don't expect St. Francis to hang around in this game too long.
Sweetney is not given much help by his supporting cast, but forward Cedric Latimer (12.6 PPG) and guard Umar Shannon (11.2 PPG) can put the ball in the hoop as well. Other than those three, scoring is very limited for Friday's team, which will not bode well against a testy Buckeye defense.
Looking at the St. Francis defense, they have allowed 78 points per game, and even worse have only accumulated around 18 defensive rebounds per game. While Ohio State does not have a true big man presence to rebound, the combination of Lauderdale, Turner, and Lighty can well exceed that amount in any given contest and should be able to control the boards on the Red Flash. Overall it seems St. Francis is overmatched on both sides of the ball and looking at their defense and rebounding, its obvious their offense is going to have to show up to have any chance to even keep this one close in the first half.
Buckeye Breakdown:
Walter Offutt may have left a few games too soon as it seems he may have gotten some minutes to show what he can do against Lipscomb and today against St. Francis. In other words, this should be a game that's over at halftime, meaning plenty of minutes for PJ Hill, Kyle Madsen, Big Z, Nikola Kecman, Danny Peters, and even a shot at a trillion for Mark The Shark.
Assuming that things don't go according to plan, the Buckeyes strategy will be the full run and gun as usual. I was a little skeptical towards the fact that Thad's offense would be running without a true point guard this season, but so far it seems that the lack of size has been more of a handicap then the absence of a true ball distributor. Taking that role so far has been Evan Turner, who as we know by now has garnered the all-important ESPN credibility. Turner's success is absolutely essential to this team making a play at the Big Ten Championship and a deep run into the tournament in March. The Villian is averaging 20.6 points, 13.8 rebounds, and 7 assists per game this season and is a big reason why the new offensive system has run so seamlessly.
Turner's success has resulted in giving the rest of the team a boost on the offensive end. The long-awaited rise of Jon Diebler may finally be here as the junior shooting specialist has scored 15.4 points per game while shooting 45% from 3-point range this season. David Lighty has enjoyed having ET at the point as well, as he is scoring 13.2 points per game coming off of a season ending leg injury last year and enjoyed a career-high 22 points against Lipscomb on Tuesday. Adding the contributions of William Buford, Jeremie Simmons, and the return of Dallas Lauderdale, it seems the Bucks are on the right track to producing a consistent offensive effort on a daily basis, something they struggled with all of last season.
On defense the Buckeyes have switched from their zone look last year to a man to man look this year, which has resulted in forcing opponents to take more challenged shot attempts. The team is allowing just 63 points per game and opponents are shooting a meager 39.2% from the field. Their weakness comes on the glass where they are allowing 38 boards per game, although they are out-rebounding opponents by about 5 per game. Against St. Francis, the Bucks should not have a problem in the rebounding category as they out-size the Flash and are quicker and more physical when getting to the ball. If rebounding is a problem, takeaways will be the cure, as the Buckeyes have forced opponents to turn the ball over an average of 16 times per game. Look for the Bucks to swarm the Red Flash ball handlers early in the game to try and turn some of those mistakes into easy transition buckets.
Etc
Evan Turner recorded his second triple-double of the season against Lipscomb. It was just the third in school history. His five straight double doubles has not been achieved since Clark Kellogg achieved the feat in the 1980-1981 season.
This is the first match-up between the two teams, but the Buckeyes are 7-0 against NEC teams.
Turner needs 12 points and 33 rebounds to become the 21st player in OSU history to have 1,000 points and 500 rebounds in his career.
Remember to support A Kid Again by getting your Club Trillion Shirt.