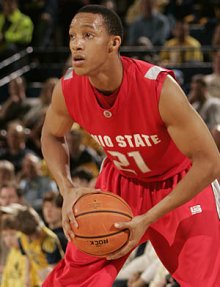 While you daydream of another B10 title and a trip to Pasadena in football, hoops season has arrived and 11W starts our annual duty of trying to get people excited for Thad's squad before football season is over.
For the second time in his career, Thad returns his team virtually in tact. The first time was his sophomore season at OSU, when he guided a rag tag team lead by Terrance Dials to a 26-6 record and his first conference title. The Buckeyes are picked to finish 3rd this season, behind MSU and Purdue, who also return most of their teams in full, but around these parts, we feel they'll compete for the title.
The Buckeyes kick off their season in the 2K Sports Coaches vs. Cancer Classic, opening up against Alcorn St. tonight, James Madison on Thursday and then a trip to MSG to face North Carolina and Syracuse or Cal. As the polls stand now, OSU will play 9 of the top 25 teams in the 2009-2010 season.
| # | Name | PTS | REB | ASST | POS | # | Name | PTS | REB | ASST |
| --- | --- | --- | --- | --- | --- | --- | --- | --- | --- | --- |
| 21 | Evan Turner | 17.3 | 7.1 | 4.0 | G | 3 | Alex Savannah | 1.8 | 1.4 | 0.4 |
| 33 | Jon Diebler | 11.2 | 3.6 | 2.5 | G | 0 | Jonathan Biyd | 9.3 | 2.4 | 0.7 |
| 44 | William Buford | 11.2 | 3.7 | 1.1 | F | 13 | Corey Anthony | 0.9 | 0.9 | 0.1 |
| 23 | David Lighty | 9.7 | 5.7 | 1.9 | F | 31 | Michael Martin | NA | NA | NA |
| 15 | Kyle Madsen | 1.1 | 1.3 | 0.2 | C | 22 | JeMarkus Holt | 6.3 | 4.3 | 0.2 |
Opponent
There really is no reason to put much time into looking at Alcorn State, a team that returns 1 starter off a 6-25 squad. The Braves allowed teams to score 83.5 points a game on them last year and lost by an average of -13.9 points. As you can see from the chart above, they have just 17.4 points returning in their starting lineup, which contains a senior, junior, 2 sophomores and a freshman.
Alcorn St. had trouble rebounding the ball last year, allowing opponents to grab almost 43 boards a game, while snagging just 32 themselves. No one registers over 6'8" on their roster, so OSU should be able to buck the trend of giving up offensive boards. ASU is lead by Larry Smith, the former NBA tough guy, who is searching for some toughness within his club. This team simply should pose no threat to OSU.
Buckeye Breakdown:
The first thing you need to know about the upcoming season, is Evan Turner will be 1st team All-American. His move to PG is complete and if the scrimmage against Walsh is any indication of how his season is going to go, Buckeye Nation will have the rare treat to witness one of the best players in the country. Granted it was against an NAIA school, but 15 points, 14 boards, 6 assists and 1 TO is an indication of how well Turner is going to play this year. It's not cockiness, just confidence.
Chris did a great job a couple of weeks ago, breaking down what each player has the potential to bring to Thad's squad. Lighty is back and will bring the tenacity that is needed under the hoop. You forget what a glue guy Lighty is and his ability to get garbage underneath is uncanny. Don't be surprised if ends up on some type of All-Conference team.
The Buckeyes will be without the services of starting center Dallas Lauderdale, who is recovering from a broken finger. This means we get to see more of Zisis Sarikopoulos, the 7'0" Greek transfer from UAB. Madsen will get the start and Big Z has been limited since the summer due to a knagging knee injury, but if he can give Thad 10-15 good defensive minutes a night, this team will be more dangerous.
We'll be watching for defensive improvement in Buford, more consistency from Diebler, Simmons and Hill, while also enjoying the return of man defense. Going back to man should help the defensive boards, but the exhibition against Walsh yielded 14 offensive caroms, so there is still work to be done.
What's your expectations? What are you looking for out of tonight's game? We feel OSU will do better than the predicted 3rd place finish and end with a 14-4 conference record, with an overall record of 25-6.
Etc
The Buckeyes have never faced Alcorn State, but are 2-0 against SWAC foes.
Thad is 9-0 in season openers.