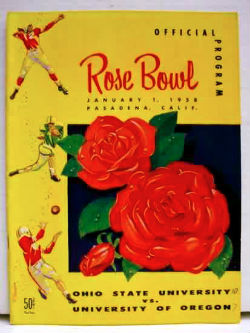 A couple of weeks ago, these were two teams headed in very different directions, but with OSU coming off a big 24-7 road win at Penn State and the Hawkeyes suffering their first defeat of the season at the hands of Northwestern last week, things have flipped just a bit. Still, the Rose Bowl is on the line for both teams. The Buckeyes will be playing for their first trip to Pasadena in 13 years. For the Hawkeyes, it's even longer -- Iowa hasn't smelled the roses since 1991.
Not only did Kirk Ferentz's squad suffer their first loss of the season, but they also took a big blow off the field as starting quarterback Ricky Stanzi was forced to leave the game and miss the rest of the regular season with an ankle injury. In turn, little known red-shirt freshman James Vandenberg will lead Iowa into the Horseshoe for the 62nd meeting between the two teams, a series in which OSU holds a 44-14-3 advantage.
While a win gives the Buckeyes their fifth straight Big Ten title, Iowa has a chance to redeem last week's loss, and with wins against OSU this week and Minnesota next week, can still claim their shot at the title and the rewards that would bring. Ferentz has been to a BCS Bowl just once (2003 Orange Bowl) in his 14 years at the helm of the Iowa football program, and is certainly hungry for his a second trip.
In 2009 it looks like there will only be room for one Big Ten team in the BCS and this weekend's game will most likely determine who that team is. Will the Buckeyes do what no team has done before in winning 5 straight conference titles, or will the Hawkeyes play spoiler and put themselves in the driver's seat to take a shot at the Pac-10 in the Rose Bowl? Things certainly point in the Buckeyes' favor heading into the game, but college football is a crazy game and anything can happen on Saturdays.
Opponent
As previously mentioned, the Iowa offense took a huge hit this season with the loss of QB Ricky Stanzi last week and RB Adam Robinson earlier in the year. Even before those two went down with regular season ending injuries, the Iowa offense struggled early in games, only to launch 4th quarter comebacks powering the team to a 9-0 start.
Red-Shirt Freshman James Vandenberg will get his first career start and had some trouble in relief work against Northwestern last week. He threw for just 82 yards on 9/27 passing with 0 TDs and 1 INT, a performance that contributed to some lowlight film and was a big part of the downfall against the Wildcats. Vandenberg will face a much more talented defense than Pat Fiztgerald's this week, but he will have a full week to prepare against the Silver Bullets.
Because of his inexperience against such a talented defense, look for Ferentz to employ RB Brandon Wegher into the game plan more to control the clock and limit any mistakes the young quarterback might make. Keeping the passing game simple, Ferentz will try and utilize recivers Derrell Johnson-Koulianos, Marvin McNutt (McNutt also has experience taking snaps, so don't be surprised...) and Trey Stross in short passing routes. Look for Iowa's biggest weapon in the passing game, TE Tony Moeaki to try and use his size and athleticism to his advantage against the OSU linebackers and safeties.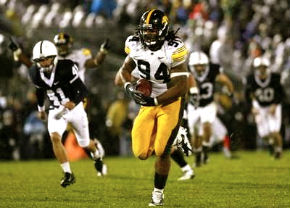 On Defense, Iowa has been almost at dominant as Ohio State, allowing just 291.7 yards per game and leading the nation in interceptions with 19 as a team. As always, it all starts up front, and the Hawkeyes have a beast of a defensive end in Adrian Clayborn. Clayborn is, how do you say, hard to block, and will give both tackle spots a big challenge. If you watched the PSU-Iowa game earlier in the season, you saw how the junior from St. Louis is capable of dominating the game, and against an inconsistent OSU offensive line, he may have his way on Saturday.
At linebacker, Pat Angerer is second in the conference with 106 tackles and is very solid against the run. The Buckeyes did just fine against the group of Lee, Hull, and Bowman last week, a unit thought to be superior to Iowa's, and it will be up to Angerer to help control the OSU run game. In the secondary, SS Tyler Sash leads the conference with 6 INTs and has returned one for a touchdown. He is the Hawkeye version of Kurt Coleman, so look for him to make some plays both against the run and the patented deep ball/arm put that TP has seemed to fall in love with the last few games. If Sash isn't enough to worry about, corner Amari Spievey is as good as they come in the Big Ten and will play the part of the rising DeVier Posey's first significant shutdown challenge.
On Special Teams, Iowa may indeed have the Big Ten's most consistent kicker. Daniel Murray has come a long way since becoming a hero in last year's game against PSU, hitting 15 of 21 field goals this year. With the way the Buckeye defense has played this year, Murray may have more opportunities to score than Vandenberg will and needs to connect on all of those chances if he wants to keep Iowa in the game.
Buckeye Breakdown
The Buckeyes have a chance to win their fifth straight conference title and clinch a Rose Bowl birth for the first time since taking down Jake "The Snake" Plummer in the 1997 season. Despite a dominating defense, the offense hasn't been as bad as some think, as they lead the conference in scoring with 29.0 points per game and are second in rushing with 184.8 yards per game. They have looked much more comfortable since losing to Purdue four weeks ago (and incorporating more I and pro-set), and it is no coincidence that it all has started with Terrelle Pryor.
Given time in the pocket by the offensive line, Pryor looked the most comfortable he has all season against Penn State, throwing for 125 yards on 8/17 passing with 2 TDs and 0 INTs last weekend. Pryor also rushed for 50 yards on 5 carries and a score, despite nursing an injured ankle, that may have actually helped the sophomore play more within himself than he has all season.
Speaking of that offensive line, they may have played their finest game of the season in Happy Valley and it showed as the Bucks were able to rush for a combined 228 yards. Daniel Herron and Brandon Saine returned as Boom and Zoom, rushing for 58 and 68 yards respectively. The duo, along with Pryor and Jordan Hall, should be able to keep Iowa on its toes enough to allow Pryor to make some plays through the air as well.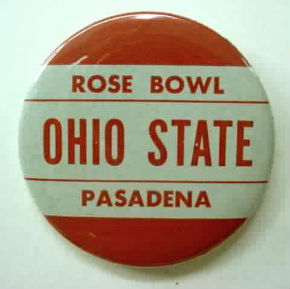 A win can end the Rose Bowl drought
The defense has done nothing much besides lead the conference in total defense, rushing defense, and turnovers. They are forcing 6 three-and-outs per game, a number that leads the nation, and indicates just how dominating this defense is. Cameron Heyward and Thaddeus Gibson have really stepped up their game of late and if they play any better they may be forced to leave early for the NFL. The two should give Vandenberg nightmares and will help give the Bucks the advantage against a very good Iowa offensive line.
The linebackers have been the silent assassins so far this season and will look to add some pressure to the Vandenberg rush. They do need to keep themselves in check, though, with the TE Moeaki. Jermale Hines, who lost his starting safety spot to Anderson Russell because of a lingering elbow injury, could be carrying the bulk of that duty from the star position and will also get help from Russell and Coleman depending on which side of the field Moeaki lines up on.
On Special Teams, the Bucks will have some more comfort at home with kicker Devin Barclay, who was a perfect 1-1 last week with a field goal of 37 yards. Barclay won't be asked to do too much this season, but Jim Tressel may take a bigger chance at home than he would on the road with his inexperienced kicker. Ray Small was outstanding in the return game last week and if he can give the Buckeyes similar field position like he did against PSU, that will help.
Prediction
Vegas likes the Buckeyes big, clearly a result of the Stanzi injury. As Tressel said this week, Iowa will do what Iowa does and he doesn't expect their game plan to be much different. If that is the case, things shouldn't change much on our end, as we, here at the 11W headquarters, liked the Bucks all season long against the Hawkeyes, whether they had Stanzi or not.
This will be a close game for at least three quarters, as you can expect a similar defensive battle to what you saw last week in the first half. We think the Bucks will turn it on in the fourth quarter, and claim their fifth straight Big Ten title, a trip to Pasadena, and a victory on Senior Day.
Ohio State 24, Iowa 6