Back in the early 90's, the Big Ten made an announcement that shocked the college football world: they were going to add an 11th team and that team would be the Penn State Nittany Lions. There had been speculation for years about adding someone like Notre Dame to the league, but the assumption had always been that if there was an addition there would also be a subtraction. In other words, one of the weaker teams (speculation usually centered around Northwestern) would have to go if the Golden Domers were coming in. But no one ever expected the Big Ten to become the Big Eleven (minus the name). And it was surprising (and exciting) that the team joining the league was the perennial powerhouse from State College, PA.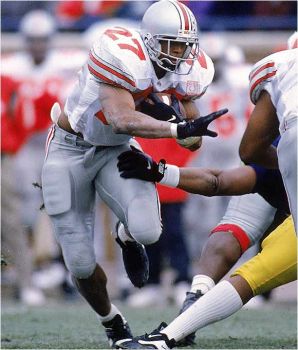 Ohio State and Penn State had played a few times before the new league arrangement, and the results were mixed. But the most recent meetings had not gone well for Ohio State. PSU came to Columbus in OSU's opener back in 1978, and left with a 19-0 victory after forcing freshman QB Art Schlichter into 5 interceptions. Schlichter got a chance for revenge in the 1980 Fiesta Bowl, and OSU led 19-10 at halftime. But coach Earle Bruce buttoned it up in the 2nd half and RB Curt Warner led PSU to a 31-19 comeback win.
In 1993, OSU welcomed Penn State to their new league with a 24-6 thumping at Ohio Stadium. The game was played in cold, snowy weather, but Ohio State seemed to thrive in the difficult conditions. Unfortunately, the weather, and especially the opponent, was much better the next year in Happy Valley as PSU demolished the Buckeyes 63-14 on their way to a (disputed) National Championship. In that game, the Lions roared to the tune of over 580 yards of total offense and held OSU to under 250. To add insult to injury, Columbus native Ki-Jana Carter scored 4 of Penn State's 9 touchdowns. In 1995, Ohio State was determined to make amends for that humiliation.
There were plenty of reasons for OSU to be optimistic going into the game. Most of the principal players from that great PSU team had departed (Carter, QB Kerry Collins, TE Kyle Brady, etc.) and as a result they were breaking in new starters at key positions. On the other hand, Ohio State's star players were just coming into their own. After an inconsistent two-and-a-half seasons, Eddie George had blossomed into a true force at running back. George had added receiving to his repertoire and had eliminated the fumbles that plagued him as a freshman and sophomore. Bobby Hoying had taken firm command of the quarterback position and was starting 1995 in a big way, buoyed by the new offensive wrinkles added by new QB coach Walt Harris. OSU had lost star WR Joey Galloway to the NFL, but journeyman Terry Glenn had risen like a rocket to take his place and was already causing NFL scouts to drool.
OSU had gotten off to a great start in 1995, and were a very solid 4-0 entering the contest against Penn State. Although a scheduling quirk meant they had to go to Happy Valley for a second consecutive year, the team was undaunted based on what they had already done. In the annual Kickoff Classic at Giants Stadium in East Rutherford, NJ, the Buckeyes had dismantled Boston College 38-6. They then gained revenge for a 1994 loss by smacking down the Washington Huskies 30-20 in a nationally televised home opener. The next week they went on the road and, in a repeat of 1993, mauled the Pitt Panthers 54-14. The nation was watching again the next week as Ohio State faced Notre Dame for the first time in 60 years. OSU started slowly, but roared to life in the 2nd half to thrash the Irish 45-26. At every opportunity to make a statement, this Ohio State team had responded with exclamation points.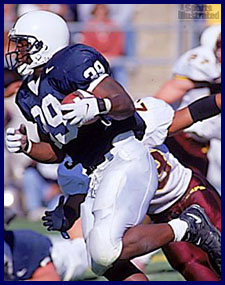 Penn State had started strong coming back from the great 1994 season, but their 20-game winning streak ended at home as they fell to the Wisconsin Badgers 17-9. Now they had a chance to rebound in front of the home fans against the team they had crushed so completely the year before. The Lions responded like a wounded animal, pounding out yardage on the ground with freshman tailback Curtis Enis doing most of the damage. Enis was a Ohio kid who felt slighted by OSU coach John Cooper during his recruiting and went to Penn State hoping to get revenge. He did his best to further that cause on this day, rushing for 146 yards on 25 carries. The OSU defense was quite shaky in the first three quarters, but when it mattered most they put the clamps down.
With the Buckeyes trailing 25-21 and just over 3 minutes remaining in the game, Hoying and the offense took over at their own 42. On 3rd down Hoying hit WR Buster Tillman for a 1st down, then on the next play he threw high into coverage in the direction of TE Rickey Dudley. Dudley had originally been recruited to play basketball at OSU, and he served coach Randy Ayers for 4 years at forward and center. But much like current OSU basketball player David Lighty, Dudley had also excelled on the football field, and he decided to take a stab at the gridiron after his hoops eligibility had been exhausted. In his first and only season at TE on the OSU football team, Dudley excelled at the game and made a huge contribution to Harris' new amplified passing game. But this play is the one that most fans remember most. Dudley saw the pass from Hoying sail high, and he knew he was going to take a hit if he leaped for it. But his rebounding instincts took over and the 6'7" Dudley sailed high over the PSU defenders to snag the pass. Not only that, but he survived a collision with 3 potential tacklers and gained extra yardage to complete a 32-yard play. Two plays later, George ran 6 yards on a cut-back play to score the TD that put OSU ahead 28-25.
The OSU defense that had previously been shaky in this game, rebounded to force a 4-and-out on Penn State's last possession and seal the victory. In fact, the Buckeyes had held PSU scoreless on their last 3 possessions to give the offense a chance for the comeback. Ohio State LB Ryan Miller would be named defensive player of the game for his 10 tackles, and Dudley was named co-offensive player of the game along with Terry Glenn, who had a huge game with 9 catches for 175 yards and 2 touchdowns. Glenn would have a monster season, winning the Fred Biletnikoff Award and setting an all-time OSU record for most touchdown receptions in a season. Glenn parlayed his one season as a starter at OSU into an early entry into the NFL draft, where he was taken in the first round by the Patriots. He played 11 years in the NFL, finishing with 593 receptions for 8823 yards and 44 TD's.
Of course, Glenn was not the only OSU player to win a major award that season. RB Eddie George also had a monster season, and his culminated in New York City as he was awarded the Heisman Trophy, the 6th time the award had been won by an Ohio State player. George finished the season with 1927 yards and 24 touchdowns, averaging over 148 yards per game (an OSU record). George went on to play 9 seasons in the NFL, rushing for a career total of 10,441 yards and 68 touchdowns. He also had another 10 TD's on his 268 career pass receptions. George was elected to the Pro Bowl 4 times and went to the 2000 Super Bowl with the Tennessee Titans. Today, George is the patron of an eponymous restaurant in Columbus, and hosts the Big Ten Network television show called "The Quad". George is also currently attending the Kellogg School of Management at Northwestern University, pursuing an MBA in the Executive MBA program in the class of 2009.
For those who would like to watch this great game, ESPN Classic will be showing it at 5:00 PM on Wednesday.