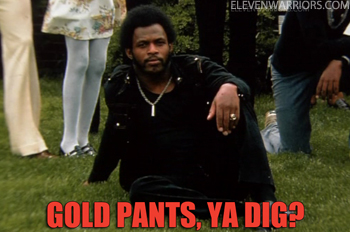 Thanksgiving is upon us, and in accordance, it's time to list the many things we have to be thankful for.
For starters, I'm thankful that Tim Tebow's play thi s season means any chances he has to match Archie Griffin with two Heisman Trophies are distant at best, and that his being invited to the fraternity would come almost entirely out of left field. Look, it's nothing against Tebow (though he is painfully fun to root against), but until Terrelle Pryor shocks everyone by coming back after next year's win and wins his second, I selfishly don't like the idea of anyone who would've been nicknamed All-Day had that sort of thing been en vogue in the time sharing the honor.
I'm also thankful for James Patrick Tressel. While far too many have embarassingly called for job (or worse) in moments of frustration, The Vest quietly wheeled off the best coaching job in his 9 years in Columbus. Despite a ridiculously young offense, a defense in transition, and an inconsistent special teams core, Tress managed to dig deep and not only win the conference outright, but beat Michigan a sixth season consecutively. If you're still complaining that he's not Urban Meyer or Pete Carroll (HA!), please talk to me in 2 years. If you'd still prefer Urbz over Tress, I'll gladly buy you a high quality premium adult marketed beverage of your choosing (age permitting, of course). Perhaps if you buy me a dozen or more, I'll finally be in a state where I'd be inclined to agree.
Lastly, I'm thankful that my short lived magical gambling powers have exited my extermities as quickly as they came (if John Travolta in "Phenomenon" is any indicator, I probably have an inoperable brain tumor and will be gone shortly). In an abbreviated slate a week back, my mad skills evaporated into chimpanzee picking labeled playing cards from a hat level impressive. My 3-3 showing has my season total now at 44-17-1. Respectable? Totally. Frightening? Not so much. This season's Turkey Day Thursday and Black Friday (not so much because of the sales, but the absence of sunlight on some of these awful, awful games) slate should give me the further opportunity to embarass myself. Let's take a look at what this extended weekend has in store:
National Games
Thursday - #2 Texas at Texas A&M (+22.5) - 8:00 p.m. (ESPN)
The first of six Thanksgiving weekend games that have a rivalry tinge to them, the Longhorns travel to Bryan-College Station to take on their country cousins, Texas A&M. National sack leader Von Miller will look to add to the notches on his belt against Heisman front runner Colt McCoy and the Longhorns explosive offense. For the second straight year, this game takes place on Thanksgiving night itself, and given the Broncos sudden freefall, don't pretend it won't be occupying your attention span regardless of the closeness. Despite the relative anything goes nature of rivalry games in general, Texas A&M won't have enough to ruin Texas' march towards perfection though will play spoilers in the gambling department falling 20-41.
Friday - #1 Alabama at Auburn (+12.5) - 2:30 p.m. (CBS) A game compared favorably by some as Ohio State-Michigan but even wilder (likely by someone who's name rhymes with Keg Boil), the Crimson Tide of Alabama take on the Tigers of Auburn to kick off the watchable portion of Black Friday. While I will concede this is The Game plus grain alcohol, this year's may not have the luster of some from year's past as Auburn limps into the showdown with 'Bama just two victories away from their first title game berth in the BCS area. Mark Ingram's Heisman candidacy could very well come down to how the running back takes on the traps concocted for him by first time headman in the Bama-Auburn rivalry, Gene Chizik. Should War Eagle have any hope of springing the upset, Kodi Burns will have to repossess the alien symbiote that's been inhabiting Jonathan Crompton these past 4 weeks to go along with the Chizik-Ted Roof 1.somefraction of defensive guru brain trust. While covering on the day after Thanksgiving has a certain luster to it, Auburn is left with little more than gambling and moral victories as they fall to the Tide 10-21.
Friday - #8 Pittsburgh at West Virginia (EVEN) - 7:00 p.m. (ESPN2) The Backyard Brawl reemerges on the Friday after Thanksgiving, with PItt's BCS livelihood at stake and West Virginia looking to play their way into a possible Gator Bowl berth. Jarrett Brown and Noel Devine will need to be executing at the highest level for the 'Neers to keep on pace with O'Brien award candidate Bill Stull and the Pitt offense. Despite the distinction of being the first "pick-em" game of the 2009 season we've followed, no contest involving the Wandstache can really ever truly take on the qualities of a pick 'em. While Pitt looks feisty on paper, you gotta go with the home team. Bill Stewart's WFVU takes this one 34-30.
#18 Clemson at South Carolina (+2.5) - 12:00 p.m. (ESPN) DABO! DABO! DABO! The suddenly red hot Clemson Tigers stroll into Columbia to take on Head Baw Coach and the Gamecocks in this interstate hate fest. Anytime you have the prospects for a Stephen Garcia v. Willy Korn encounter, the odds of sheer awesomeness breaking out is painfully high, though with boring QB Kyle Parker firmly entrenched as the Tigers' signal caller, expect no such shenanigans. While we've been spared the usual Clemson late season free fall that'd become so customary under the Tommy Bowden regime, this one has all the makings of an OBC win out of absolutely nowhere that gives the 'Cocks false momentum going into a bowl disappointment. Despite little to suggest it, the Gamecocks take the upset 21-17.
#12 Oklahoma State at Oklahoma (-8.5) - 12:30 p.m. (FSN) Leave it to the Sooners to twice this season go into a game against a Top-20 ranked opponent while being unranked and emerge as near double digit Vegas favorites. It's difficult to fault the powers that be for the logic, as despite the absolute egg laid by OU a week prior and the 10,000,000 injuries they've been forced to deal with, the Sooners are still one of the most stocked, talented ballclubs out there. With Zac Robinson set to reemerge from injury, it's not as though the Pokes have been injury/controversy (see: White, Dez) in their own right. With OU hungry and Bedlam a foot, look for the Sooners to kill the insane momentum that's been the Cowboys as an at-large BCS choice to the tune of 27-13.
Florida State at #3 Florida (-21.5) - 3:30 p.m. (CBS) The last Florida game in the storied career of defensive coordinator Mickey Andrews (and potentially that of the recently embattled legend Bobby Bowden?) comes conveniently in-time for the final homegame in the Tebow child's journey before he ascends to be home with his father, Danny Wuerffel. While a certain head coach is sure to need several extra bottles of No More Tears to make it through senior day, the real tears will come from the 'Noles faithful. Sans Christian Ponder, Florida State won't have the convenience of a Terrapin defense to play guess-and-check against, and while the Addazio play called Gators haven't exact lit the world on fire, expect the Tebow parting to cover to the sweet tune of 27-3.
#20 Miami at South Florida (+1) - 3:30 p.m. (ABC/ESPN Regional) An interesting matchup that while surely would've looked sexier 4 weeks back, still has major recruiting ramifications in the power struggle that is football in the state of Florida. B.J. Daniels continues to exhibit growing pains as he adjusts to being the unquestioned man in the Bulls' huddle, while former buzz Heisman prospect Jacory Harris has been waking up crying in the middle of the night some too lately. Despite the possibility for the seventh by my count program defining victory for Jim Leavitt, Randy Shannon and Mark Whipple find the right buttons to push to get The U's 2010 momentum back up and running as the Canes take this one 21-17.
Big Ten Games
Friday - Illinois at #5 Cincinnati (-20.5) - 12:00 p.m. (ABC)
One truly is the loneliest number as the last of an endangered species, the Big Ten's Fightin' Illini (endangered as in the conference is done playing games; I would stoop to a number of lows, but a Native American joke on Turkey Day is below even me, y'all) travel to Cincy to square off with the still unscathed Bearcats. Despite the media whispering sweet nothing into UC headman Brian Kelly's ear all week about the ND job, it will be up to the veteran task master to find a way to get the 'Cats focused on the task at hand, as the Zookster's bunch seem suddenly keen about their new role as spoilers. While like all good things, the storied career of Isiah "Juice" Williams must come to an end, the two headed Optimus Prime that is CollarosPike under center for UC will be all Cincinnati needs to counter the assault. The Illini will show just enough fight to give annoyed, displaced Buckeye alum living in the greater Cincinnati area false hope, but the Bearcats march on undefeated towards their game with Pitt 20-35.