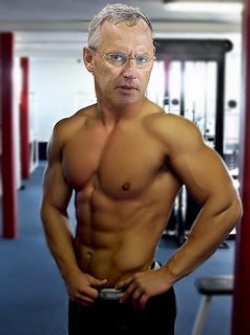 What a difference a few weeks makes.
The groundswell of attacks from an upset fan base had never been higher in Tressel's tenure in Columbus following the disappointing loss to USC but a guy who seemed hell bent on never changing his ways might have finally gotten the message that you can change here and there without jeopardizing your overall core principals.
The results of adjusting things from scheme to utilization of coach and player personnel to philosophy to handling criticism seems to have lit a fire under a program in need of a sense of urgency and the results of have been impressive even as we keep in perspective the quality of opponents like Toledo and Illinois.
Even more astounding than the results from various changes, from my perspective, is the fact Tressel considered doing such things based on his track record of sticking with the static approach at all costs despite constant media reminders that the definition of insanity is doing the same thing over and over expecting different results.
This isn't to say he's never made subtle changes here and there because he has, this is more about what seems to be an evolving intention of challenging his status quo in an effort to light said fire. So, what are these changes we speak of? Here's a sampling of things that could fall under the change umbrella:
Near the top of the list has to be the apparent increased role taken on by Assistant Head Coach and WR coach Darrell Hazell. The fact Tressel even admitted Hazell called some plays against Toledo seems to indicate he's open to some different viewpoints and creates further thoughts that Bollman is being phased out. Obviously, this is a win-win though Tressel went out of his way to note Hazell has called some plays before. Even so, you have to wonder if this current set up is more of an audition for Hazell to be Tressel's co-offensive mind in prep for Bollman's departure. Maybe wishful thinking. Maybe not. My gut says Tressel's planning for the future and it's clear TP is comfy with Hazell.
Whether it's influenced by Hazell or not, another key change to the offensive philosophy is the recent use of the shotgun to disguise running plays. The look has forced LB's to give more respect to Pryor as a runner and pulling the tight end on occasion hides the fact this team is void of a legit lead blocking fullback. The schematic change has also featured countless zone/read plays going for big gainers even though its understood Pryor really hasn't had a choice to keep the ball or not thus far. This singular play, along with improved blocking up front, has afforded Boom and Zoom the luxury of hitting the line of scrimmage without having to make the first guy miss right at the point of attack. Additionally, it provides for new wrinkles in weeks to come such as TP actually having a choice to handoff or takeoff, or use play action to freeze LB's and safeties in coverage. Now, we just have to hope it wasn't a one hit wonder unleashed to exploit particular holes in the Illini defense as TE coach John Peterson implied yesterday.
Another change in Tressel's offensive attack is the recent trend of staying aggressive for four quarters despite the score. He was still ordering up pass plays with the Toledo contest well in hand and to see him actually passing (incomplete) on 3rd down before calling another pass play on 4th down in which TP hooked up with Dane for a 3 yard score with 1:18 left in the 30-0 pasting of Illinois made me tingle. One could argue taking a knee there is just as salty but it's been the Tressel way. In fact, he's been downright sad before when scoring a late TD (Boom on Northwestern ring a bell) in lopsided contests and I would argue this type of approach has rubbed off on his teams in the past creating a group that was too nice for their own good.
Looking at player personnel, he and Heacock pulled the plug more quickly than I imagined possible on senior toastmaster Anderson Russell in favor of Hines and they also rightfully swapped Torrence for senior Andre Amos at corner. Now, there's some precedent here with the Boeckman benching but that was a slightly different animal because the line was so inept that installing a mobile QB was really the only option. Bottom line, Tressel and staff did what they had to do in order to get the best 11 on the field. As it should be - though I'm not sure that's how its always been (cough Thaddeus cough).
Finally, you could make the argument Tressel has become a little less senatorial in the past few weeks. First, he showed a pulse in the face of fan scrutiny by popping off about 'miserable fans'. Though he later apologized, I thought it was great he voiced some displeasure forgoing the typical robotic response. I honestly believe his players take their cue from him and seeing he was bothered by the criticism - and shockingly let it be known - certainly hasn't hurt what appears to be increased intensity on the field.
Second, and maybe it was more Gene Smith's doing, but I thought the joint statement taking issue with Coleman's suspension is something we may not have seen from Tressel in years past. It's like he's adopted the "us against the world" mantra ever since the USC heat and the players are buying in. This overall attitude seems to have lent itself to playing to win instead of the perceived notion of playing not to lose.
So, what do you think? Are any of these recent happenings the result of Tressel altering his course after the USC loss?