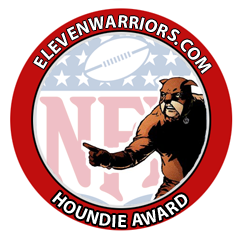 The Houndie is an award formerly known as the Buckeye NFLer of the Week. After 2 years of existence, we searched for a catchier name, so with the help of a well placed typo and the ensuing 11W comments, the current title was created.
I guess it was just one of those weekends for both current and former Buckeyes on the gridiron, as a combination of injuries, bye weeks and low stats left little to be heralded.
Antoine Winfield left before recording any stats in Minnesota's thrilling 33-31 home win over Baltimore. The 10-year pro injured his ankle early in the 2nd and his loss definitely helped the Ravens, as they scored all 31 of their points after his exit, including 28 in the second half. Winfield has a sprained foot and a time table hasn't been established, but the Vikings play Pittsburgh and Green Bay over the next 2 weeks, so his tackling prowless will be much needed if they are to stay undefeated.
In other defensive oddities, AJ Hawk didn't record a stat in Green Bay's 26-0 win over Detroit and Shawn Springs didn't have one in the Patriots 59-0 thrashing of Tennessee, although that can be blamed on the fact the Titans completed 2 of 14 for -7 yards and 2 picks.
Smaller roles in victories included Donte Whitner's 2 tackles in Buffalo's win, Will Smith's tackle in New Orleans statement 48-27 win over the Giants and Chris Gamble's solo stop in Carolina's 28-21 win over Tampa. Na'il Diggs had 4 tackles in that win, while Jay Richardson had a tackle and one of Oakland's 6 sacks in their 13-9 upset over Philly.
In our weekly Laurinaitis watch, the rookie recorded 5 tackles and a late 3rd quarter interception to help keep St. Louis in the game, before eventually remaining winless in their 23-20 overtime loss to Jacksonville. The other rookie news was Beanie Wells earning 12 carriers in Arizona's 27-3 win over Seattle. Wells gained just 29 yards on those carriers, a 2.4 YPC average, but also caught a 7-yarder from Kurt Warner for his first NFL reception.
From a receiver standpoint, Maimi was off and Joey Galloway was inactive, so that left Michael Jenkins and Santonio Holmes to carry the torch. Jenkins continues to play 3rd fiddle to Roddy White and Tony Gonzalez, catching 2 passes for 15 yards, but the Falcons got an important 21-14 win over the Bears to stay a game behind the Saints.
Holmes reached the century mark for the second time this season, hauling in 5 balls for 103 yards, as Big Ben threw for 417 yards in the Steeler's 27-14 win over Cleveland, pushing him into the NFL lead in passing yards. Santonio's 438 receiving yards is 8th in the league, while his teammate Hines Ward leads the category with 599 yards.
But this week's winner is an old-timer who helped his team win their first game of the season. Mike Vrabel jumped on a Clinton Portis fumble on Washington's 3rd play from scrimmage, which help set the tone for the Chiefs defense on the day. Vrabel also added 4 solo tackles, an assist and a sack, as KC held on to win 14-6. Times sure must be different for Vrabel, who now finds himself struggling for wins, after helping NE make it look so easy for years. The Chiefs have been close to pulling one out recently and could be a tough out if they can get their running game on track.
In signing news, Matt Wilhelm has been brought in by the San Fransico 49ers to help replace injured LB Jeff Ulbrich. Wilhelm was released by San Diego in the offseason and spent training camp with Philly before being released at camp's end.