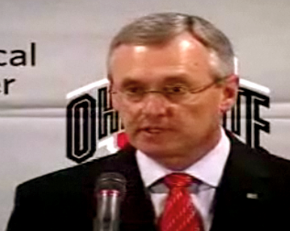 Homecoming came and went with success and the taste of the Purdue loss is finally almost clear of the Buckeye fans' mouths. New Mexico State comes in this week, giving Terrelle Pryor and the offense a chance to continue to build up confidence on last week's victory over Minnesota before the Bucks head to Happy Valley to take on Penn State.
Jim Tressel was once again on hand this week at his weekly press conference at the Jack Nicklaus Museum and discussed last week's win over the Gophers, as well as the Aggies' upcoming visit to the Horseshoe this weekend.
Despite admitting a turnover and missed kick did not give the Bucks the sizable lead they hoped for at halftime against Minnesota, The Senator did say he was happy with the step forward his team took this past weekend. Progression is necessary for this team to survive the rest of 2009 without a loss and win another Big Ten Championship and Tressel clearly knows what is in store as they try to reach their goals for the remainder of the season:
I think the reality we sit in right now is here we are in late October, we have goals that we have in mind, we have progression we would like to make and we know we have a very, very short time to do that. We've got a football game here that's a nonconference game which is a little bit unusual for our guys. We haven't done a whole bunch of that this late in the season but what's most critical is starting with today's practice, we get better at what we do because we've got a short time to -- you think about our seniors and they've only got a couple more times in Ohio Stadium and four more football games and those four or five years are gone and the same is true for this team in this season. And so our guys, I think, have the right perspective, the understanding that we had a good win, it wasn't a perfect win, there's a whole lot more we've got to do better and it's got to start this week.
If you listen to Tressel speak, you can tell there is a sense of urgency on his end when dealing with the season. I think by looking at last week's game plan, particularly the second half play-calling, you saw the Buckeyes go back to doing things in which Terrelle Pryor can rely on his athleticism, rather than making him think about what to do as a quarterback reading coverages. This is a pertinent strategy down the stretch, as the final three games will be tough and if Ohio State wants another conference title, Jim Tressel knows he can't develop Pryor on the spot. This new sense of urgency could be the best thing that happens to this team the rest of the way and could be what saves a potentially tumultuous finish to a disappointing year so far. Sooner or later (hopefully sooner) Terrelle Pryor will have to develop if OSU wants to win the big one, but for now the staff must do what it takes in order to win football games.
Another factor that could effect the team's play is the number of injuries that have amounted, especially on the offensive line. Facing the flu, other illnesses, and injuries, the offensive line has been banged up this season and it didn't help to find out that Mike Adams will miss at least the next two weeks with a knee injury. Tressel spoke about the latest on Adams, as well as some other injury updates for the upcoming week against New Mexico State:
Mike Adams, I would say no to that this week or next week. Dexter Larimore, I would say, we'll have to see how he does. He's going to be able to practice some this week. Boom Herron, we'll have to see this week. I would call him questionable for this week, which I don't know what that means for next week. Brandon Saine won't be able to have contact today. It's just part of the procedure in his type of injury. He'll be able to have a lot of cardio work and if he progresses there, I'd like to think he'll be cleared. Orhian Johnson is in a similar situation as Brandon Saine. I think J.B. is a little healthier, he had a bruised ankle for a while. Andrew Miller is much healthier, I think Michael Brewster is healthier than he was. I think Justin Boren, when they give us those medical reports, I don't know what a lot of those things mean, but then he's out there blocking, so I think they're okay.
Starting with the offensive line, I guess it is good that an excuse for their poor play is the fact that all except Bryant Browning are playing injured, but the sad truth of the matter is that the line is playing poorly. Hopefully these injuries heal up quickly, because while the line should hold up OK against the Aggies this weekend, the current state of the front five will not be in such good shape against Penn State's front four. As for Saine and Herron, I would like to see both spend this weekend resting up for the Nittany Lions, but it seems as if Tressel is confident Saine will be able to compete. There is no reason to risk further injury and the consensus seems to be that Jordan Hall, Jermil Martin, and Terrelle Pryor should be able to do enough on the ground to be able to rest Boom and Zoom for another week. The continued absence of Dex Larimore certainly doesn't help any, but if he too can take another week off to get fully healthy in order to get after Darryl Clark at full strength, it would probably benefit the team greater than if he were to try and come back this weekend.
Looking back quickly to last week's game, Tressel touched on the aforementioned frustration of throwing an interception at the end of the first half and going into the break at 7-0. The Buckeyes have had trouble in similar situations all season long and such plays will not fly down the November stretch. Tressel was asked about what upset specifically with TP's late half pick and if the previous week's performance against Purdue made the sophomore tentative last week. He responded:
From where I was standing, I didn't have enough information to know which, I just knew that we threw an interception. It looked to me from where I was standing, it could have been a little further outside, it seemed a little behind. When you watched the film, if he would have thrown it outside, there was a defender coming from the other side, so I think if you asked him he would tell you that he was most disappointed with the decision because he felt like he threw it where it had to be to stay away from that defender, but at the end of the day, he felt that he shouldn't have thrown it. And now as I've watched on film, I would concur with that. But he knew why he threw it where he threw it, because he could see the corner who was sinking and I couldn't from where I was.

I don't like too many throws where they don't think about it too much. It's not what I root for. I'm probably pleased about A, why he put it where he did and B, he knew what he needed to do, but, no, I don't think he was tentative in the game. I thought he made some real good decisions, it's third and two and maybe there's a little bit more I can get out there, but let me go get the two and little things like that. I thought he progressed, but so did other guys. Again, we talk so much about one position but I thought some people across the board did some good things.
I would have loved to hear Tressel come out and say "What upset me is that he stared down the receiver for 10 seconds and continued to throw the ball in the same area in which he was standing, thus letting the defender have plenty of time to read the play and intercept the ball", but of course that just didn't happen. Clearly the decision was not to make that pass and if the coaches truly could not see that from the field in order to tell Pryor on the sidelines after the interception, then there is a big problem. Good for us, I don't think that is the situation and instead I think this is another case of Tressel covering up for his symbolic son. For all those who are waiting for Tressel to publicly criticize Pryor or even give the media his true thoughts on the quarterback's development, don't hold your breath, as week after week JT proves to keep his feelings inside of the Woody Hayes Athletic Center's walls.
The point I did like that Tressel made was that Pryor seemed more aware this week of what needed to be done on certain situations like the 3rd and 2 plays. Instead of trying to force passes into seams that don't exist or running east to west trying to keep plays alive, Pryor just did what needed to be done. This certainly was something they coached him up on last week and it's good to see that it showed on the field. So much progress has supposedly been made in practice each week, but fans have not been able to see anything on the field, so this is certainly a nice change of pace if it holds true for the coming weeks.
Speaking of Pryor, it seems he found some rhythm last week, especially with his roommate DeVier Posey. Posey caught 8 passes for 161 yards and two long scores of 62 and 57 yards. Tressel was asked about the latter of the two touchdowns (TD in second half-south endzone), as well about the rapport developing between the two players as evidenced by Posey improvising on the play at hand. The Vest has been pleased by this progression and said:
The nice thing was is we had tremendous protection and he had a chance to just look it over and really where he threw that touchdown was not where that play was designed, but he saw the field and he sent the ball out there and DeVier adjusted to the open spot. They kind of jumped the route that we'd hit Dane a couple times and their corner thought, well, I'm going to steal this one and Posey had a big hole out there and Terrelle saw the hole and laid the ball up. So that was well done in large part because there was no duress.

I think the longer they play, they're both young kids, the longer they play, the better they're going to get at improvising. Funny thing is, we look statistically at our plays and what consistency level and this and that, and there was one option right that went 18 yards to the left, if you remember, Terrelle cut way back. And we were laughing that, you know what, when you put that in the computer, it's going to look like, boy, that play worked perfectly. Well, there was a little improvisation because they overplayed where we were headed and he had the field vision to say, hey, they violated some gaps and some zones back there and here I go. So, yeah, I think the more they play, the more they'll be able to do that.
Great to hear the staff is using opponents' expectations of their play calls to help call plays in future games, but even greater to see how Posey and Pryor seem to be on a page that no other receiver has ever turned to with TP at the helm. It definitely helps that the two were good friends coming into school together and lived in the same dorm room, but one game is not enough. Posey can be an elite college receiver and Pryor needs to continue to hit his most talented pass catcher, while continuing to be aware of other options in the passing game. If the passing game can force opponents to focus on Posey, it will open up things in the slot for Sanzenbacher and allow more one-on-one coverage for Duron Carter, who seems to have worn an invisibility cloak the last few weeks. The more passing options Pryor has, the more dangerous his legs become, and if this progression can happen smoothly, we may finally see the player we have all been waiting for under center.
Finally, going into New Mexico State, it comes to the surprise of many that the Bucks enter as 40 point favorites. While Tressel teams are notorious for keeping games closer then they should be, many feel this is a game the Scarlet and Gray can use to make a statement before taking on Joe Pa. Tressel was made aware of the spread and said:
We haven't got 40 points very often, so --
When there's a chance for a good chuckle from a Tressel press conference, you have to take it and I'm glad Jim can provide us all with some entertainment. New Mexico State brings it's FBS-worst offense into Columbus against one of the best defenses in the nation so the spread isn't actually unreachable, but Tress does have a point. If the offense can click on all cylinders (finally?), anything is possible and Vegas will probably take a lot of people's money.