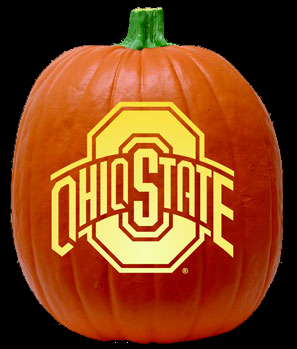 While it seems like it just started yesterday, October's almost over. Fall's scenic, lukewarm welcome is giving way to winter's gelid embrace. On the plus, we've reached the collision point where baseball's climax reaches the NBA's kicking off point (quick aside: Roundball Houndie or Roundie[?] to one Daequan Cook for chipping in 15 in Miami's season opening W). As if that wasn't enough, college football is rapidly approaching peak acceleration and the college football alumni league are settling into their own as well. Did I mention college hoops is so close you can taste it?
The 9th full weekend of collegiate football is a diverse one. The national slate pits 3 rather intriguing matchups of ranked teams squaring off, while the Big Ten lineup doesn't look near as frightening as it did a few weeks back. It's officially bowl jostling season, and each of the contests, no matter how unappealing on paper (*cough* UM-Illinois *cough), could shape who's playing where in December.
The weekly picks are alive and well, and the one loyal reader dutifully garnishing his wages to finance his dark passenger is now approaching early retirement. Inexplicably after wracking up a 7-1 showing a week back, I'm now cumulatively 25-6-1. The LULz can't be far away, with my good luck absolutely jonesing to dress up as a regression-to-the-mean for the big holiday.
National Games
Friday - #22 West Virginia at #25 South Florida (+3) 8:00 p.m. - ESPN2
A week removed from spoiling UConn's Jasper Howard tribute game, WVU takes the Big East momentum into Tampa to take off Jim Leavitt's Bulls. South Florida hangs onto their Blogpoll ranking by a thread, and will need to play spoiler to possibly position themselves for a Gator Bowl berth. WVU are 3 point favorites going on the road, but should cruise comfortably taking this one 31-21.
#2 Florida vs Georgia (+16) 3:30 p.m. - CBS
Not to wax all pejorative heavy or anything, but has there been a more underwhelming prohibitive favorite than the Gators all season? The offense still seems lost post-Percy Harvin, and even Tim Tebow hates his dad as of late. That being said, as much of a disappointment as the Gators have been, Georgia takes the conference crown in that department. Embattled defensive coordinator Willie Martinez will need to put together a game plan for the ages for UGA to even hang with the Gators, much less make a return to Athens next season a possibility. A-plus game plan or not, the Dawgs won't have enough to make this one worth too much than passing glances as even UF's offense manages to look competent 37-17.
#3 Texas at #15 Oklahoma State (+9) 8:00 p.m. - ABC (Regional)
Texas sure has found a niche going on the road to potentially hostile "trap games" in the Saturday 8:00 pm slot, haven't they? Colt McCoy finally looked like the Heisman candidate we all assumed he'd be going into '09, but will have a worth advisory in Zac Robinson calling the shots in the opposing huddle. The Oklahoma OSU may have the horses to make this one entertaining for a half, but sans the suspended for the remainder of the season Dez Bryant, look for the Horns to escape Stillwater unscathed 38-28.
#7 USC at #11 Oregon (+3.5) 8:00 p.m. - ABC (Regional)
The game of the weekend, Pete Carroll's Trojans travel to the noisy confines of Autzen to take on Chip Kelly's Oregon Ducks. Since the disastrous open in Boise, Oregon's managed to play consistently strong football and would certainly seem to be carrying the more momentum of the two schools going into this one. Matt Barkley hasn't looked like a freshman all-season though, which has to mean his "rookie mistake" game is just around the corner (doesn't it?). USC will be without stud tight end Anthony McCoy, which could mean one less check down for the all-everything freshman. After getting shredded to the tune of nearly 500 yards a week ago against the Beavers, should Jeremiah Masoli and company find their rhythm, expect Oregon to put themselves in the Rose Bowl drivers seat 21-17.
Big Ten Games
Indiana at #5 Iowa (-17.5) 12:00 p.m. - ESPN
The million dollar question: can a team notorious for playing down to their opposition possibly take the momentum from a performance that would make Rasputin proud a week ago and turn it into style points against Bill Lynch's group? Indiana was on the other end of the stomach punch game last weekend, having blown a 28-3 lead before ultimately going down to Northwestern 29-28. Despite no evidence to support it, I'm taking my picks capital and putting in the Hawkeyes corner. Take this one to the bank (for entertainment purposes only, of course): Iowa 34 - Hoosiers 13.
Purdue at Wisconsin (-6.5) 12:00 p.m. - ESPN2
A game that's viewing prospects seemed unfathomable just a few weeks ago all of the sudden looks far more compelling with Purdue riding the momentum of a two game winning streak. Bret Bielema's Badgers go into this one barely under a touchdown favorites, though are heading in the opposite direction after getting a bye week to recover from consecutive loses to tOSU and Iowa. Bielema was one of the coaches many of us felt would be on the hot seat before the 09 campaign began, and given the way Danny Hope's bunch has been performing of late, expect things to be anything but right in Madison after Purdue plays spoiler yet again taking this one 27-24.
Michigan at Illinois (+8.5) 3:30 p.m. - ESPN2/ABC (Regional)
Ron Zook will inexplicably be the Illini's coach next season, but can he turn the stunning vote of confidence into any kind of tangible results against a lifeless looking Wolverines group? Illinois are but 8.5 point dogs hosting a still banged up Tate Forcier and co. If the Zookster can somehow steal one from Rich Rod's bunch, expect the heat on the snake oil pimping wizard to escalate up to "medium". That being said, the Illini won't have enough when it counts, and Michigan gets back on track 35-23.
#13 Penn State at Northwestern (+13.5) 3:30 p.m. - ESPN
The final contest of the afternoon Big Ten slate, the Nittany Lions travel to Evanston to tee off with Pat Fitzgerald's Wildcats. Mike Kafka inexplicably enters this one with over 2000 yards through the air to his credit already, but Daryl Clark and Evan Royster's offense is beginning to resemble the 2008 version more and more as each week goes by. PSU won't be caught looking ahead to the showdown with the Buckeyes as they cover with gusto 42-20.