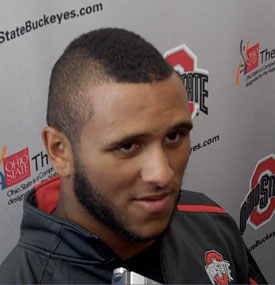 Of the 15 players signed in the 2007 recruiting class, Brandon Saine might have arrived in Columbus with the most hype. After all, Buckeye fans had begun tracking his sprinting and football exploits when he was just a 15 year old. Buckeye lust was further fueled when he set the state record in the 100 and was named Ohio's Mr. Football after posting 1,895 yards and 27 touchdowns for Piqua as a senior. After briefly flirting with the Wolverines, he signed with Tressel and big things were expected of a guy some thought might be a replacement1 for Teddie Ginn.
As a freshman, Saine saw action in 11 games and got off to a roaring start. He scored a touchdown in the opener against Youngstown State, followed it up with a receiving touchdown against the Zips in week two and then torched the Huskies with a 37 yard buzzer beater the following week in Seattle. The success against Washington came at a cost, however. Saine went under the knife to treat his left knee and missed a couple of games.
He quickly bounced back and was the team's leading rusher and receiver against Kent State and then saw further action due to an injured Rasta Wells, making him Beanie's backup for the Michigan and LSU games. Against the Tigers Saine was used in a variety of pass catching roles, even lining up at tight end once. His wheel route in the first quarter led to a 44 yard gain and the 10-0 Buckeye lead that soon followed. Finishing with three receptions for 69 yards, thinking of ways to get Saine onto the field in '08 soon became a cottage industry in Columbus.
As a sophomore in 2008, Saine tweaked his hammy in fall camp, giving Boom a chance to emerge as Beanie's top backup. His playing time actually went down from what he posted as a freshman (72 to 58 minutes) as he missed five games and finished as OSU's 5th-leading rusher with 26 carries for just 65 yards and a touchdown. When he was on the field, he appeared to run with hesitation and never got into a groove, clearly still favoring his hamstring. How bad were things? At one point, Tressel mentioned that Saine might be evolving into a fullback. Only at Ohio State does the state record holder in the 100 garner consideration at fullback.
Largely a forgotten man heading into this season, Saine actually had to dispel rumors that he was considering a transfer to Michigan. I know we shared some chuckles at 11W Worldwide HQ when Phil Steele had him as Ohio State's best back, but ESPN's Rittenberg also liked what he was seeing out of Saine in the spring.
Saine turned some more heads at the spring jersey scrimmage and he followed that up by essentially outperforming Boom in the spring game. Finishing with 55 yards on six carries, the scrimmage was the first time fans got a chance to see what practice observers had been reporting: namely that Brandon Saine looked like a new running back this season.
On Saturday against Navy, the new mohawk Saine and his girlfriend cooked up seemed to power an aggressiveness and toughness that we didn't see at all last season. He finished second on the team with 53 yards on nine carries (5.9 YPC) and caught two passes for 21 yards. Throw in his two kick returns and for 47 yards and the 121 all-purpose yards account for his best day in well over a year.
Tough running, a nifty spin move and soft hands out of the backfield2 should be enough to give any of us hope for good things to come out of Saine -- and you can bet Tressel has a couple of ways to utilize the burner tucked up his sleeve. Fear the mohawk.
1 You cannot replace a Teddie Ginn, btw.
2 At this point in time, the only thing that Bauserman really does better than Pryor is throw to backs out of the backfield. It's almost a work of art the way he leads running backs on swings and screens.