The past is in the past. The future is now.
As Jason mentioned yesterday, the Buckeyes have to rebound from their newest big game blunder to face a quarterback who is the nation's leader in total offense and try to stop a hot Toledo Rockets team coming off a big upset victory against Colorado last week.
Former Buckeye coach and longtime family friend of Jim Tressel, Tim Beckman, leads a Rocket team in their first match-up with Ohio State since 1998 (OSU won 49-0), and second overall game in the series history. The game will be played at a neutral site in Cleveland Browns Stadium, but it is still technically a home game for Toledo, making the game a more dangerous one for the Buckeyes, who will be trying to bounce back from last week's heart breaking loss.
This is the Buckeyes' 16th trip to Cleveland to play a game, and they have not fared well by the lake, going 8-6-1 in those contests. Don't put too much stock into those numbers though, as OSU has not played in Cleveland since 1991 when they took on Northwestern in Municipal Stadium. The game should be a great experience for players on both teams as surely they have had aspirations to one day play in the venue as a member of the National Football League
The Buckeyes certainly have a lot to prove going into the game after sputtering on the offensive end early in the season. Toledo is going to do everything they can to pull an upset special this weekend and put a small dent into Ohio State's 25-1 record against MAC opponents. Both teams have a ton to play for early in the season and with two in-state teams going in opposite directions after last weekend's games, Cleveland Stadium should be in for a good show on Saturday.
Opponent
Toledo comes into this game averaging 42.5 points per game in their first two contests against Purdue on the road and at home against Colorado. As previously mentioned, senior quarterback Aaron Opelt leads the nation with 437 yards of offense per game (371 passing/66 rushing) and Toledo as a team is averaging 558.5 yards of total offense, good for seventh in the country.
Opelt has not been alone on offense as receivers Stephen Williams and Eric Page have done their part. Both receivers have averaged 7.5 receptions per game (8th nationally) and Page is sixth in the country in receiving yards per game with 133. Running back DaJuane Collins rushed for 166 yards in last week's 54-38 victory against the Buffaloes and has proven, with Opelt, to bring a veteran leadership to the offensive unit.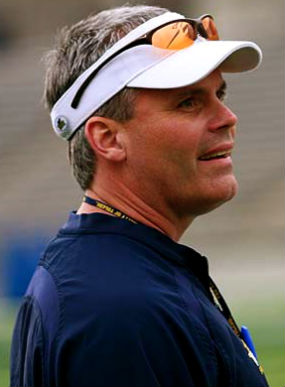 While they have given up their fair share of points, the Rockets bring it on the defensive side of the ball as well. Tim Beckman likes to blitz consistently all game and the Buckeyes should expect extra rushers from all angles on Saturday. This could cause some problems, as OSU right tackle Jim Cordle is out 3-4 weeks with a sprained ankle and the line will be trying to get comfortable with its new alignment in the first part of the game. Beckman was the Ohio State defensive backs coach in 2005 and 2005 before going to Oklahoma State as defensive coordinator, meaning he knows the basic Buckeye blocking schemes that have not changed much since his departure. This could prove to be dangerous in terms of trying to game plan against the blitz.
The Rockets have given up 90 points in two games, but their blitzing strategy has lead to mistakes by their opponents. Their defense ranks second in the country with 6 interceptions and they have sacked opposing quarterbacks four times for a loss of 30 yards. Defensive end Douglass Westbrook has three of the six Toledo interceptions, and Nagurski and Thorpe Watch List member, Barry Church, has lived up to his three time First-Team All-MAC awards with 14 tackles and an interception in his first two games. Junior linebacker, Archie Donald (13 tackles) and senior safety, Lester Richmond (7 tackles, 1 INT), are other players to watch on the defensive side of the ball.
The Rockets' special teams aren't too shabby either as kicker Alex Steigerwald was placed on the Groza Watch List before the season and has 3 of 4 field goals (48, 50, 43) this year, with his only miss coming from 50 yards. Punter Bill Claus has not had as much success, only averaging 37.7 yards on six punts with two touch backs and one punt blocked. This is an area OSU can take advantage of Saturday, as Buckeye defenders were able to put pressure on USC's special units last week, forcing a safety and almost blocking a punt late in the game.
Buckeye Breakdown
A week has gone by and the heat Jim Tressel is getting from the media and fans has not cooled down one bit. A win against Toledo certainly won't silence the critics, but if Tressel can get Terrelle Pryor and the offense back on track against the Rockets, Buckeye Nation will feel a little bit better about their team going into conference play next week.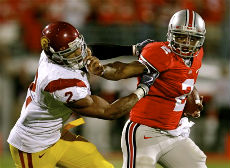 Terrelle Pryor disappointed many last week with his less than stellar performance against the Trojans, but people shouldn't be discouraged with the promising sophomore as the USC defense is probably the best he will face in his four years (hopefully not three) of college. Watching the game a few times, it seemed like Pryor doesn't have a complete grasp of what the offense is trying to do, and I'm not sure the coaches know exactly what they want to do with all of the weapons this unit possesses. Pryor faced a defense that continually blitzed him from the outside last week and when he had to make the reads off the blitz he failed to do so. Expect Beckman to try something similar this week with his linebackers and defensive backs in order to try and slow down the OSU attack. How Pryor responds to the pressure that will be sent at him not only will determine the game, but could very well tell us how we can expect him to develop over the next few weeks of the season.
One thing OSU will try to get back to this week is utilizing the tailbacks more in the game plan. Boom Herron rushed for just 44 yards on 18 carries, while Brandon Saine only received one carry last weekend. That will certainly change, as will the use of the freshmen backs on the roster, Jordan Hall and Jaamal Berry. Neither player has been used this season, with both of the first two games being close scores, but Hall is listed as third on the depth chart this week and Tressel said yesterday that Berry will not be red-shirted this season. The Buckeyes will have to show they can run the ball successfully if they want to unleash Terrelle Pryor both on the ground and through the air.
Expect the wide receivers to be more involved in the game plan, as Dane Sanzenbacher (2-58) and DeVier Posey (6-81) were the only two receivers to register a catch against USC. Duron Carter, Taurian Washington, Lamaar Thomas, Ray Small, Jake Ballard, and Jake Stoneburner will look to get back into the action, and expect the coaches to involve them more like the way they did against Navy in week one. The tight ends and wide outs on this team are too talented to not use and need to be involved on Saturday to keep the Toledo blitz in check.
One unit that did not disappoint on Saturday was the defense. Cameron Heyward talked this week about how if they play the rest of their games with the same effort they did Saturday against USC that they will not lose. I agree, as I have never watched an OSU defense give such an inspired performance since the National Championship game against Miami. Heyward and the defensive line had their way for most of the night with the USC offensive line and if they give half of that effort against Toledo's front five then it will be another successful day for the Silver Bullets. The linebackers (well, at least Rolle and Homan) should continue their solid play, and with a group of secondary players that have proven equally as good against the run as they are against the pass, the defense should be able to contain, if not shut down, Opelt enough to win the game.
The special teams may have been the only brighter spot than the defense against USC, as Jon Thoma turned in one of the more clutch performances of an OSU punter in the last decade. Thoma punted six times last week for a 38.7 average, but four of those punts landed inside the USC 20-yard line. His other two punts helped the Buckeye defense in the field position game and helped keep the OSU lead for most of the game. Aaron Pettrey did not get to kick the 53-yard attempt he wanted to at the end of the game, but was solid once again, hitting both of his field goal attempts. Lamaar Thomas continues to bolster the kick return unit with a 22.3 average on the season and has helped the Bucks secure solid field position when getting under center.
Prediction
Last week we did not want to take the Trojans, but we knew our heads were in a better place then our hearts. Unfortunately we were right and while we would have loved to have been ripped in the comments section about how wrong we were, that just did not happen.
This week we take the high route and feel the USC loss will not linger too long into the game with Toledo. The Rockets may hang closer than Buckeyes fans want in the first half, but don't expect Pryor and the Bucks to pull a Michigan just yet. Rome was not built in one day and neither will the OSU offense be, but look for a big improvement towards what is hopefully a solidified offensive identity.
Ohio State 32, Toledo 13