This week we look back to the last time that the USC Trojans came to Ohio Stadium: 1990. It was a game that most OSU fans of the day will remember, although not for good reasons. And it's a game that almost perfectly captures the frustration of many fans with the sometimes unusual opinions and decisions of former coach John H. Cooper.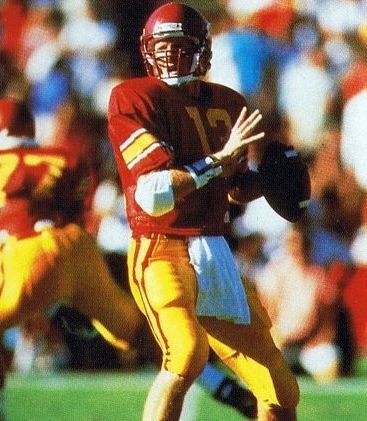 In 1989, Ohio State played at USC in the first game of a home-and-home series. That year, OSU seemed almost helpless in a 42-3 loss (sound familiar?). USC QB Todd Marinovich threw for 4 touchdowns, including an 87-yard strike to John Jackson. OSU had no offense and headed home with their worst loss since 1946. Certainly, thoughts were focused on making the Trojans pay for that humiliation.
At that point in the season, OSU was 2-0 and coming off of an impressive 31-10 victory at Boston College. On the other hand, Larry Smith's Trojans were 2-1 and had just been humiliated 31-0 at Washington the previous week. OSU was ranked 15th, but USC had fallen all the way from 5th to 18th after the loss. Still, USC had won the last three meetings between the two teams and they were confident coming in.
It turned out that their confidence was well-founded. USC blocked an OSU punt and returned it for a touchdown to quickly go up 7-0. Then the USC ground game got going. I was in the stadium for that game and all I remember about USC's offense was "student body left" and "student body right". USC ran sweep after sweep with Ricky Ervins carrying 28 times for 199 yards and his back-up Mazio Royster carrying 7 times for 70 yards. OSU had no answer for the USC stampede, and they trailed 14-0 after the 1st quarter.
Things didn't get a lot better in the 2nd quarter, and OSU trailed 21-10 at halftime. But Ohio State fans were not about to leave the stadium. After all, this was basically the same team that had come back from a huge deficit at Minnesota the year before. Greg Frey was still the QB, and he still had WR's Bobby Olive and Jeff Graham at his disposal. And the addition of stud freshman RB Robert Smith made the attack even more lethal. Playing at home before a partisan crowd that hated USC every bit as much as they did, the team was sure to rally all of their resources for a comeback.
Indeed, in the second half Frey got going and led the team back after USC upped the lead to 28-10. But just as the comeback was beginning, a massive thunderstorm arrived and brought a torrent of rain and some spectacular lightning to the stadium. The rain only seemed to inspire the Buckeyes as they scored and converted on the 2-point attempt. USC scored again on the ground, but then Frey and the OSU offense went back to work on a 50-yard drive for another TD. This time Raymont Harris plunged in from one yard out, and Frey passed to Jeff Graham for the 2-point conversion. All of a sudden it was 35-26 with 2:38 left on the clock, and Frey was thinking about another comeback. That's when OSU fans got a bitter taste of the unexpected.
The lightning had increased and it was now at the point where referee Ron Winter was beginning to get concerned about the safety of players and fans. He conferred with both coaches about suspending the game. Of course, Larry Smith was all for it since he had the lead. But somehow John Cooper went along with it on the condition that if his team could successfully recover an onside kick they would play on. Suffice to say that they did not recover, and the game was suspended. USC players were elated, but the same cannot be said for the Buckeyes. In the post-game interview room, Cooper said "I told him (Winter) we were going to try an onside kick...I told him if USC gets it, it's all over." Indeed, it was all over. Ironically, the weather calmed down as soon as the fans left the stadium. But the fans' anger at Cooper's decision never did.
Cooper's 1990 OSU team was long on promise but short on results. They followed the USC defeat by losing again at home to Illinois (Cooper's 3rd straight loss to the Illini in the middle of a 5 loss slump) and settled for a tie with Indiana in Bloomington the next week (bringing Cooper's record against Indiana to 1-1-1). Yet somehow they forged an improbable last-second comeback win at Iowa (Frey seemed to specialize in road comebacks) and probably would have beaten Michigan if not for an ill-timed clipping penalty on Jeff Graham (replays clearly showed it to be a legal block).
USC finished 8-4-1, came in 2nd in the Pac-10 and lost to Michigan State in the John Hancock Bowl. OSU wound up 7-4-1 after losing to Michigan and sleep-walking through a dismal loss against Air Force in the Liberty Bowl. Incredibly, John Cooper survived to coach another 10 seasons in Columbus. But despite the glorious triumphs of the mid to late 90's, he never lived down the decision to suspend the game with time left on the clock. If there are any masochists out there who wish to re-live the sad drama, ESPN Classic will be showing it at 11:00 PM on Friday night. I think I will pass.