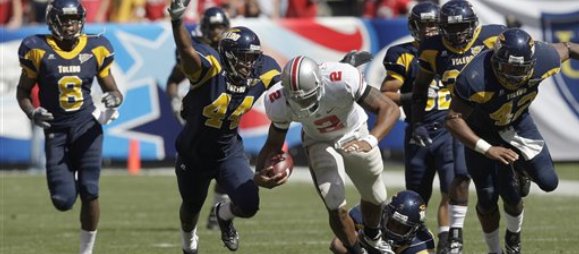 We must keep in mind it was only Toledo but it felt good to get back on the horse as the Buckeyes dismantled the Rockets 38-0 in Cleveland Browns Stadium. The win was slightly tempered by the USC loss to Washington leaving me still wondering just how good this team is but it was still fun to sit back and watch a thumping with the defense flexing their muscle on the MAC and Pryor flat out destroying a defense that proved shakier than Morganna.
Tressel Punches Back
After the firestorm last week it was good to see Tressel show his sense of humor - or at least that's how I'm taking it - as he actually dialed up the QB sneak facing 3rd and 1 on OSU's second possession. As expected, running his 240 lb. quarterback up the gut got the necessary yard, drew rave reviews from the crowd and kept alive the 12 play, 68 yard drive to give OSU a 14-0 cushion. That said, once he gave the crowd what they wanted he later reverted back to his love of Boom off-tackle in short yardage as he predictably called Herron's number on both 1st and 2nd and goal at the 4 with the Buckeyes up 21-0 late in the half. With the line and Boom unable to get the necessary 4 yards he called a pass play in which Pryor could've easily ran it in but fired an incompletion instead leading to Pettrey's missed field goal. Since the Bucks were up 21-0, I forced a smile.
Really, though, you had to pleased with the overall play calling which was made less of an issue by the fact Toledo's defense is the worst we'll see all season. He looked to stretch the defense early and often recognizing the three true frosh in Toledo's secondary had no business being on the field with Ohio State. I also loved Tressel calling the bomb on the first possession of the 2nd half with OSU up 24-0 and he clearly got in Pryor's ear this week about taking off with the ball when the pass isn't there.
Again, it was cupcake city but it was nice to see Tressel allow 38 points on a friend and attack well past when the game was out of reach. It was like therapy as I move past the USC debacle only made worse by Washington's win. While I think it was beyond fair for the fan base to criticize what the Vest offered against USC and that doing so doesn't mean you are calling for his head, it doesn't mean that I like it that way. Now, we just have to hope he can keep this team playing with a chip on its shoulder.
ISO: Tailback Production
Through 3 games, the non-Pryor rushing attack is still leaving much to be desired. Boom and Zoom combined for 87 yards on 27 carries today buoyed by Zoom's 9 for 45, however if you take out his 31 yard carry then you are looking at 8 for 14 while Boom's 15 for 42 isn't eye popping either. It's hard to figure out exactly why the RB production is lacking which means it's likely the result of many factors.
First, it seems the offensive line has done a 180 from last season and now they pass block better than run block. Second, even the best lines at times require the RB to make the first guy miss over the course of a game and Boom/Zoom just haven't shown a consistent ability to do it. I still favor Boom because I believe he does have more wiggle and is usually quicker to select a hole and go through it but he's still looked a little easy to corral. Zoom has shown even less true RB skills. He's faster but he's far less shifty and watching him get tackled by an LB in space Saturday was a little frustrating. He's the bigger homerun threat to be sure, but in between features too many tackle seeking carries.
As in fall camp, Jordan Hall looked as good at RB as anybody and he was certainly a bright spot yesterday with 7 for 44 (6.3 ypc). Just a freshman, I'm interested to see if he gets any totes next week if Herron and Saine aren't showing much. What say you? What's the main reason for the flat RB production?
Pryor's Big Day
Against any opponent, 372 yards of total offense ain't no joke though it was vintage young Pryor as amongst the many impressive plays a few WTF decisions were stashed. It's probably fair to say nobody on the roster was more excited to face Toledo and their porous defense more than TP, who was badly in search of some big numbers to quiet the critics. Coming in connecting on just 54% of his passes thus far, Pryor hit on 17 of 28 for 262 yards (all career highs) and 3 TD along with two pesky INT's.
To his credit, TP came out firing hitting Dane in stride for a 76 yard TD on 3rd and 8 after his 1st down pass was behind Posey. In Pryor's words, he looked off the safety to give Dane even more space as he was already 5 yards behind the corner in coverage. Great pass. He hung it up for Dane to run under it but didn't float it.
Pryor's second possession was even prettier as he went 3/3 on the drive in addition to reintroducing the run to his repertoire. The key passes were a 12 yarder to Duron on 3rd and 6 and a tasty throw to Dane running a post for an 18 yard score. Pryor threw the pass before Dane and the defender could turn around and threaded the needle just in front of the safety at the goal line. It might actually be the best throw I've seen him make in his career. On the ground, he converted a sneak on 3rd and 1 and picked up 11 yards on 2nd and 7 with a juke that damn near tore the ACL of a Rocket LB. The swagger was back in full effect.
The next possession, however saw Pryor regress to his old ways after he started the drive with a 13 yard run. Inexplicably, on 1st down at the OSU 41, TP dropped back, felt a little pressure and let loose a back foot duck into double coverage for an interception. After the first two possessions, it was a Jekyl and Hyde moment to be sure. I could excuse such a play on 3rd down, maybe, but on 1st and 10? The maturation process continues.
I liked how much more in control TP appeared near the end of the half leading OSU from their own 31 to Toledo's 31 to set up Pettrey's 47 yard FG giving OSU a 24-0 lead at the break. He rushed for 6, hit Duron for 9 before a bad pass to Posey down the sideline in traffic. He responded with a 24 yard strike to Dane before Pettrey's kick.
The final huge highlight was his 43 yard burst on 3rd and 8 from the OSU 16 and as great as that run was, the entire drive was a Pryor clinic as he went 3/3 through the air including back to back shots to Small (19 yards) and Posey (15 yards) preceding his QB sneak to paydirt and a 31-0 lead. The toss to Small was a floater but he was so wide open it appeared Pryor was playing it safe so I give him a pass.
All in all, a very impressive day for a guy looking to take the next step. The production was there but he still needs to work on a few major things. Obviously, his spotty decision making has to keep improving and just as important might be curing his penchant for staring down receivers. He can get away with that against Toledo but how often did he throw to the primary target downfield and by the time the ball got there, completed or not, a second defender had gotten in position to make a play. That doesn't happen if you don't lock in and though he may not have done it on the Dane bomb, he did it consistently the rest of the afternoon. Hopefully that'll come. As for the running, it was so good to see him back in his comfort zone weaving through the second and third line of defenders. Dude is by far the best running back on this team. He must be utilized as such. Twelve carries for 110 yards says he was. Good stuff.
Defensive Domination
So much for Toledo's high octane spread. Admittedly, I thought Toledo would score 10 points on the starters but that was pure silliness thanks to a balanced effort spear headed by the defensive line's ability to get pressure without a blitz coupled wih Heacock's scheme of blitzing anyway on obvious passing downs leaving Opelt with a hair trigger and a 22/45 afternoon.
Other numbers from the blitzkrieg include only 9 first downs, 13 rushing yards, 4.4 yards per pass attempt and 3 of 15 on 3rd down. Oh, and the D also forced 11 punts, including 10 straight before the 71 yard drive culminating in Coleman's forced fumble. Even crazier, Toledo didn't run a play in OSU territory through 3 quarters. Damn, son.
As with the offense, it's hard to put much stock in the results due to what proved to be weak competition but a shut out is a shut out. Coleman wasn't the only standout in the secondary as Chekwa, Torrence and Amos all had easy afternoons wearing the pants of the Rocket receivers. The lone hole in the secondary again belonged to Russell as he continues to show he isn't worthy of meaningful minutes.
Bottom line, the D continues to be the backbone of this team. Next up: Juice.
Shuffle
What did you think of Shugarts? He was obviously a little nervous with a handful of false start to his credit but at least he got his feet wet in advance of Illinois.
Is Dane blowing up or what? After a career high 126 yards and 2 TD, he is averaging a gaudy 26.7 yards per catch through 3 games. On the season, he has 241 yards receiving compared to 272 all last year.
Heacock's unit has held opponents to fewer than 21 points 42 times since 2006, good for the #1 spot amongst all FBS teams. Ohio State's record in those games? 39-3.
In case you missed it, Torrence got his first career start, supplanting Amos at boundary corner.
I heart Jon Thoma thus far but Buchanan did well in his absence averaging 42.7 on three punts. The future looks bright.